A Christmas Breath of Fresh Air: Celebrate, Review and Learn - 9 December 2...
Description
A Christmas Breath of Fresh Air®
9th December 2019, 1.00 pm – 4.00 pm
Celebrate, Review and Learn
Join us on Monday the 9th December 2019 at 1.00 pm for a short Christmas Breath of Fresh Air® stroll around the water and wildlife haven of Dinton Pastures Country Park, near Wokingham.
During this 'walking workshop' not only will you embark on a physical journey, you will also explore our topic and take away ideas and actions to apply when you return to your workplace. The walk and conversation is both structured and facilitated; we follow a gentle physical route as well as a developmental path as we walk.
Our theme for the December Breath of Fresh Air® event focuses on the elements of celebration, review and learning.

As Christmas and the New Year rush towards us, and the pace of life and work picks up, we often forget to celebrate the successes of the past twelve months. By taking time out to review our achievements and consider the challenges we have faced, we are then better equipped to adapt our learning and ensure future success.
Four Great Reasons To Attend:
Recognise and celebrate your achievements from 2019

Identify what you have learnt during 2019 and examine how that will help you in 2020.

Explore the skills, qualities and strengths that you can nurture to assist you to achieve future goals and overcome challenges.

Network and connect with other business professionals easily and naturally.
" A good chance to reflect and look forward to next year."
"As ever a thoroughly lovely couple of hours to fully appreciate a Breath of Fresh Air. I feel calm and happy and at this time of year that's a result!! Thank you."
" Great to have the opportunity to think back on the year and wrap up the lessons learnt for next year."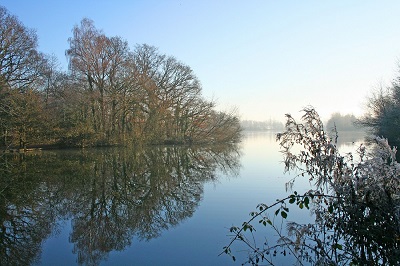 Joining Details
We will meet in the car park at Dinton Pastures Country Park
(www.dintonpastures.co.uk) at 1.00 pm.
After dedicating approximately 90 minutes to the walking workshop we will gather in the restaurant of the cosy Dragonfly Café for a Christmas afternoon tea, networking and conversation. The event will conclude at 4.00 pm.
What is a Breath of Fresh Air®?
Breath of Fresh Air® is a unique approach to effecting learning and change in businesses and individuals through the mind and the body that leads to rapid action and results. These walking workshops are an ideal way to raise consciousness, discuss and reinforce learning, problem-solve and action plan away from the constraints of the traditional training environment.
Celebrate, Review, Learn
Breath of Fresh Air® - fresh thinking, new directions