A Christmas Performance of Sir Gawain and the Green Knight

Saturday, 3 December 2016 from 19:00 to 21:30 (GMT)
Event Details
A mediaeval masterpiece comes alive this Christmas!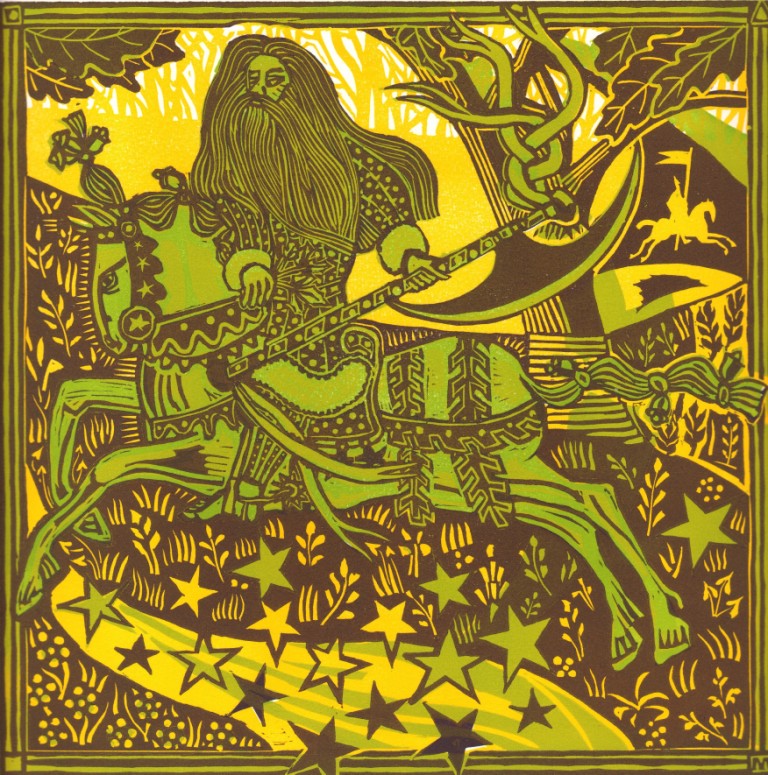 Sir Gawain and the Green Knight is one of Britain's most treasured works in Middle-English.
Written in about 1390 by an unknown nobleman from the North West of England, it is an astonishing work of mystery, magic and great linguistic beauty which more than rivals the work of Geoffrey Chaucer. 
Today it is one of the great treasures of the British Library, where it is held.
Now this wonderful poem comes alive again in a new translation for Christmas - the very season it celebrates - in a fabulous candle-lit setting!
About the event
"Told as it was taught, by tongue", Michael Smith's new translation, abbreviated and adapted for this special event, is performed by three readers in an evocative mediaeval atmosphere - an historic church dating back in parts to the 12th Century.
This brand new translation, captures fully the Northern alliterative meter and dialect of the original work, and blends it wiith autthentic live music, specially-commissioned for the occasion.
As with the original, the performance is divided into four parts, or "fitts". Firstly, we are at Camelot at Christmas, where the Green Knight first issues his gruesome challenge, taken up by Gawain in front of a stunned crowd.
In Fitt 2, our hero travels on his journey through the kingdom of Logres (Britain) in search of his foe, before his arrival at the mysterious castle of Hautdesert the following Christmas.
We then enjoy a brief interval, where mince pies and mulled wine will be served at your seat, before rejoining the action for Fitt 3.
Now, we are at the apex of the poem, where the very virtue of our knight is at stake as the lady of the house seeks to challenge the very foundations of his chivalric code while her husband is out hunting. The contrast between seduction and brutality in this section marks it out as a complex and magisterial work, highlighting why it is is seen today as a masterpiece in its own right.
Finally, when he leaves Hautdesert in pursuit of his quest, we join Gawain for his meeting with his nemesis at the Green Chapel. We hear that great axe being sharpened. We tremble as a ghoulish voice booms from the rocks. We fear for Gawain in this lonely place, vulnerable to an axe-wielding giant from another world. 
Will he come out alive and return again to Camelot?
Wonderful and evocative music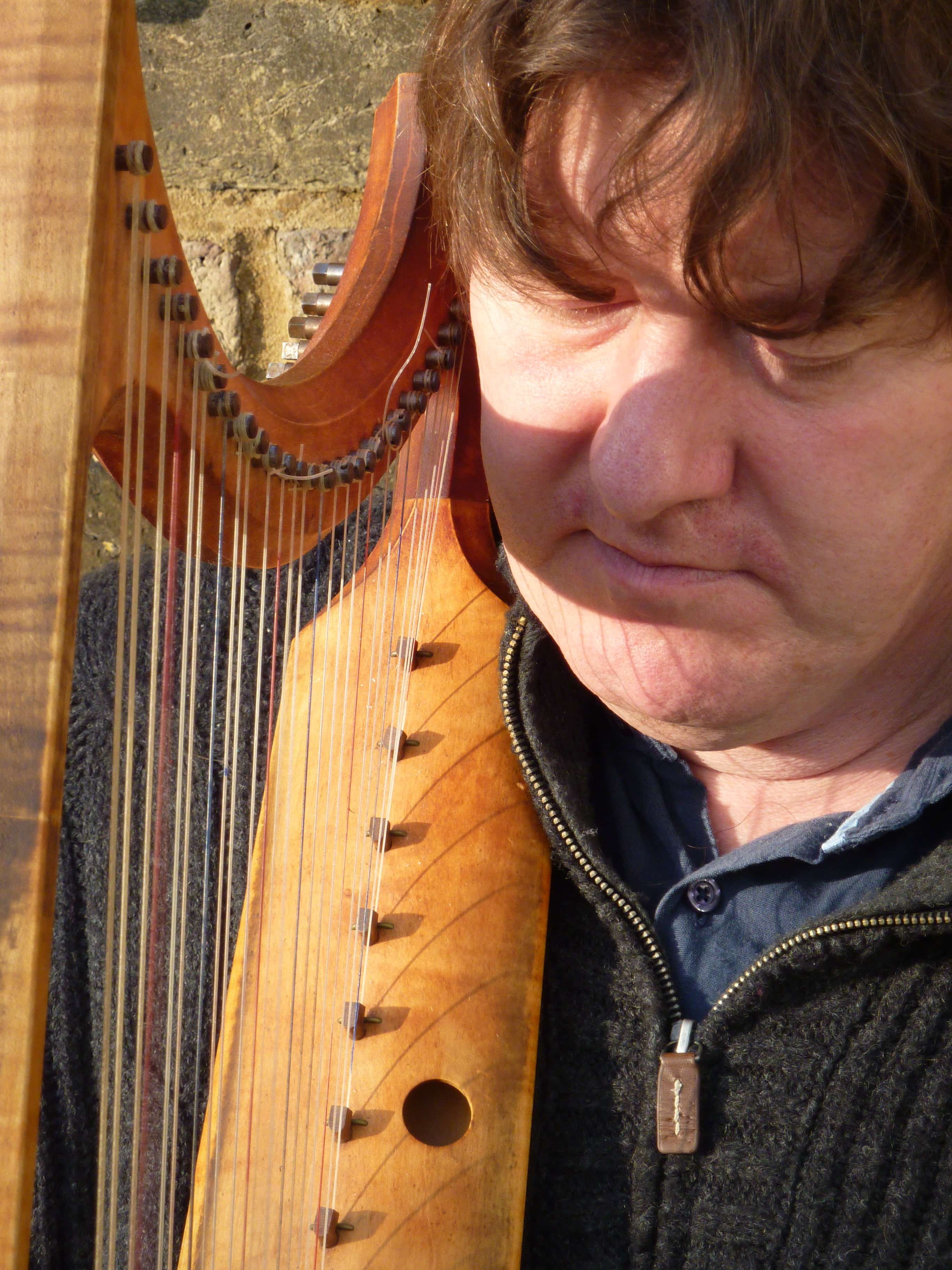 The event also features live music from world-class musician Dr. Jon Banks, who is a lecturer at Anglia Ruskin University and specialises in early and oriental string instruments.
Jon is also a regular musical director at the Globe Theatre and the Royal Shakespeare Company.
For this performance, Jon will be playing an early harp; the perfect instrument for conveying period setting and absorbing all the different moods of this wonderful work.
'Jon Banks is formidably qualified, multi-talented, full of energy and daring' Early Music Review
The performance is directed by Mike Ashman, an internationally-renowned opera director who has worked with, among others, the Royal Opera House in London.
Mince pies, mulled wine
During the interval, you will be served with mulled wine and mince pies and after the perrformance there will be a chance to talk with the artists, the musician and with Michael, who has created this special adaptation.
Copies of Michael's complete translation will ba available for sale, in addition to a unique selection of greetings cards featuring mediaeval scenes (including images from Gawain and the Green Knight).
Please book early - limited seats in the church
Seats are strictly limited so you are advised to book early for what is likely to be the mediaeval event of the season. The performance will last approximately 75 minutes.
About St James' Church
The original parish church of Stanstead Abbotts, St James is a magical place, containing a wealth of original features including a wonderully preserved set of Georgian box pews. Christmas here is magical - the church has no electric lighting so services and events are held by candlelight, just like those of our ancestors!
For further details about St James' Church., please visit www.stjamesoldchurch.org.uk

All proceeds in aid of St James' Church, which is the care of The Churches Conservation Trust.
FAQs
What are my transport/parking options getting to the event?
St James Church is situated on Roydon Road, the road leading to Roydon uphill out of the village towards the A414. Once the road crosses the 414, it bends to the left and starts to head downhill. After 100 yards the entrance to the church is on the left. Drive up the small road with the church on your left and you will be guided to the car park.
It is advised that visitors do drive to the church as, although not remote, access is otherwise a little difficult. Should visitors wish to travel by train, the nearest stations are at Stanstead Abbotts (1.5 miles) or Roydon (1 mile) although it is pointed out that Roydon Road itself is dark and doesn't have pavements. 
What can/can't I bring to the event?
Visitors are advised to dress up warm for the event. The church has no powered heating or lights although we should point out that when full, and with all the candles lit, it is quite warm. The performance is deliberately restricted to 75 minutes in this regard.
Where can I contact the organiser with any questions?
You may contact Michael Smith, using michael "at" mythicalbritain.co.uk
Is my registration/ticket transferrable?
You may give your ticket to another person if you wish, if you cannot make the event yourself.
When & Where

SG12 8JZ
St James Church
Roydon Road
SG12 8JZ Stanstead Abbotts
United Kingdom


Saturday, 3 December 2016 from 19:00 to 21:30 (GMT)
Add to my calendar
Organiser
The Friends of St James's Church
The Friends of St James's Church is a volunteer group dedicated to helping preserve the beauty and tranquility of this wonderful late mediaeval church. We work closely with the Churches Conservation Trust, who acquired the church in the 1970s.
St James's was the original village church of Stanstead Abbotts, located high on a hill overlooking the Lea and Stort valleys. In the late 19th Century, a new church, St Andrews, was erected closer to the village and St James' fell into disuse.
In 1977, it was taken over by the Redundant Churches Fund (now known as the Churches Conservation Trust) and, after many years of uncertainty, its future was secured and today it forms a delightful source of culture and reflection for those who climb the hill to view it.
The role of the Friends is to help make the church accessible to others (it is opened at weekends in Summer) and to raise funds for its upkeep and preservation. This event, to be hosted in this delightful church, is part of that fundraising process.
A Christmas Performance of Sir Gawain and the Green Knight