Description
Master storyteller Robert Harris has written 'the finest fictional treatment of Ancient Rome in the English language.' (Allan Massie, Scotsman). Given he is not a classical scholar, how did he come to write these books? Does he consider them to be allegories of current events? What is the difference between fiction and historical fiction? And what is so special about Cicero?
Join us for a discussion between Robert Harris and Dr Peter Jones MBE on Thursday 2 November 2017 at the Royal Society, followed by a wine reception with canapés. You will have the opportunity after the talk to hear from a passionate Classics teacher who has introduced classical subjects into several state schools, who will describe the difference it makes for pupils, teachers and the schools' communities.
As this is Classics for All's annual fundraising event, we encourage you to give an extra donation above the standard £30 ticket, which will go towards introducing classical subjects in state schools in 2017-18. We have suggested amounts here between £50-100, but you may also wish to visit our website where you can make a separate donation. Perhaps you would like to join our ranks of 'Centurion' supporters giving £100 pa (that's only £8.33 pm) by direct debit.
Doors will open at 6.30pm and the talk will start at 7.00pm.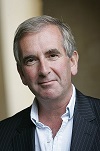 Robert Harris is the author of eleven bestselling novels, among them Pompeii, Imperium, Lustrum and Dictator. His work has been translated into thirty-seven languages. Joining the BBC in 1978 straight from Cambridge where he read English, he worked as a researcher and director on Tonight and Panorama, before becoming the BBC's youngest reporter on Newsnight in 1982. He returned to Panorama as a reporter in 1985. In 1987 he left television to become Political Editor of The Observer and in 1989 became a weekly columnist for the Sunday Times. He lives in the village of Kintbury, West Berkshire, with his wife Gill Hornby. www.robert-harris.com

Dr Peter Jones MBE, a co-founder of Classics for All, has been a driving force and advocate for the teaching of Classics in state schools for more than four decades. He has published widely on ancient language, culture and history, writes an 'Ancient and Modern' column for The Spectator, and reviews for The Times, Literary Review, and the BBC History Magazine, for which he is an adviser. His latest book is Quid Pro Quo (Atlantic), drawing on topics such as ancient medicine, business, warfare, religion, society, politics, law, education and the arts to show just how much the English language owes to the ancient world.
Principal Sponsor

Netwealth is a wealth management service that brings together a highly qualified team, a powerful online service and a robust investment framework. Clients have access, for a fraction of the industry cost, to experienced financial advisers and portfolio managers while benefiting from cutting edge financial technology.