Equipping Leaders to enable them to effectively communicate, connect, demonstrate compassion and create a culture that enables wellbeing.
About this event
Designed for those who are HR Directors, Senior Leaders and Risk Managers.
This virtual round table event, including Q&A, bringing together wellbeing professionals and senior leaders to discuss how we can actively improve wellbeing in our workplaces.
There is also opportunity to interact, learn and connect with other mission-driven business HR professionals and senior leaders, who are looking to create a meaningful wellbeing strategy within their organisations.
Attendee Outcomes:
Meet people focussed professionals and business leaders from across the UK and beyond.
Gain expert led wellbeing insights that can help turn thoughts into supportive actions.
Meet and connect with peers, clients and collaborators in a supportive space.
Meet and engage in energising conversations that focus on finding solutions.
Leave with clear action steps to help you improve your company culture.
The Wellspace Forum series showcases both the expertise Wellspace brings, along with the calibre of workplace wellbeing thought leadership in its client base.
Joining Link: https://us02web.zoom.us/j/81719458983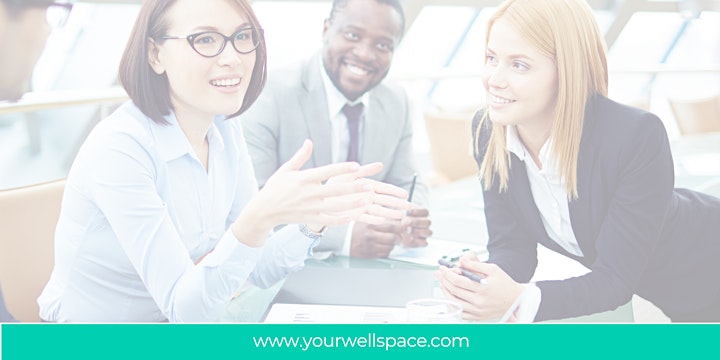 JUNE DISCUSSION
Joining Link: https: https://us02web.zoom.us/j/81719458983
Wellspace looks at how taking a Leadership Coaching approach enables a more holistic view to developing leadership skills effectively, including:
Managing change
Improving communication
Building high-performing teams
Increasing productivity
Increasing wellbeing
Leadership style can be associated with employee stress and wellbeing, with Coaching being shown to improve individual wellbeing via aspects such as developing emotional intelligence - a vital skill for leaders in today's workspaces.
The International Coaching Federation (ICF) reports that 70% of individuals who take advantage of leadership coaching experience improve their performance at work and develop better communication skills.
There's also evidence that Coaching can help businesses retain their top talent with an Association of Coaching survey reporting 78% of respondents saying they would be more likely to stay with their current employer if they received coaching.
Wellspace explores this important relationship between Coaching and wellbeing, how to introduce and develop a Coaching approach for 360 benefit within organisations for individuals and their teams.
Discussion Areas Include:
The rise of Coaching within organisations and how it can be integrated.
Current challenges for leaders and how Coaching can benefit them individually and their teams.
How Coaching can support the HR function in developing leadership skills in communication, compassion and building a culture.
Evidence for a Coaching approach as a tool to increase overall workplace skills base and, as a result, wellbeing.
This months expert panel line up will be announced shortly, and wil be lead by Dr Nicola Eccles (Director of Wellbeing & Behaviour Change, Wellspace)