An exciting space is coming to Northfleet. If you're a creative individual, business or community organisation - we'd like to hear from you!
About this event
Northfleet Riverside is 1 of 4 distinct areas that form the Ebbsfleet Garden City development area. With its distinct identity and emerging community on the banks of the River Thames, the area is undergoing development and regeneration unlocking opportunities for existing and future residents, including a range of new community buildings and associated public spaces.
The Foundry Hub is one of these new spaces. This collection of characterful industrial buildings - strategically located at the head of Robin's Creek and the confluence of three major planned parks - has the potential to create an inclusive and active hub for the whole of Northfleet. The site's rich heritage and wild landscape will provide the backdrop for a vibrant public space where existing and new communities can come together to support local creativity, culture and enterprise.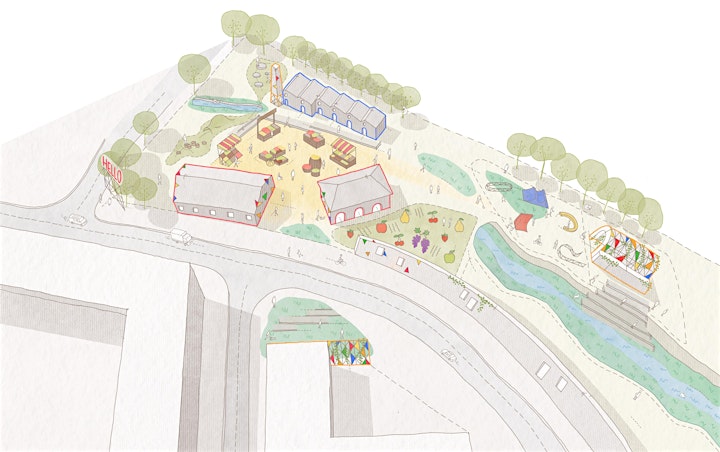 Ebbsfleet Development Corporation, in partnership with Gravesham Borough Council, wants your help to understand the spaces and facilities you need - and how we can successfully co-locate community, cultural and business facilities to create sustainable buildings that work for you.
Why now?
Back in February 2021 we held an online symposium called Come to Ebbsfleet Garden City. This event sought to identify creative, culture and community sector partners from the local area and across the south-east, and offered them the opportunity to 'co-locate' within the civic buildings and outdoor spaces planned for the Garden City. With nearly 200 attendees, we were blown away by your interest and enthusiasm.
This workshop follows on from February's event by delving into one of the specific opportunities on offer in more detail.
What's happening?
Representatives from Ebbsfleet Development Corporation's culture and placemaking team - along with their design consultants RCKa and Studio ONB - will share their initial design proposals for the Foundry Hub. During the workshop we will explore the spaces on offer, as well as the potential uses, facilities and operational models.
There will be opportunities to meet the speakers, ask questions and register your interest in available space.
Creative Estuary is supported by the Department for Digital, Culture, Media and Sport's Cultural Development Fund which is administered by Arts Council England.
Organiser of A Community Hub for Northfleet - An Ebbsfleet Garden City Opportunity Event