Sales Have Ended
Registrations are closed
Thank you and see you at the webinar!
Sales Have Ended
Registrations are closed
Thank you and see you at the webinar!
In these uncertain times, looking forward may seem daunting but for businesses everywhere, now is the time for planning.
About this event
Eventi Management is delighted to bring a clear cut, concise free business and marketing strategy for your business to you by way of a free webinar this Friday 1st May, at 11.30AM in association with Cork Business Association and Local Enterprise Office Cork.
Grab a coffee and tune in for some insights into how and what you should be doing right now to sustain your business during the lockdown and into recovery mode and beyond. The webinar is structured to assist cross-industry business owners and managers alike. Sinéad Dunphy, Managing Director of Eventi Management will host the Webinar and take you through the presentation in an effort to help you and your business. A full Q& A session will be hosted afterwards with Paul McGuirk, Head of Enterprise of the Local Enterprise Office and Lawrence Owens, Chief Executive of Cork Business Association, together with webinar host Sinéad Dunphy.
In these uncertain times, Cork has become a ghost town like so many other places around our country and the world. It is not yet clear and won't be for some time how long or how severe the COVID-19 impact will be. There is, however, no doubt that a current focus on staying afloat, a flexible mindset, and preparedness for when operations pick back up will be the keys to the survival and resiliency of our city.
Our perspective is usually based on our analysis of past emergencies however we have no frame of reference here and the During Covid-19 phase may last far longer than is being anticipated and consequently the marketing response must factor this in. Although the work Marketing seems like the dirty 'M' word right now and be seen as an expendable. Sinéad Dunphy wants to show you how you can help your business with little or no budget and guide you through this crisis and to full recovery.
'In it together' seems more important now, than ever before. With that in mind Eventi Management have created a strategy to ensure that the city of Cork and its businesses stay at the forefront of people's minds both during and after this crisis but also to be ready to relaunch and emerge stronger than ever before.
Speaking about the webinar, host Sinéad Dunphy said: "I'm in constant contact with my peers and colleagues across numerous industries and it worries me how lost so many business owners feel right now. This webinar gives everyone a chance to have a look at a cross industry strategy for recovery while also giving people the chance to ask the questions they need to ask. One on ones will be made available also so please join in and feel free to find out what can be done for your business".
For more information see www.eventi.ie
To register for the event please visit www.eventbrite.ie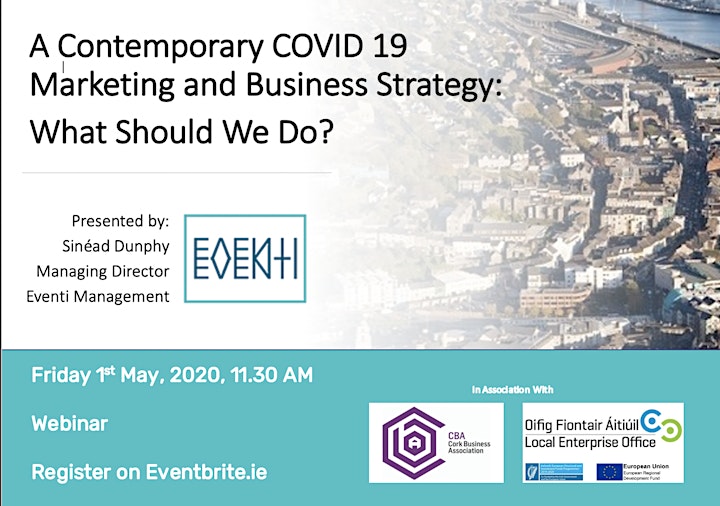 Organiser of A Contemporary COVID 19 Marketing and Business Strategy: What Should We Do?
Eventi are a new Cork based company, but one with plenty of experience and innovation that we will bring to your project, be it large or small. Our personalised service is designed to work with you, not for you. We bring our passion, commitment and expertise to every project to ensure we deliver from conception to completion; matching and exceeding your expectations. Like our clients, we are agile, proactive and delivery focused and constantly seek creative ways to deliver value to our customers.
Our passion is matched only by our sector knowledge and awareness. Eventi provides individual service or full end to end event planning and management services which can be tailored to suit your budget. We are here to bring your ideas to life - be it a festival, arts event, conference, product launch, or special occasion; our expertise will deliver a truly memorable experience. Besides having a deep understanding of what's involved in setting up and managing an event, we also have access to an extensive network of industry partners which enables us to bring in new services as required. Although at home in an arts context, our abilities transcend to envelop all corporates' needs requiring creative results. We're waiting to make it happen for you.