A continuous EVolution 2016 RoadShow, 26th October
Description

Overview

The evening will cover the development of the Astra Tech Implant System EV and where we are today. Bjorn Delin, Vice President, Global Implant Platforms will present information on future developments of Astra Tech EV that will benefit our customers and your patients, to deliver better, faster, safer, implant treatment.
Our experienced roadshow speakers will then guide you through their transition from TX to EV since the introduction of the EV system in 2014, and provide clinical examples of how the development of EV has helped them achieve outstanding clinical results and enhanced treatment for their patients. The focus will be on single, partial and full arch cases utilising digital workflows.
---
Agenda
6:30pm Registration & Refreshments
7:00pm Dr Bjorn Delin, Vice President, Global Implant Platforms: Continuing the Evolution of Astra Tech Implant System EV Better, Faster, Safer.
8:00pm Dr Stephen Jacobs my clinical experience: How I transitioned from TX to Astra Tech Implant System EV.
9:00pm Close
---
Guest Speaker
Stephen Jacobs BDS MJDF RCS (Eng)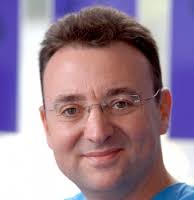 Dr Stephen Jacobs lectures extensively in Europe and the USA on all aspects of dental implantology. He is experienced with many implant systems. Dr Jacobs has placed/restored over 5,000 implants and carried out over 900 sinus grafts since starting in implant dentistry in 1992. Stephen has undergone training in the UK, USA and continental Europe and currently mentors several dentists. He is the scientific chair and a past president of the Association of Dental Implantology (UK), an active committee member of the American Academy of Osseointegration and is on the editorial board of three journals. Dr Jacobs is a key opinion leader for Dentsply Implants, involved in product development and is actively involved in clinical research. He is regarded as one of the foremost implant clinicians in the United Kingdom.
---
VERIFIABLE CPD 
Completion of a online survery after the event will be required to claim 2 CPD hours
---