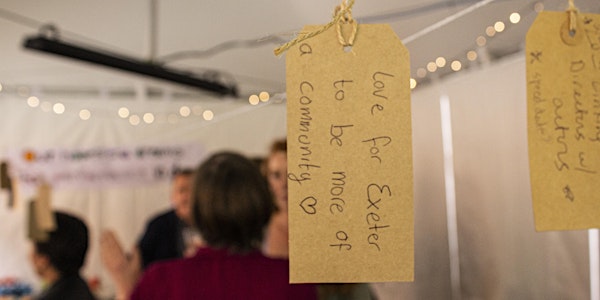 A Conversation About the Future of Exeter Fringe
We would like to invite you to A Conversation About the Future of Exeter Fringe on Wednesday 13 July at 6pm.
About this event
As you may already be aware, Exeter Fringe Festival launched in 2019 by Alex Jackson and Elaine Faulkner. It has played host to many amazing performances and has helped quench our city's thirst for good quality fringe theatre. However, for many reasons, including the ever-evolving careers of the founders, Exeter Fringe Festival has decided to announce it will not be producing a festival in 2022.
This is where you come in!
We are keen that the momentum and impact that the festival has built doesn't fall by the wayside. Last month, we met with other key organisations in the City: Exeter Phoenix, Libraries Unlimited, Maketank and Exeter Northcott Theatre to organise a public forum where people can get together and decide what the future of Exeter Fringe Festival will be.
What should the festival look like? Who should run the festival? Do we even want a fringe festival in our city? All these questions and more will be discussed at this event.
The event will take place both in-person, at the Exeter Library and online to make the event as accessible as possible. Please indicate with your ticket option whether you will be there in person or online, however you'll get the meeting link either way! Tickets are free but places for the live event are limited so please book in advance to avoid disappointment (and give an idea of numbers).
How to find Exeter Library:
Address:
Castle St, Exeter, EX4 3PQ, United Kingdom
https://www.devonlibraries.org.uk/web/arena/exeterlibrary
* NOTE FOR IN-PERSON ATTENDEES*
Feel free to wear a mask for this indoor event - We also ask out of consideration for others attending that you take a lateral flow test beforehand where possible, and attend virually if you test positive ot think that might have any symptoms.