In his inimitable style, UK watercolour artist Trevor Lingard encourages creative vision and artistic licence in your paintings.
About this event
Trevor paints extremely quickly and will begin the session with a rapid demonstration of this countryside scene in Pendle, UK. Then he will go back to the beginning, breaking down his various stages so that you, too, can paint this scene.
Trevor says that, above all, "this exercise will encourage your use of creative vision and artistic license," and help you produce a landscape painting full of atmosphere.
After Trevor's fast demonstration, you will be painting along at more or less the same time as him, trying out the watercolour techniques that he shows you, step-by-step. He will pause in between the stages to give you a chance to catch up and Lois Breckon from The Watermill at Posara will be on hand to feed your questions.
Allow at least a couple of hours from start to finish. Trevor says: "You may like to come prepared for this session with a simplified sketch, with minimum marks, to help guide composition and reduce boundary detail."
When you register for the session you will be asked for a donation. Some people ask how much this should be. Our answer? "Like the measure of a Scottish dram: it should offend neither the host nor the guest!" Our Zoom painting demonstrations do take quite a bit of time in preparation and administration and your support is very much appreciated. With your generosity we can plan and run further sessions and, more importantly, provide a regular meeting place for creativity, camaraderie and fun. We hope that you enjoy the international, online painting community that we have created.
When you register you will be provided with with two links. The first is the Zoom link for you to join the session. The second link is where you will find the source photo, a preliminary sketch, a preview of Trevor's four stages, and notes about his palette and brushes.
After the event, you are invited to email us with your painting to add to the gallery. In addition, we will send you a link to a video that will enable to you revisit Trevor's lesson.
Please note: no copying or sharing of images or videos in part or whole is permitted without consent of the artist whose copyright is retained.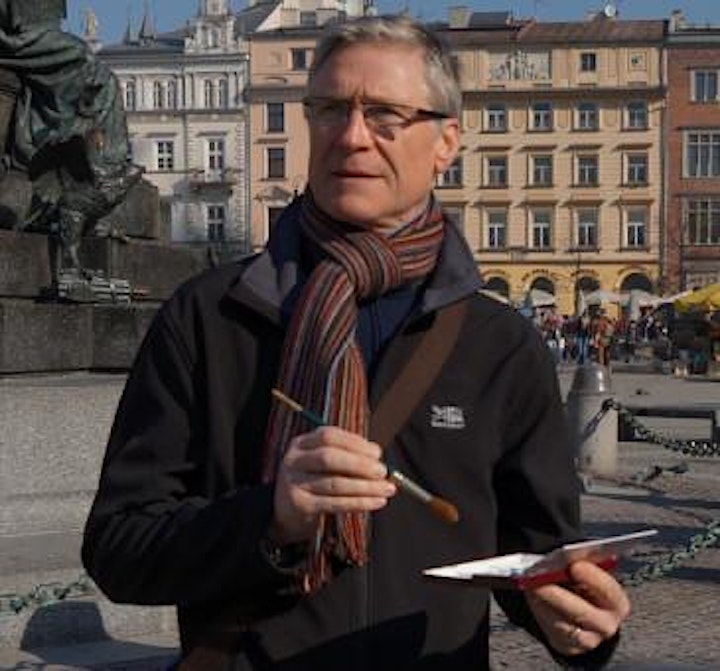 Trevor Lingard's work is characterised by an economy of detail and the use of a limited palette, which gives his paintings a sense of light and immediacy and a unique ambiance and style. He is self-taught, but has spent decades of practice honing his skills and gaining a deep understanding of the properties of the paints and the surfaces he uses.
He says: "I have been inspired by the works of Edward Seago and Sir William Russell Flint and, more recently, by the renowned artists Trevor Chamberlain and John Yardley." His inspiration also comes from many travels abroad, with many of his well known works portraying the hustle and bustle of European cities and landscapes.
You can find out more about Trevor on his website.
Trevor has taught at The Watermill at Posara on numerous occasions and is greatly loved by his students for his painterly techniques and his personal warmth.