Description
The Bodhrán, the heartbeat of Irish music, is an ancient drum made from wood and goatskin and beaten with a wooden stick. After a two sold out courses in Autumn 2016 and Spring 2017, this fun and inclusive six-week course led by Irish percussionist Ruairi Glasheen returns to explore the history of this dynamic instrument and a range of technical and musical skills required to play the Bodhrán.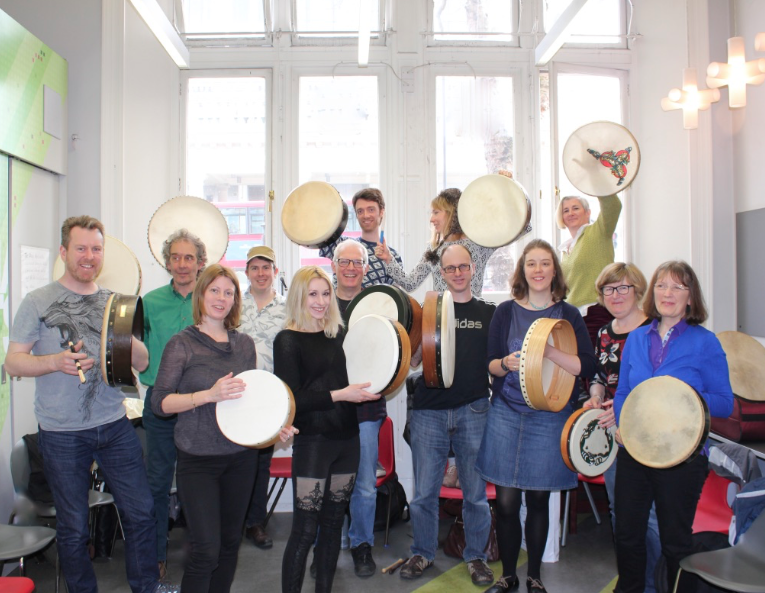 The course will cover :
The history of the Bodhrán, how they are made and how to look after your Bodhrán
Technique: how to hold your Bodhrán, tipper, development of different strokes and exploration of various playing positions.
Jig, reel, syncopated patterns and irregular time signatures. Patterns will be taught with a begginer, intermediate and advanced options.
A wide variety of techniques to improove rhythm and pulse in a fun and inclusive enviroment
Dates:
Saturday 13th May , 11:00 – 12:30
Saturday 20th May, 11:00 – 12:30
Saturday 27th May, 11:00 – 12:30
Saturday 3rd June, 11:00 – 12:30
Saturday 10th June, 11:00 – 12:30
Saturday 17th June, 11:00 – 12:30
Price: £70 inclusive of all six dates ( Excluding £4.93 Eventbrite service charge)
Location:
160 Buckingham Palace Rd, London SW1W 9UD
5 minute walk from Victoria train station
2 minute walk from Victoria coach station
This course will cater for complete beginners and improvers of all ages
Drums will be available for use during the workshop or bring your own drum!
All course material and weekly video tutorials provided

Heres what participants had to say...
"I liked the steady progression through each of the days, with enough to challenge me but not to put me off... Having the videos to help with practice during the week was excellent, because I'd often forgotten the patterns"
"It was fun and relaxed and no one had any need to be nervous as it was very inclusive and you weren't put on the spot"
"Ruairi really pushed us which is a great skill for a teacher to encourage their students to reach higher than they could have imagined but without pressure. Great job!"