Description
Please Note: Tickets are still available for this show via our Box Office on 07500 908331.
A Daughter's A Daughter
By Agatha Christie
Directed by Colleen Batson
Performance Dates: 9th – 13th April 2019
This production is Beckenham Theatre's 2019 entry into both the Kent Drama Association Festival and the Bromley Thetare Guild Festival, with adjudication nights on Wednesday, 10th April and Thursday, 11th April respectively.
A mother's love for her child is like nothing else in the world. It knows no law, no pity. It dares all things and crushes down remorselessly all that stands in its path. – Agatha Christie.
The love between a mother and daughter turns to jealousy and bitterness in this intense and personal drama.
Ann Prentice falls in love with Richard Caulfield and hopes for a new life and happiness. Only her daughter, Sarah, takes an instant jealous dislike to him. Resentment slowly corrodes their relationship as each seeks comfort in the formidable and knowing Dame Laura Whitstable.

The play, whose writing predates that of the novel of the same name, premiered on 9th July 1956, at the Theatre Royal, Bath. It was billed under the name Westmacott – the pseudonym under which Christie also wrote 6 semi-autobiographical novels exploring human psychology in greater depth and offering a fascinating insight into Christie's relationships with her family. Her daughter Rosalind Hicks describes the books as "bitter-sweet stories about love".
Cast

Edith:

Clare Spencer

Ann Prentice

: Siobhan Gee

Richard Cauldfield:

Chris Raven

Dame Laura Whitstable:

Fleur Buckley

Sarah Prentice:

Lucy Camacho

Jerry Lloyd:

Jacob McCloskey

Lawrence Steen:

Martin Bunyan

Basil Mowbray:

James Riley

Doris Cauldfield:

Alice Foster
Anyone can attend performances at Beckenham Theatre but only members can take part onstage or backstage. Be first to find out more about this production – become a member of Beckenham Theatre for just £25 a year!
Tickets are £10.00 plus booking & transaction fee on Eventbrite. Please note that lower priced member tickets and concession discounts are only available by telephoning Box Office directly on 07500 908331.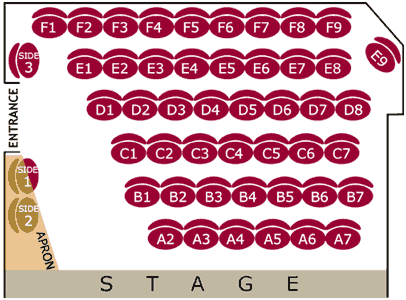 Organiser of A Daughter's A Daughter
For 70 years, the smallest theatre in the UK has proudly served, involved and delighted the local community with drama, education and a wonderful night out. If you haven't visited us before, please come along to 'that funny old house on the corner of Bromley Road' and find out why everyone who walks in falls in love with the place!