Get creative and experience a great night out that you'll be talking about for weeks!
About this event
Join Brush Party, the UK's 'Paint and Sip' experts, at the Pitcher & Piano in Bristol on Tuesday 29th June 2021 to paint our fabulous theme A Day at The Bay- Get creative and experience a great night out that you'll be talking about for weeks!
It's all about fun! Get yourself a drink from the bar, settle down to your canvas and unleash your inner Van Gogh!
It doesn't matter if you haven't picked up a paintbrush since school, our artist will walk you through creating your masterpiece. You'll be delighted as your blank canvas transforms in just a few hours, made all the better by good company, music, and a glass of wine or two!
You don't need to bring anything apart from yourself … We provide everything… A quality canvas, all the paint you need, brushes, aprons, and the environment for you to have a great night out.
We are not sticklers, we are all for you mixing it up a bit – If you feel confident, you can interpret our instruction any way you wish – Maybe you'd like to change the colours to suit your décor? We love it when you go 'rogue', we might even learn a few tricks!
The event starts at 7.00pm but please arrive at least 15 minutes early to get your seat and any drinks you may want etc. Our evenings usually last about 2.5 - 3 hours but times may vary.
Although we provide aprons, it might be worth wearing old clothes (just in case). We look forward to seeing you for a great night out!
**A free bottle of bubbly for a single booking of a group of 10 people or more**
***One free ticket for 6 confirmed referral bookings*** Email for details.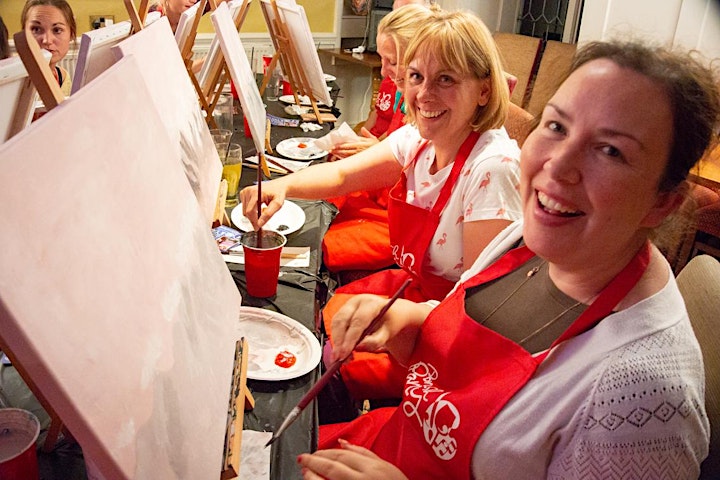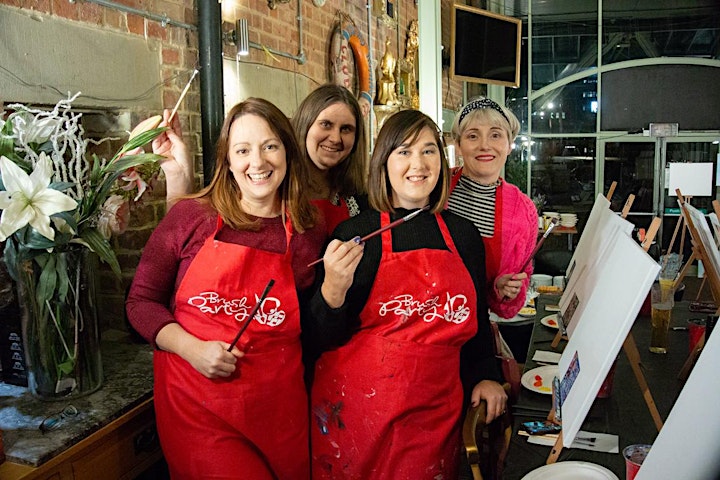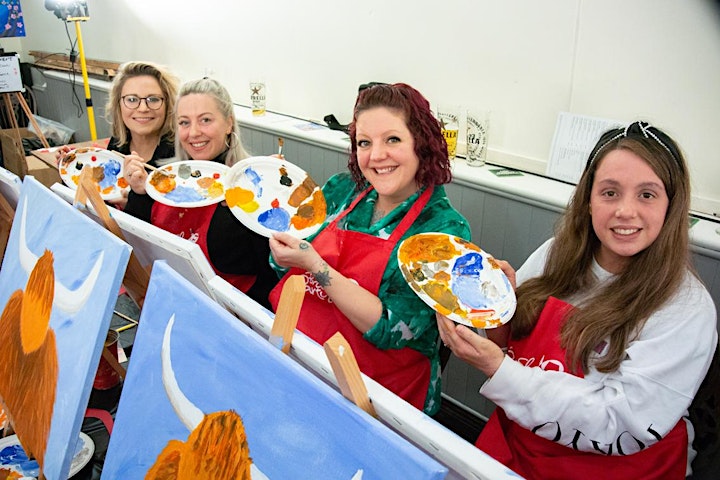 IMPORTANT:
BEFORE booking this event please read our full Terms & Conditions, and the Participant Waiver Form. By booking this ticket, you confirm that you have read and understood the Terms & Conditions. https://brushparty.co.uk/tc/
In order to help us with seat planning, we ask that all 'Bubbles' or Group bookings which do not require social distancing at a table be booked by one person under one booking. All contact details of all individuals will still need to be supplied for Track and Trace purposes.
Brush Party events can only take place if we all follow some basic rules:
**We strongly advise all attendees to wear masks / face shields.
(Face shield could be useful when you remove your face mask for eating/drinking)
Although our event and venue are following COVID-19 Secure guidelines, you should take care to limit your interactions with anyone outside of your group and you should continue to maintain social distancing from those that you do not live with. It is critical that you follow these guidelines to keep both yourself and others safe.
To comply with COVID-19 guidelines, we have reduced the number of guests we can accommodate at each venue and you may find our layout slightly different as we will be working with the venue to ensure socially distanced seating where necessary.
Please wash your hands before, during and after the event. Where hand washing is not available, we will provide hand sanitiser for your use and Brush Party staff use. Though bringing your own could reduce the chances of cross contamination.
Please avoid moving around the venue wherever possible. We would ask all of our painters to attract the attention of staff by raising their hand rather than calling out or coming to the front.
Please keep personal belongings to a minimum as they will need to be kept with you throughout the event, rather than being left in a communal area.
As per current guidelines, our team will be notified that they MUST report any symptoms of COVID-19 or if they have been in contact with anyone with symptoms. Anyone that we consider to be displaying symptoms or who has come into contact with anyone who is displaying symptoms, will be unable to work. During the events, if we see anyone that shows any symptom of COVID-19, we will ask them to leave with their guests. Please do not take offence at this, we are acting in your best possible interests.
Before the event, if any of your party seems sick or displays any obvious coronavirus symptoms or came in contact with anyone who might have the virus, please ask them not to attend the event.
Brush Party will take part in the Track and Trace scheme. If, after the event we become aware of anything that would indicate any of our guests have been exposed to any higher risk, we will contact the venue and all attendees to let them know.
See our full Brush Party Covid-19 Commitment https://brushparty.co.uk/covid/
Please Note:
A Brush Party is not a traditional painting class – Music is played throughout the event.
Your ticket price does not include food or drinks. Drinks can be purchased from the venue and food is also available up to 9pm. Bringing your own food and drink to the event is strictly prohibited.
Our events are recommended for anyone over the age of 16. However, please contact us if you are booking for anyone under the age of 18 as each venue has licensing conditions that can restrict attendance of minors.
Refunds and cancellations: Tickets are strictly non-refundable or transferable within 7 days of the event. However, you can sell or pass your ticket on to someone else. See our Terms & Conditions for our full Refund & Cancellation Policy.
See our full Brush Party Terms & Conditions https://brushparty.co.uk/tc