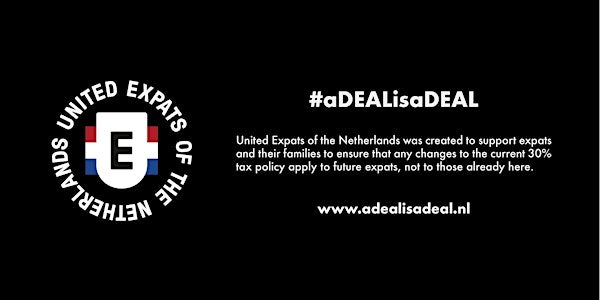 A Deal Is a Deal: Rally & Petition Handover to the Dutch Finance Committee
Location
Plein 2
2 Plein
2511 CR Den Haag
Netherlands
Description
On May 29th from 13.00 am to 13.45pm, approximately 100 individuals will gather together in Den Haag to deliver a petition to Parliament. Comprised of representatives from the United Expats of the Netherlands (UENL) along with members of diverse political, corporate, and academic entities, the petition requests that the Dutch government honour its commitment to highly skilled expats who are currently recipients of the 30% tax ruling. With more than 25,000 signatures, this petition makes clear that the Finance Committee's proposal to reduce the term length of the 30% tax policy to five years for both current and future expats will have dramatic consequences for the financial livelihood of current expats and their families, the businesses that employ these expats, and the financial health and well-being of the Netherlands.
HOW YOU CAN SHOW YOUR SUPPORT
1. Sign and share our Change.org petition
2. Participate in the rally on 29 May 2018. Please choose the 'RSVP' ticket below. Spaces are limited, so sign up quickly (please only sign-up if you absolutely can attend).

3. Be part of the rally organizing committee. If you would like to be part of the committee and help with security and cleanup, choose the 'Volunteer' ticket below.