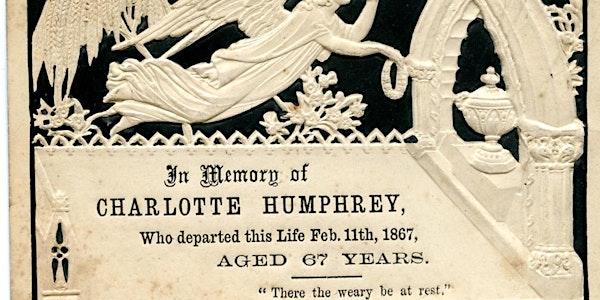 A Death Café-style evening, featuring Victorian cards and card-making
Location
Tea Hive
53 Manchester Road
Chorlton-cum-Hardy
M21 9PW
United Kingdom
See a display of rare Victorian greeting cards, make your own cards and reflect on death, dying, commemoration and celebration
About this event
If you are interested in finding out more about mourning cards, Christmas cards and vicious Valentines in the Victorian era, join us at Tea Hive café, Chorlton, to see a display from the Laura Seddon collection at Manchester Metropolitan University. This collection of around 35,000 rare greeting cards is housed in the Special Collections Museum.
There will also be the opportunity to create your own card as vintage crafting materials will be provided. The event will be hosted by members of a research team at Manchester Metropolitan University, including Dr Emma Liggins (English Department) and Steph Boydell (curator at Special Collections Museum).
The evening will be run in the style of a Death Café, with participants invited to craft their own cards whilst discussing death, dying and grief in a relaxed atmosphere. Hot and cold drinks and (more importantly) cake are on sale at Tea Hive. We hope that the cards might also prompt reflections on differences in mourning, commemoration and celebration between the 1800s and the twenty-first century.
This is one of a series of events in the AHRC-funded project, Celebrations: Victorian and Edwardian Greeting Cards, which aims to make the Seddon collection and its catalogue more accessible to academics and the general public. The workshops we are running seek to engage the local community in collections-based research. Death Café Chorlton is one of our external partners, alongside Elizabeth Gaskell's House, and we are also working with writing groups for young adults via the Manchester Poetry Library.
To find out more about the project, click here
This event is for over-18s only, as we need to hear from adult audiences rather than the school children and young adults targeted in other workshops. Whether you are in your 20s or your 90s, we'd love to see you and hear your views on the cards. As part of the event, we hope that you will take time to fill out a short questionnaire which we will use to help with improving the accessibility and interpretation of the Seddon collection.
You are also welcome to bring along cards which have meant something to you in the past - particularly sympathy cards, Valentines or general greeting cards. We'd be fascinated to see them.
Added bonus: the first 15 participants to sign up will get a free hot drink and cake from Tea Hive's fabulous selection! So book early.
Please note: as of 30 May, the 15 free drinks and cakes have all been claimed.