Refund policy
Contact the organizer to request a refund.
Eventbrite's fee is nonrefundable.
Receive distance Reiki treatments while self-treating/meditating. 1 hour a day. For 4 days. Online in global circle.
About this event
This is a monthly offering, hosted by Eloise Joseph.
July 25th-28th
August 22nd-25th
September 19th-22nd
All gatherings take place from 3-4pm EST (New York City) / 8-9pm BST (London).
Visit this online meeting planner to check your time zone.
Recordings will be available for the duration of the process.
For more information about Reiki Flow Global, our team and our upcoming calendar, please visit www.reikiflow.global or contact us at hello@reikiflow.global.
__________
1 hour a day. For 4 consecutive days. Online, in global circle. Rest. Restore. Resource. Realign.
A Deep Dive into Self Treatment is a collective healing space held in Reiki.
It is open to both existing students of Reiki and those that are curious about experiencing the energy.
Reiki is a powerful pathway to multi-level rest and regeneration.
Self treatment is the practice of gifting yourself this energy through the process of placing your hands on yourself. It is built on the principles of consistent self love, self care and spiritual discipline. This is the foundation on which this offering is crafted.
Each day we will meet online for 1 hour to dive deep. Participants will receive distance Reiki accompanied by energetic downloads and clearing while engaging in self treatment/meditation.
Over the course of the 4 days we will give centre-stage to Reiki. It is a powerful combination to dive deep into your inner realms through self treatment or meditation, while having space held for you by a skilled practitioner and receiving a distance Reiki treatment.
This offering is ideal for:
Existing Reiki practitioners who would like to deepen into their practice
Existing Reiki practitioners who do not currently have a consistent self treatment practice established and would like support in doing so
Existing Reiki practitioners who would benefit from rediscovering the power of the energy they hold
Those that have a different spiritual practice and are interested in rooting into it on Reiki pathways
Those that are curious about Reiki, what it is and how it feels
Those that would like to receive a Reiki treatment
Those that would benefit from allocating time to rest and connect with self in a safe, held environment
This is an invitation to gift yourself the space and time to be present in your body. To process and release stored emotions, reconnect intimately with yourself and your guidance, soothe your nervous system and come back into balance with who you truly are.
This offering is open to everyone. You will be guided through the entire process.
___________
For those who are unable to attend all 4 sessions: To fully experience the potency of the process we advise you to attend all sessions live, in person. However, an audio of each session will be recorded and made available for replay until midnight on Day 4 of the offering. Reiki knows no time nor space so you will absolutely still benefit from the session whether you are present in real time or not. You will still receive the distance Reiki treatments, clearing and downloads.
A note on reciprocity: Financial exchange is one of the nine key elements of Reiki practice, as it honors the energetic exchange that takes place in spaces held in Reiki. That being said, if you are unable to meet the financial commitment for this event, please reach out at hello@reikiflow.global - we never intend for finances to be a barrier to receiving Reiki energy.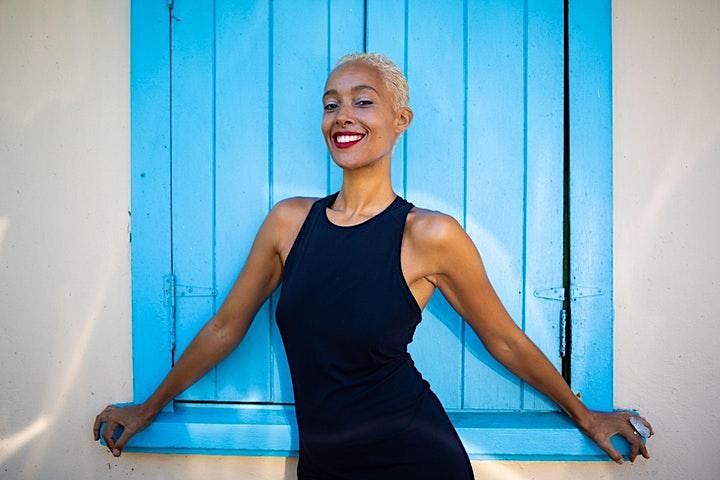 About Eloise Joseph:
Initiated into Usui Shiki Ryoho Reiki in 2008, Eloise's walk with Reiki has been a deep journey of traveling inwards to decolonize her internal landscape. She has gone from outsourcing her power, spirituality, creativity and self worth to activating her inner divinity, connecting to her intuition and cultivating a consistent state of internal alignment and liberation.
This has been a profound process of personal healing and reconciliation between her St Lucian Caribbean and Swiss European ancestry.
Trained in both energetic and creative healing modalities, Eloise has always been inspired by the intersection of spirituality and creativity. With a decade long career in the arts, she was instrumental in establishing the pioneering multi-award winning theatrical agency Identity Agency Group which changed the landscape of accessibility for black talent across the U.K. and U.S.
Eloise believes it is imperative to deepen into our connection with our intuition and our own body wisdom in order to activate our unique contribution to planetary healing.
It is from this perspective that Eloise holds specific interest in facilitating flow in the body, releasing stuck emotions/trauma, realigning and healing the nervous system and deepening into the embodiment of source-based connection. From this place we can 'feel' ourselves and be in an autonomous relationship with our physical body and operating system.
She has a particular sensitivity to womb work having walked through her own healing journey with Uterine fibroids.
Eloise is gifted at holding safe space to journey inwards, and passionate about the reclamation of our bodies, time, energy, creativity, ability to dream and freedom to manifest our dreams.
Eloise lives between the UK and the Caribbean.