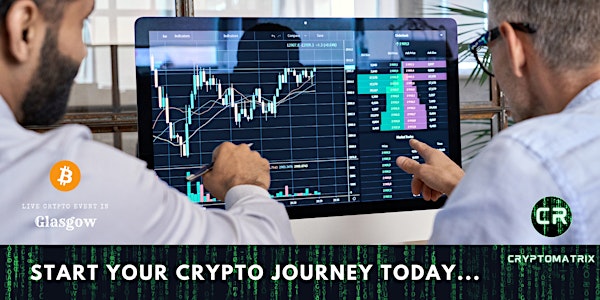 A Deeper Dive into Crypto and why people are calling it "Financial Freedom"
There is a reason why people see Crypto as their 'financial freedom' Do you not think its about time you learn more about it?
About this event
Learn from the insights and experience from the team at Crypto-Matrix who have been invested in Crypto-Currencies since 2012. We have helped hundreds of people start their crypto journey in a safe and informed way.
All the below topics will be covered within the seminar held by "Crypto-Nad" the founder of Crypto-Matrix.
Topics Covered within the Seminar;
What Is Crypto and is it too late to invest?
- Brief history of Crypto
- Why people are calling Crypto 'Financial Freedom'
- How to Invest in Crypto
- Investment Strategies and how to make money from crypto
- What coins to buy and avoid
Wallet Transactions Security
- How to set up wallets and keep them secure
- How to buy, sell, send and exchange crypto
- How to cash out profits
What Is Blockchain?
- How Blockchain will make the world a more fairer, prosperous place to live
- How exactly does Blockchain work
- Is Blockchain the new Internet?
The Metaverse & NFTs Explained
- An Explanation of both in Layman's terms
- Examples of how both will be soon implemented into our lives
Centralisation vs. Decentralisation
- How the world works today vs. how the world could work in the future
- Pro's and Con's of of both worlds
- The Internet vs. The Blockchain
- Zero-Proof Knowledge
How to roughly predict coin prices?
- Learn how market capitalisation and circulating supply affects prices.
- How the Tokenomics of a coin can help you avoid scams and spot gems
- Stop listening to the noise on social media and carry out your own fundamental analysis
Fundamental Analysis
- DYOR is a phrase often used in the crypto-sphere but where do you start?
- Watch and learn how Crypto-Matrix take a deeper dive into the crypto projects BEFORE they invest
Technical Analysis
- Intro and basics to reading crypto charts
- Identifying trends and patterns
- Effective Trading Strategies
- Insights into the life of a Crypto-Trader