Event Information
Location
Quay Place
Key St
Ipswich
Ip41bz
United Kingdom
Refund Policy
Refunds up to 30 days before event
Eventbrite's fee is nonrefundable.
Description
"A Disorder for Everyone!" - Challenging the culture of psychiatric diagnosis and exploring socially informed alternatives

AD4E is coming to Ipswich! This will be our 20th event!
Speakers confirmed so far include:- Dr Lucy Johnstone, Dr Sami Timimi, Katie Mottram, Dr Akima Thomas, Dr James Davies, Dolly Sen, Sally-Ann, Matthew Morris, Nollaig McSweeney and Jo Watson.
We are delighted to be in association with Your Life Our Help - Ipswich

When you buy your ticket please consider donating a small amount via our "donation" option to support free and cheap places for people who can't afford to pay.

Who Attends?
This day is for anyone who is interested in and concerned about the current debates in 'mental health.'
It provides a space to explore the critical questions of the day around the biomedical model and the narrative of 'diagnosis and disorder!'
Attendees from past AD4E events have included people who identify as the following :-
people with lived experience of emotional distress, supporters of people with lived experience, survivors, psychologists, journalists, activists, counsellors, service users, service refusers, psychotherapists, mental health support professionals, psychiatrists, managers and individuals with a general personal interest.
About the day
The event features not just professionals but people from a diverse range of backgrounds who have an essential contribution to make to the debate.
Lucy Johnstone presents the current debates and controversies about psychiatric diagnosis. It is increasingly acknowledged, even within the mental health establishment, that categories like 'schizophrenia', 'bipolar disorder' and 'personality disorder' lack validity. The assumption that distress is best understood as disease can have very serious consequences for the individual, their identity, and their path to recovery. In the morning Lucy will present alternatives to diagnosis which can help people to make sense of experiences of distress, however extreme, and which are based on working together to explore personal meaning.
Other Listed speakers will make up the rest of the day. Delegates will also attend an afternoon workshop
Delegates will attend one of 2 workshops
Workshop 1
Title: An Introduction to the Power Threat Meaning
Framework
Facilitator: Dr Lucy Johnstone
Summary: Lucy will outline the key principles of the framework and show how it can be used in practice to understand and make sense of emotional and psychological distress.

Check out the trailer for the Power Threat Meaning Framework Launch
Workshop 2
Title: Can crises really be opportunites for growth and transformation?
Facilitatior: Katie Mottram
Summary: Join a shaing circle to hear stories of those who have #Emerged Proud through Suicide with the sense that it was a necessary part of their journey to becoming more authentically themselves. Do you have an experience to share? Our sharing circle has the purpose of personal and collective nourishment and connection.
By joining others in authentic sharing we can have our feelings validated, realise that we are not alone, and that actually we are so very connected to each other; This is the beauty of sacred space sharing…
What to expect
We sit in circle and take a talking-stick approach so everyone has an opportunity to share. Of course, you're very welcome to simply listen too if you don't feel able to talk initially. There will be some gentle guidelines which will be explained during the session, to ensure the space is safe, confidential and equal to all.
About Lucy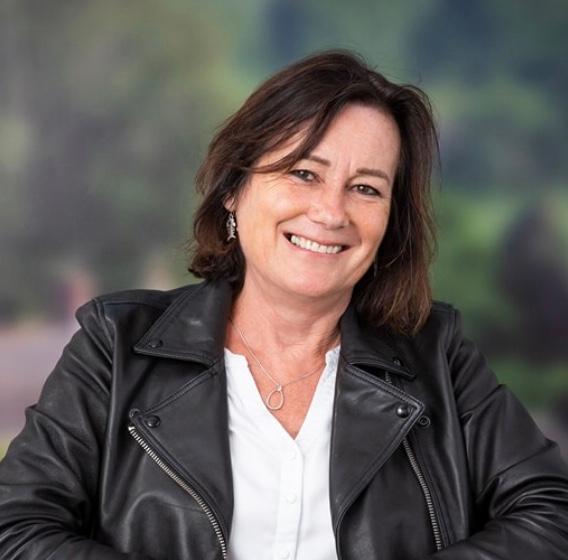 Dr Lucy Johnstone is a UK clinical psychologist, trainer, speaker and writer, and a long-standing critic of biomedical model psychiatry. She has worked in adult mental health settings for many years, alternating with academic posts. She is the former Programme Director of the Bristol Clinical Psychology Doctorate, a highly regarded course which was based on a critical, politically-aware and service-user informed philosophy, along with an emphasis on personal development.
Lucy has authored a number of books, (including 'Users and Abusers of Psychiatry, 2nd edn 2000) articles and chapters on topics such as psychiatric diagnosis, formulation, the psychological effects of ECT, and the role of trauma in breakdown.
Lucy was a contributor to the Division of Clinical Psychology 'Position Statement on Classification' 2013. She is currently convening a group of leading UK clinical psychologists and mental health experts who are working to develop an evidence-based and conceptually coherent alternative to the current diagnostic systems.
Lucy's book is available here: A Straight-Talking Introduction to Psychiatric Diagnosis,
& check out Lucy's articles for Mad in america here: https://www.madinamerica.com/author/ljohnstone/
Twitter - @ClinpsychLucy
Read Lucy & Jo's article in BACP's Therapy Today (April '17)
About Jo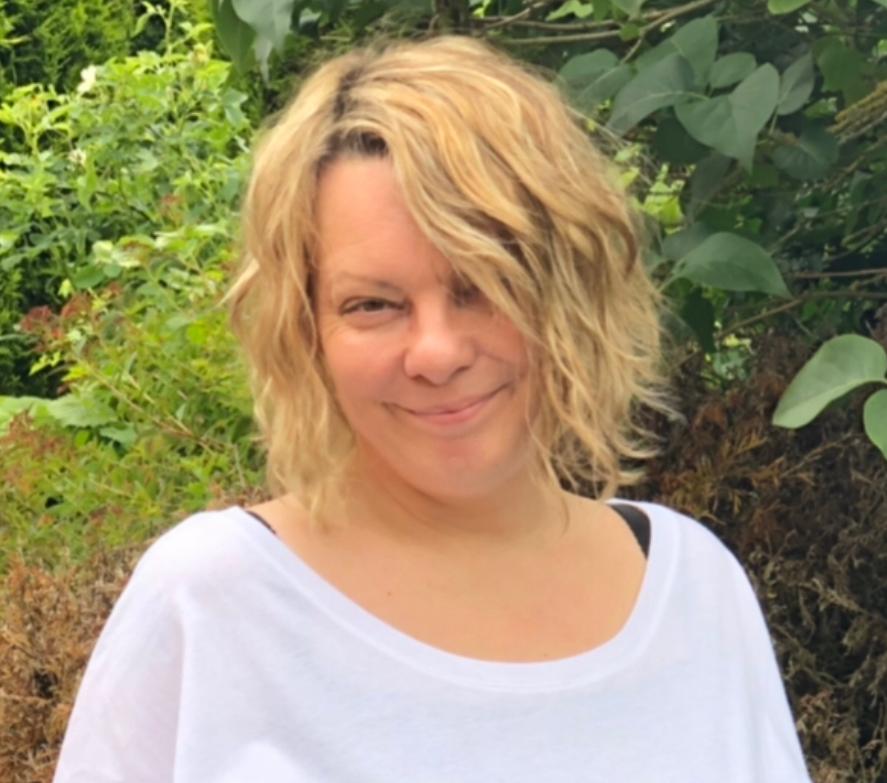 Jo Watson is a psychotherapist, trainer and activist who started out in the survivor and rape crisis movements of the 1990's. She has worked therapeutically for the last 20 years with people who have experienced trauma. Jo actively challenges the biomedical model in mental health both inside and outside of her work and links emotional distress to psycho-social causes. (Trauma, oppression, lack of positive attachment etc.)
Jo believes that in many cases the identification with a 'diagnosis' is damaging and counterproductive to a satisfactory healing process and that alternative routes to understanding distress should be offered.
Jo founded the facebook group 'Drop The Disorder!' in September 2016 as a place where the issues surrounding the biomedical model can be discussed. Jo is organising and promoting "A Disorder For Everyone!" which is presently making its way around the UK.
Twitter - @dropthedisorder
AD4E website: www.adisorder4everyone.com
Order Jo's book 'Drop the Disorder!- Challenging the culture of psychiatric diagnosis' here!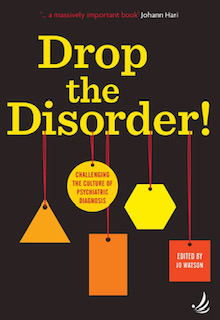 About Nollaig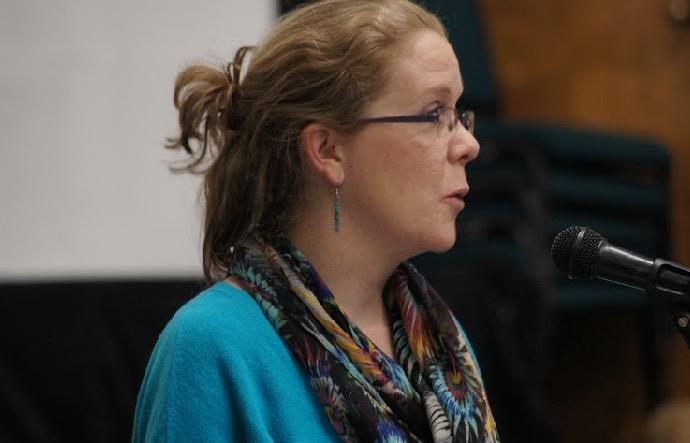 Nollaig McSweeney qualified as a mental health nurse in the UK in 1997 and worked in acute psychiatry for quite some time before she realised that the so-called 'science' behind it was highly questionable. This insight was largely sparked by reading Rosenhan's 1973 study – On Being Sane in Insane Places. Nollaig is a valued member and contributor of "Drop the disorder' facebook group and is an activist for change.
About Sami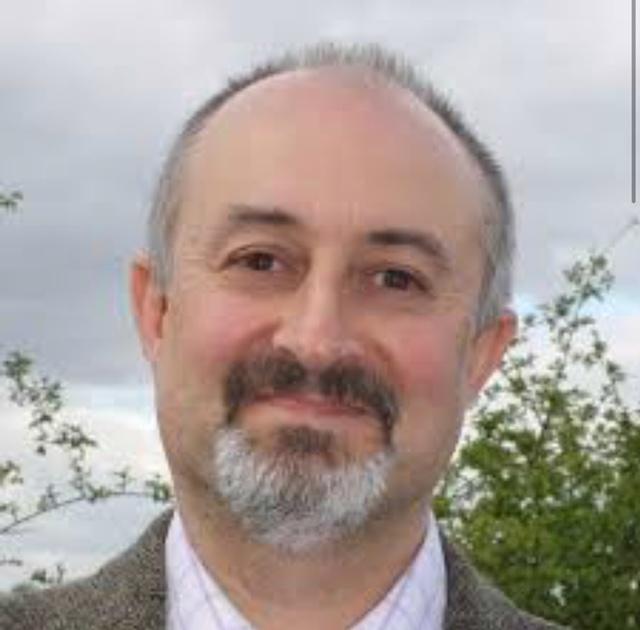 Sami Timimi is a Consultant Child and Adolescent Psychiatrist and Director of Medical Education in the National Health Service in Lincolnshire and a Visiting Professor of Child Psychiatry and Mental Health Improvement at the University of Lincoln, UK. He writes from a critical psychiatry perspective on topics relating to mental health and childhood and has published over a hundred and thirty articles and tens of chapters on many subjects including childhood, psychotherapy, behavioural disorders and cross-cultural psychiatry. He has authored 4 books including Naughty Boys: Anti-Social Behaviour, ADHD and the Role of Culture, co-edited 4 books including, with Carl Cohen, LibratoryPsychiatry: Philosophy, Politics and Mental Health, and co-authored 2 others including, with Neil Gardiner and Brian McCabe, The Myth of Autism: Medicalising Men's and Boys' Social and Emotional Competence.

What is a psychiatric diagnosis and does it matter?
Sami will explain why technically speaking there is no such thing as a psychiatric diagnosis. The creation of a mythology of mental illness that lacks scientific credibility has led todominant beliefs and practices facilitating the rapid growth of psychiatric diagnoses and the tendency to deal with what is conceptualised as aberrant behaviour or emotions through technical – often pharmaceutical – interventions; a phenomenon Sami refers to as the 'McDonaldization' of mental health. His presentation will outline the lack of evidence for supporting (or otherwise) conceptualising what we think of as mental 'disorders' as being the result of biomedical or psychological abnormalities. Not surprisingly research shows that poor outcomes are achieved by current mainstream mental health services adding urgency to the task of developing services that reject the use of diagnostic pathways.
About Akima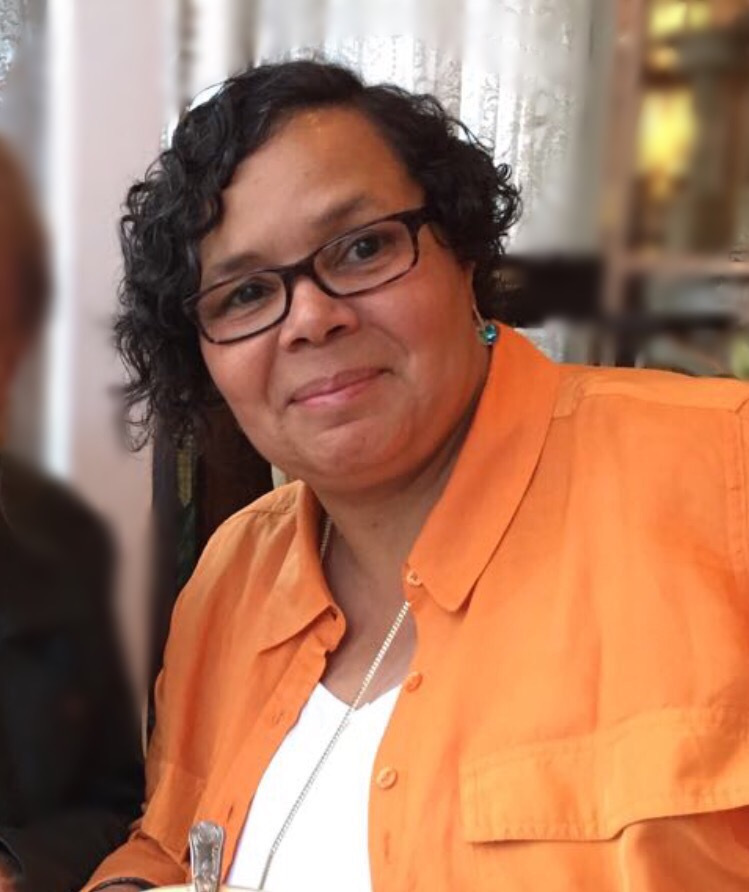 Dr Akima Thomas OBE is a feminist activist and comes from a background in nursing and social work. Founder and Clinical Director of Women and Girls Network a holistic therapeutic service working with women and girls surviving gendered violence. Akima has pioneered working from a trauma informed approach and has developed a strengths based non pathologising clinical model; the Holistic Empowerment Recovery Model (HER) integrating healing of mind body and spirit. More recently Akima has researched women's healing journey chronicling their strategies of resistance rebellion and resilience to ensure survival.
About Dolly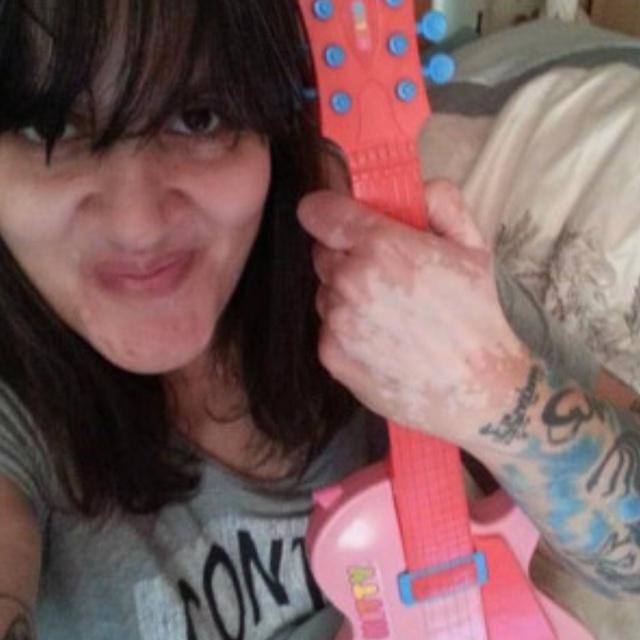 Dolly Sen is an award-winning writer, artist, performer and filmmaker. She has had 10 books published, been nominated twice for a Dadafest Literary Award (2006 & 2007), and won several awards for her poetry. Her subversive blogs around art, disability and humour have a huge international following. Since 2004 she has exhibited and performed internationally. Her most recent projects have been a digitally commissioned work for Short Circuit and the Brighton Digital Festival, where she gave an ordinary website a psychotic episode and changed its programming forever, and the creation of the popular Madvent Calender for Christmas 2014.
As a child Dolly Sen was an alien in Empire Strikes Back. She knew then she would never know normal life. Dolly is an award-winning writer, artist, performer and filmmaker, which has taken her up a tree in Regents Park, to California's Death Row, to the Barbican, Tower Bridge, and up a ladder to screw a lightbulb into the sky. None of this would have happened if she believed diagnosis and psychiatry defined her.
Dolly will be bringing 'bedlamb', using poetry, art, comedy and sheep to show that the DSM is no way to talk about human beings… or sheep!
Dolly Sen

http://www.dollysentraining.com & http://www.dollysen.com
About James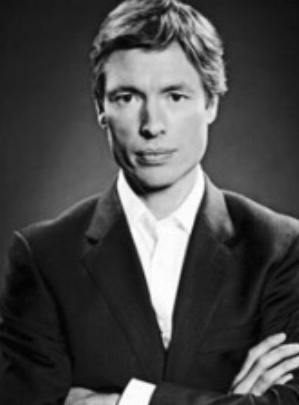 Dr James Davies graduated from the University of Oxford in 2006 with a DPhil in social and medical anthropology. He is a Reader in Social Anthropology and Mental Health at the University of Roehampton and a practicing psychotherapist. He has delivered lectures at universities such as Harvard, Yale, Oxford, Oslo, Brown, UCL and Columbia. James has also written for The Times, The New Scientist, The Guardian and Salon. He is author of the bestselling book Cracked: why psychiatry is doing more harm than good (Icon Books), and is co-founder of the Council for Evidence-based Psychiatry, now secretariat to the All-Party Parliamentary Group for Prescribed Drug Dependence.
The Making of Mental Disorder – The disturbing truth about the construction of the DSM.
Why, without solid scientific justification, has the number of mental disorders risen from 106 in the 1960s, to around 370 today? Why has the definition of mental disorder expanded to include evermore domains of human experience?
In his AD4E talk Dr James Davies takes us behind the scenes of how the psychiatrist's bible, the DSM, was actually written. Did science drive the construction of new mental disorder categories like 'ADHD' and major depression or were less-scientific and unexpected processes at play?
James's exclusive interviews with the creators of the DSM reveal the answer.
About Matthew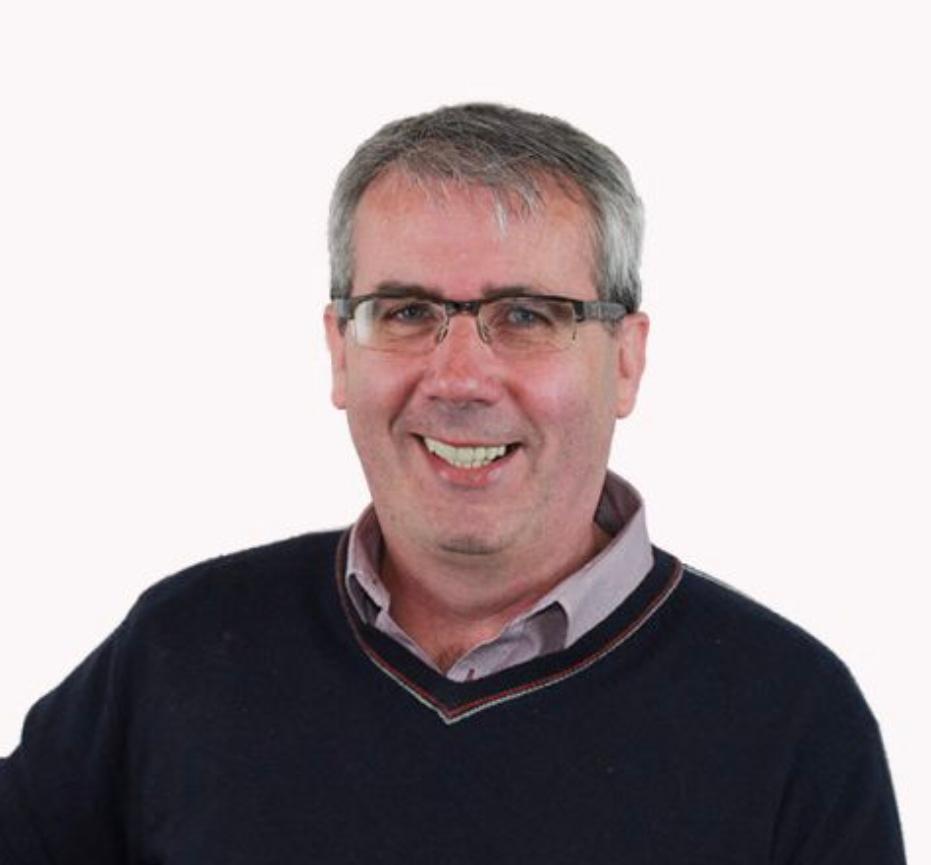 Matthew Morris is the Director of Development for YLOH – Your Life Our Help and The Mavam Group. He has been working with people experiencing emotional distress since 1982, when he went to work at a Mind Drop-in Centre in Northampton.
Matthew trained as a Mental Health Nurse in Ipswich and qualified in 1990, he has worked in the NHS, the voluntary sector and now as part of an independent organisation. All of his working life has been involved in developing new teams and services, trying to create compassionate alternatives to the medical perspective.
The work of YLOH is designed around the belief in creating helpful relationships, "people helping people". Building services that are available to anyone based on their needs, not by any other classification. Acknowledging emotional distress as being an understandable part of all life's problems.
YLOH staff are supported and trained to get to know people, and to build and sustain helpful relationships that acknowledge people's emotional and practical needs. Services that place the challenges that people face as being part of wider societal issues and how they have impacted on people.
In his presentation Matthew will talk about the challenges of putting new ideas into practice and creating a new language for helping people whilst being fluent in the traditional language of mental health services.
About Sally-Ann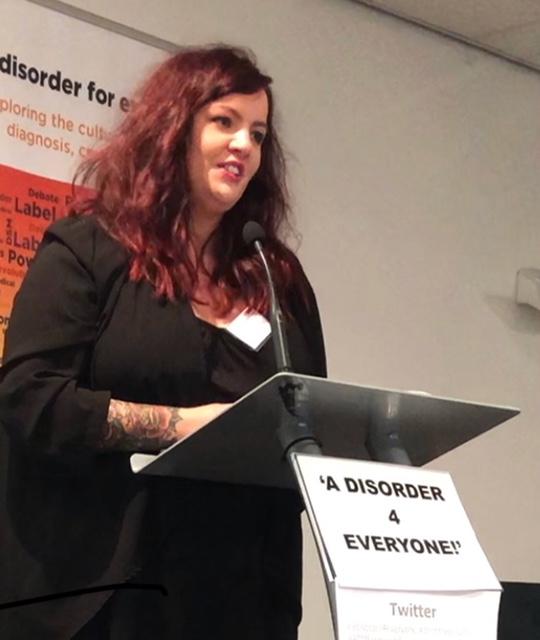 Sally-Ann is a survivor of years of child abuse who now as an adult has been labelled with a 'personality disorder' Sally shares her story 'Trapped' - The label that prevents my freedom' - My experience of being labelled 'disordered' after trauma, telling us about the devastating impact of this diagnosis.
About John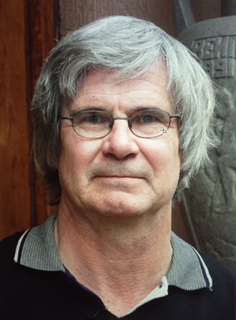 Prof John Read is Professor of Clinical Psychology at the University of East London.
https://www.uel.ac.uk/Staff/r/john-read
John worked for nearly 20 years as a Clinical Psychologist and manager of mental health services in the UK and the USA, before joining the University of Auckland, New Zealand, in 1994, where he worked until 2013.
He has published over 130 papers in research journals, primarily on the relationship between adverse life events (eg child abuse/neglect, poverty etc.) and psychosis. He also researches the negative effects of bio-genetic causal explanations on prejudice, the opinions and experiences of recipients of anti-psychotic and anti-depressant medication, and the role of the pharmaceutical industry in mental health research and practice.
John is on the Boards of:
Hearing Voices Network www.hearing-voices.org/about-us/
The UK branch of the International Society for Psychological and Social Approaches to Psychosis www.isps.org
The International Institute for Psychiatric Drug Withdrawal http://iipdw.com/
He is the Editor of the ISPS's scientific journal 'Psychosis'.
His books include:
READ, J., DILLON, J. (eds.). (2013). Models of Madness: Psychological, Social and Biological Approaches to Psychosis, 2nd edition. Routledge.
READ, J., SANDERS P. (2010). A Straight Talking Introduction to the Causes of Mental Health Problems. PCCS Books.
GEEKIE, J., RANDAL, P., LAMPSHIRE, D., READ, J, (eds.). (2012). Experiencing Psychosis: Personal and Professional Perspectives. Routledge.
About Katie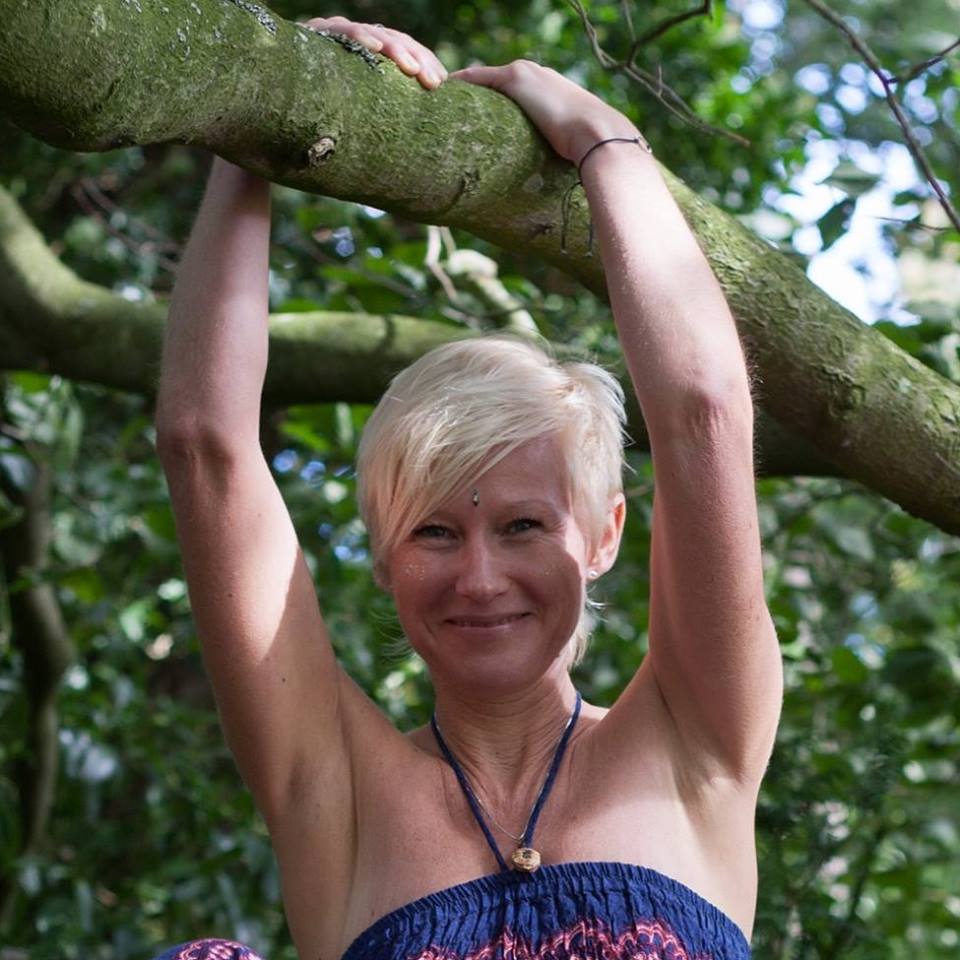 Katie Mottram is an Author and Founder of the #EmergingProud anti- stigma campaign in support of those experiencing transformational crisis; www.emergingproud.com. Her latest project is KindaProud, a series of 4 pocket books of hope which aim to re-frame crises as potential opportunities for growth and transformation.
See details workshop details above for info on the workshop Katie is offering at this event.
What people have said about the event...
"The whole day has been a transformative experience. I have always been uncomfortable with labels but felt I had to go along with it. Now I feel empowered to offer the people I work with the option at least to explore alternative ways of understanding their pain." (Participant Birmingham)
"I feel like I am at the beginning of an exciting and liberating journey. Thank you Lucy" (Participant on Birmingham )
"I've been told I am ill for the best part of 20 years and given the 'meds' to go along with it. This has never felt right, now I know it isn't right." (participant Bristol)
"A Disorder for Everyone is not your average event. I have learnt that I need to unlearn! I am re-evaluating everything!" (Participant Birmingham)
"Everything about today has been validating, I really needed this course!" (participant Edinburgh)
"Lucy's straight forward, common sense approach was just what I needed at the moment. Her message is simple: Listen to people, to their stories and help them make their own sense about their lives" (Participant Birmingham course)
"I have no idea what to make of it all, but I feel like i'm at the start of a mini personal revolution!" (Participant London)
"I arrived today with two 'illnesses', I'm leaving with the knowledge that all my pain and distress makes total sense." (Participant Liverpool)
"Inspirational, exciting but most of all hopeful" (Participant Brighton)
Check our Counsellor Cath Norris talking about her experience of AD4E
Professor Peter Kinderman's thoughts about the events
The musical slideshow of our Manchester event!
A review written by participant Monica Glover about our Birmingham event in April 2018
For in depth reviews please check out the website
Venue
Making this event as accessible as possible to people who are unable to afford the fee / full fee is a key consideration for us. As a result we have been as efficient as possible and do not provided lunch or programmes etc. It is a 'no paper' event and all resouces and presentations are made available via the website via passwords afterwards.
We hope you support the decision to run the event cost effectively for this reason.
AD4E London - Amnesty International, 8th June 2017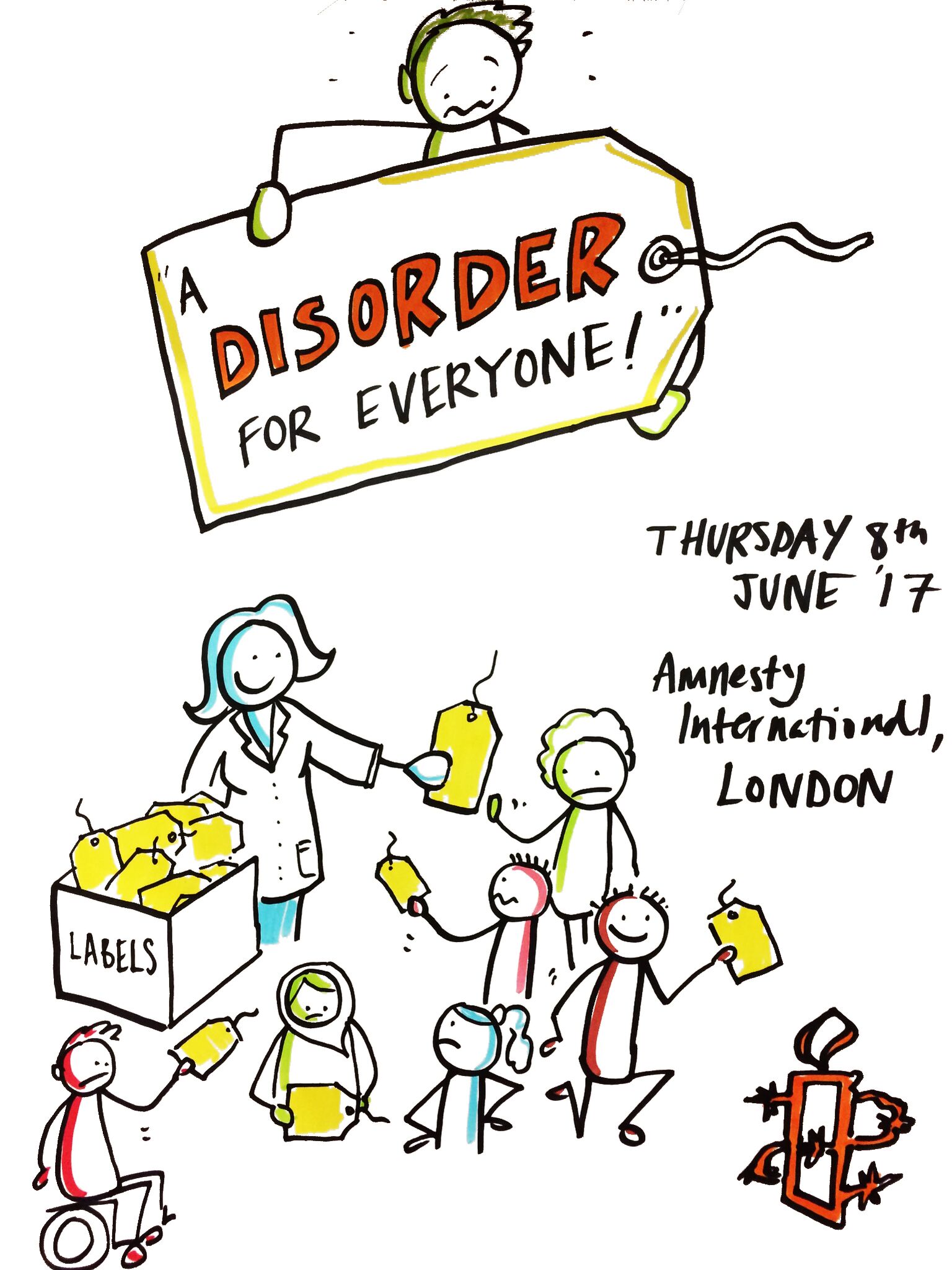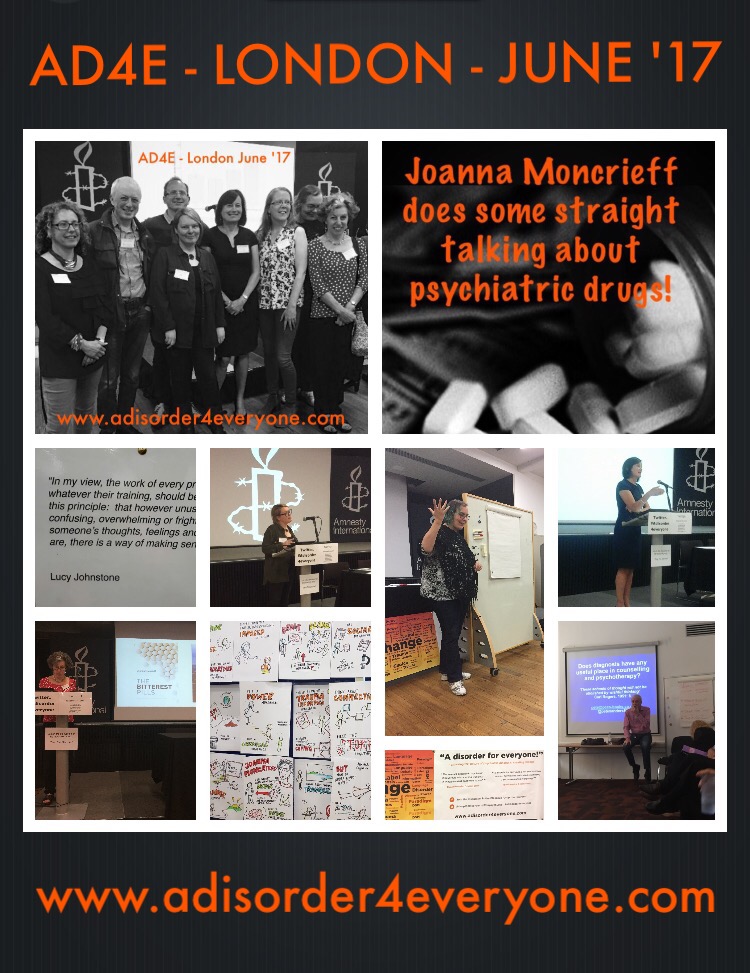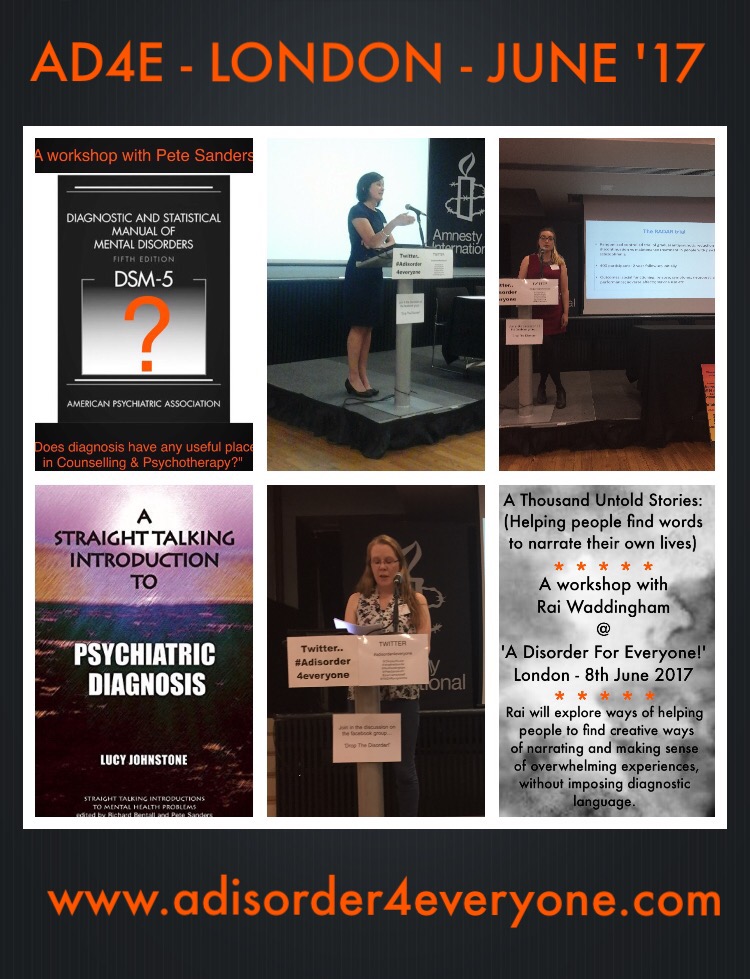 AD4E Birmingham April 2018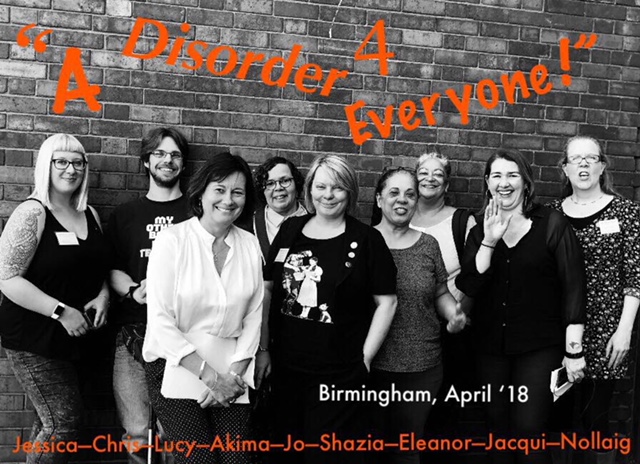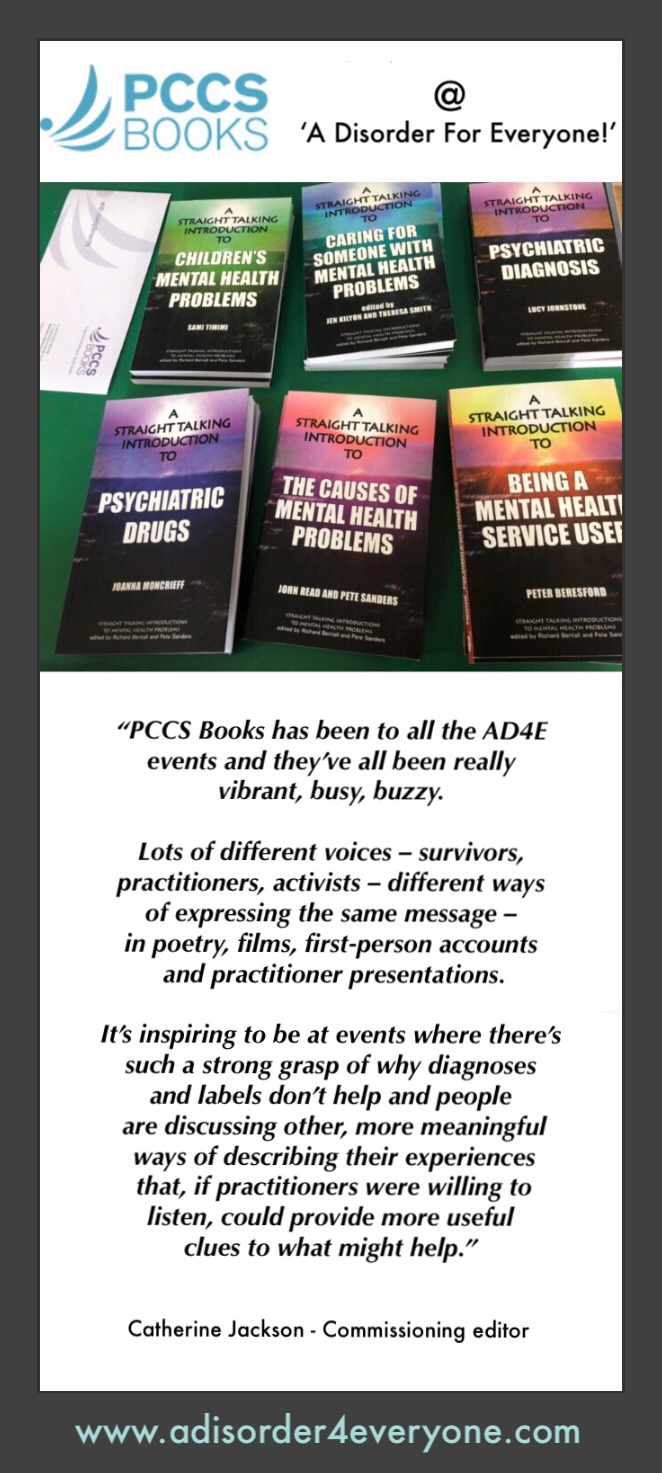 FOR MORE DETAILS, BLOGS, REVIEWS, PHOTOS, VIDEOS ETC ABOUT THIS EVENT PLEASE CHECK OUT THE AD4D WEBSITE
Our events feature numerous contributors and we cannot guarentee that every speaker booked will attend. If an advertised speaker cannot attend we will do our best to replace them with someone equally spectacular! :)
Date and Time
Location
Quay Place
Key St
Ipswich
Ip41bz
United Kingdom
Refund Policy
Refunds up to 30 days before event
Eventbrite's fee is nonrefundable.