AD4E welcomes the authors of two recent publications that offer a fundamental challenge to the dominant models of 'mental health'
About this Event
A Disorder for Everyone! - Change is Coming.
"These pockets of resistance will at some point create an unmovable critical mass. Change is coming. An earthquake is forming."
Sami Timimi; Insane Medicine
"The current mainstream way of describing psychological and emotional distress, which assumes that these experiences are the result of medical illnesses that need diagnosing and treating, has serious flaws. Not only does it lack evidence but it is found by many people to be unhelpful and even damaging."
Mary Boyle & Lucy Johnstone; A Straight Talking Introduction to the Power Threat Meaning Framework
Presentations
Sami Timimi, author of Insane Medicine: How the Mental Health Industry Creates Damaging Treatment Traps and How You Can Escape Them and Mary Boyle and Lucy Johnstone authors of A Straight Talking Introduction to the Power Threat Meaning Framework will be presenting.
Their presentations will be followed by a panel discussion with questions invited from the audience.
Sami Timimi
Professor Sami Timimi is a Consultant Child and Adolescent Psychiatrist and Director of Medical Education in the National Health Service in Lincolnshire and a Visiting Professor of Child Psychiatry and Mental Health Improvement at the University of Lincoln, UK.
Sami writes from a critical psychiatry perspective on topics relating to mental health and childhood and has published over a hundred and thirty articles and tens of chapters on many subjects including childhood, psychotherapy, behavioural disorders and cross-cultural psychiatry. He has authored four books including Naughty Boys: Anti-Social Behaviour, ADHD and the Role of Culture, co-edited four books including, with Carl Cohen, Libratory Psychiatry: Philosophy, Politics and Mental Health, and co-authored two others including, with Neil Gardiner and Brian McCabe, The Myth of Autism: Medicalising Men's and Boys' Social and Emotional Competence.
Mary Boyle
Professor Mary Boyle has worked mainly in clinical psychology education and training and in clinical posts in adult mental health and women's health. She is a long-time critic of the medical/diagnostic approach and of individualistic approaches more generally in the health field. She is the author of Schizophrenia: A scientific delusion (2002) and Rethinking Abortion: Psychology, gender, power and the law (1997), as well as many articles and chapters on feminist approaches to women's health and on problems of and alternatives to diagnostic models. She is Emeritus Professor of Clinical Psychology at the University of East London.
Lucy Johnstone
Dr Lucy Johnstone is a consultant clinical psychologist, author of 'Users and abusers of psychiatry' (2nd edition Routledge 2000) and 'A straight-talking guide to psychiatric diagnosis' (PCCS Books 2014), and co-editor of 'Formulation in psychology and psychotherapy: making sense of people's problems' (Routledge, 2nd edition 2013) along with a number of other chapters and articles taking a critical perspective on mental health theory and practice. She is the former Programme Director of the Bristol Clinical Psychology Doctorate. She has worked in Adult Mental Health settings for many years, most recently in a service in South Wales. She was lead author, along with Professor Mary Boyle, for the 'Power Threat Meaning Framework' (2018), a Division of Clinical Psychology-funded project to outline a conceptual alternative to psychiatric diagnosis.Lucy is an experienced conference speaker and lecturer, and currently works as an independent trainer.
The panel Discussion
Joining Sami, Mary and Lucy are...
Mitzy Sky
Mitzy Sky shares her journey through writing, spoken-word-storytelling, and videography. She is consciously unlearning messages that she unconsciously learned, that hindered her from living wholeheartedly. She is a contributor in the anthology 'Imagining Monsters' edited by Alison McBain and published by Westport Library WestportWRITES and Fairfield Scribes. Her poem In This Moment was recently published in 'We Are The Change-Makers
Robert Whitaker
Robert Whitaker is an American journalist and author who has won numerous awards as a journalist covering medicine and science, including the George Polk Award for Medical Writing and a National Association for Science Writers' Award for best magazine article. In 1998, he co-wrote a series on psychiatric research for the Boston Globe that was a finalist for the Pulitzer Prize for Public Service. His first book, 'Mad in America', was named by Discover magazine as one of the best science books of 2002. 'Anatomy of an Epidemic' won the 2010 Investigative Reporters and Editors book award for best investigative journalism. He is the publisher of madinamerica.com
Dr Ché Rosebert
Dr Ché Rosebert is a Clinical Psychologist & Organisational Consultant with many years' experience of working both within the NHS, Charity and Private Sectors.
Ché is Director of External Relations for The Association of Clinical Psychologists UK and a former Chair of the Psychosis & Complex Mental Health Faculty and member of the Division of Clinical Psychology Executive within the British Psychological Society.
Whether working at an individual, team or whole organisation strategic level Ché has a passion for supporting the health and wellbeing of staff and the people who use services alongside their supporters and communities.
As a mixed-race woman from a working-class family, fortunate to grow up within many homes and communities, Ché is particularly keen on inclusion, social justice and learning from others. Paying it forward makes sense to Ché and she has been a Cub Scout Leader for over 30 years and works primarily within the homelessness sector.
Amanda Griffiths
(Bio to be added)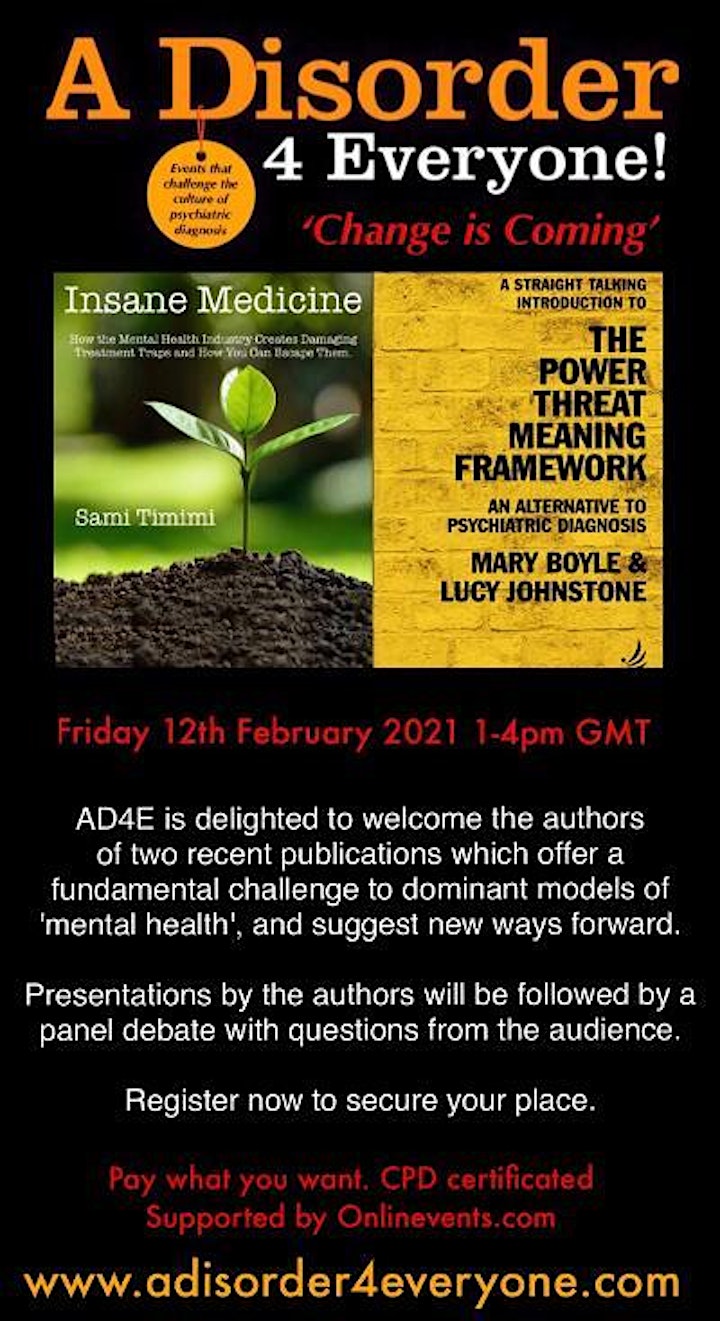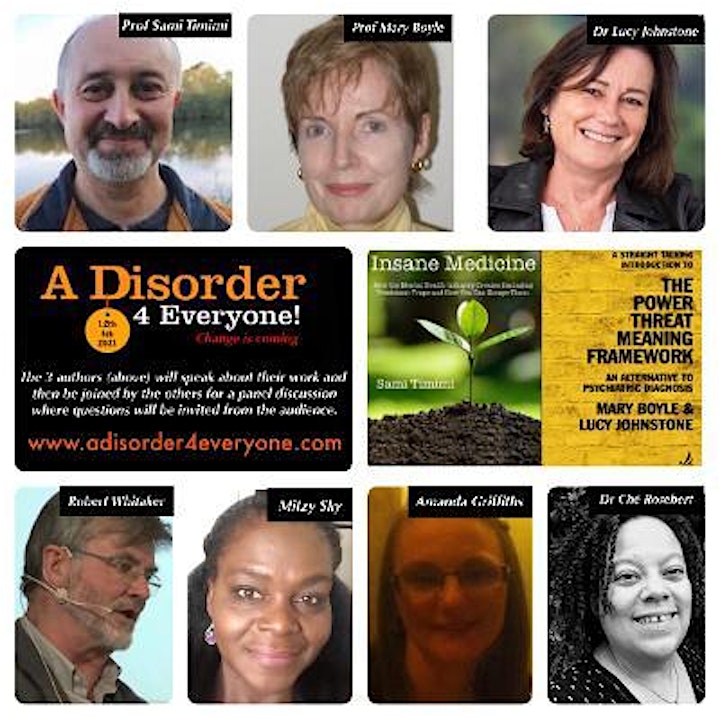 And newly added to the panel...
Sanah Ahsan
Sanah Ahsan is a queer muslim womxn, a clinical psychologist, an award-winning poet and all-round disrupter. Her work is centred on compassion, decolonising our understandings of mental health and embracing each other's madness. Sanah's psychological practice is rooted in liberation and community psychology, drawing on therapeutics, poetics, and activism as interconnected practices to support racialised and marginalised people. Her most recently published research is on the deconstruction of whiteness within UK clinical psychology.
Some of her recent work includes: presenting a Channel 4 documentary exploring the medicalisation of young people's distress, hosting conversations for the Southbank Centre on women of colour's mental health, giving a TED Talk drawing on narrative therapies; all whilst working as a psychologist in a homeless hostel.