This event will place two powerful voices addressing race, gender, and biblical interpretation in conversation with one another.
About this event
It has never been more pressing to explore how race and gender are depicted in the Bible, and how race and gender influence the way the Bible has been and should be read.
Rev Dr Wil Gafney is one of the most powerful and insightful voices exploring the power and possibilities of Womanist interpretation and theology today. Her books Womanist Midrash: A Reintroduction to the Women of the Torah and the Throne and Daughters of Miriam: Women Prophets in Ancient Israel are fascinating explorations of how often women are overlooked and race is ignored in the interpretation of biblical texts. Now working on The Women's Lectionary, Gafney will continue to be a central figure in how both the academy and the church address such issues for years to come.
Chine McDonald is a writer and broadcaster who has thoughtfully explored what it means to a Black woman from a migrant family in the white-majority space that is the United Kingdom in her forthcoming book God Is Not A White Man: And Other Revelations. McDonald has a unique perspective on what the marginalisation of women and gender in biblical interpretation means for the church—a space being abandoned by Black women no longer able to grin and bear its casual racism, colonialist narratives, and lack of urgency on issues of racial justice.
This event brings together these two voices—two of the most important on the topics of race, gender, and the Bible—to explore the current situation and to offer thoughts on how to respond to it.
Generously supported by the Sir Henry Stephenson Trust, and co-sponsored by the Diocese of Sheffield and the Sheffield Institute for Interdisciplinary Biblical Studies, this free, online event will enable the audience to hear Gafney and McDonald in a dialogue about the need to read the Bible afresh to respond adequately to our current circumstances.
Please register your space via Eventbrite. Details of how to join the online event will be emailed separately in the days before the event.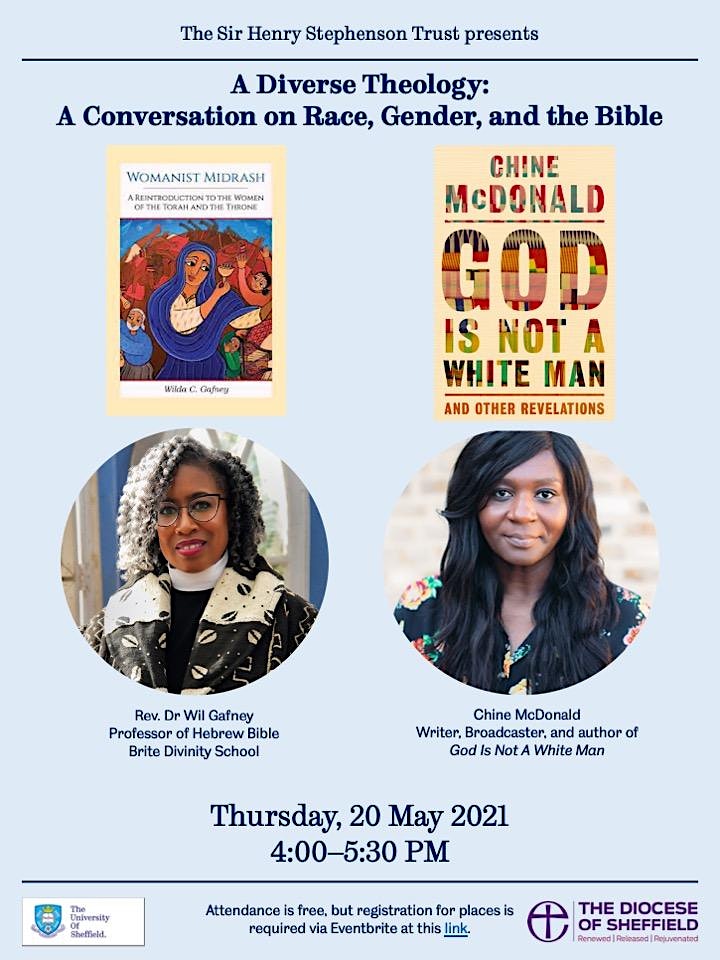 Organiser of A Diverse Theology: A Conversation on Race, Gender, and the Bible