Location
The Hairy Dog
1 Becket Street
Derby
DE1 1HT
United Kingdom
An amazing night with Serial Killaz / Charlotte Devaney / Conrad Sub / Papa Gee / MC Fearless / Starz n Deeza and ACMC among a huge line up
About this event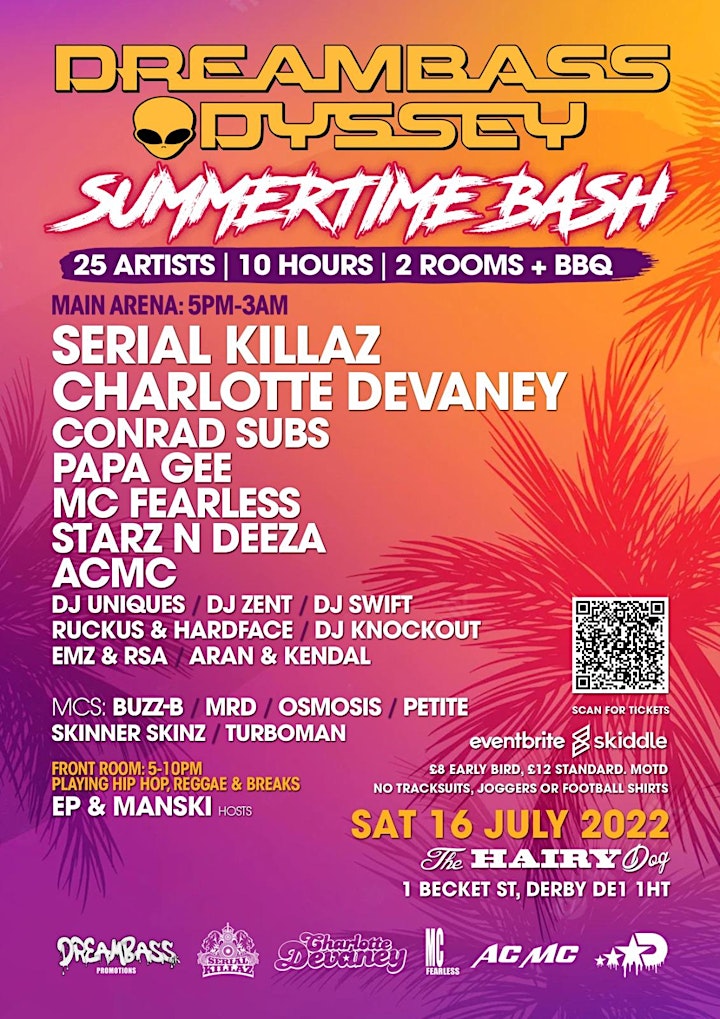 A DreamBass Odyssey brings to you our Summer Bash! For the first time, we are having our night on a SATURDAY, on July 16th at The Hairy Dog in Derby!
This massive party is 10 HOURS LONG, from 5 PM until 3 AM, with two rooms and 25 artists, this is our biggest event to date!
BBQ food stand open ALL day!!!
The Front bar will be part of this event from 5 pm until 10 pm with Hip Hop / Reggae and Breaks - brought to you by DreamBass Odyssey's very own EP & Manski (plus special guests)
In the main arena, which opens at 5 pm and goes on until 3 am we have Jungle / DnB from both local artists and international mega stars! Some of the finest DJs and MCs there are!
With Serial Killaz, Charlotte Devaney, MC Fearless, Conrad Subs, Starz n Deeza, ACMC and Papa Gee heading up a massive line up!!!!
Full Line Up:
Main Arena 5 pm until 3 am
Headliner DJs:
Serial Killaz
Charlotte Devaney
Conrad Subs
Papa Gee
Headline MCs :
MC Fearless
Starz n Deeza
ACMC
DJs
DJ Uniques
DJ Zent
DJ Swift
Ruckus & Hardface
DJ Knockout
Emz & RSA
Aran & Kendal
MCs
MC Buzz-B
MRD
MC Osmosis
MC Petite
Skinner Skinz
MC Turboman
Front Room 5 PM until 10 pm
Hosted by EP & Manski
playing Hip Hop / Reggae / Breaks