MARKETPLACE / PANEL DISCUSSION / CRAFTING TABLE / TREATMENTS / RAFFLE RAISING MONEY FOR RAPE CRISIS.
About this event
TIMINGS
DOORS 2
PANEL 3.30
RAFFLE 4.45
CLOSE 6
MARKET PLACE
Bored of gifting predictable prezzies from the high street which line the pockets of rich men? Shop guilt-free at our diverse marketplace! We are bringing together our favourite independent brands run by womxn and people of marginalised genders. Support independent business and can pick up unique art, jewellery, clothes, homewares, books, zines + more!
The brands joining us are:
Anastasia Tasou - Art and merch full of feelings, in anastasias words "my aim is to make a warm environment via my art for anyone who needs it, by being open about the things i'm going through".
Gashtrays - Body postive ceramics celebrating the glorious curves, folds and flaps of real bodies. Hani's work challenges the censorship and shaming of the natural body that occurs in society today.
Bright Zine - A magazine and lifestyle brand for the ethically minded. Creating conversations around veganism, susatinability and ethical living whilst spreading awareness and compassion.
Saucy Sez - Writer, poet artist and proud working class Northener Sez creates work exploring her lived experience. Her bold work comments on and quesions culture and societal structures.
BIBA NABI - Habiba Nabisubi is a British Ugandan illustrator based in South London. Her hair artwork comes from a place of intense love and respect for black hairstyles and African hair traditions. She uses the platform her artwork has provided to highlight and emphasise the artistry, beauty, complexity and ingenuity of black people's hair.
Natalie Byrne -Natalie is an illustrative artist and author of Period the book. Her art combines colour and important topics, she explores social issues such as equality mental health, politics and periods.
Studio Nelle - Studio Nelle designs pieces to help you connect to your heritage everyday, whilst being kind to the planet in the process. Reclaiming leather normally discarded by the fashion industry. Each product is inspired by black identity and decorated with different elements of black culture.
Girls Will Be Boys - is an online platform which aims to inspire freedom of expression, liberation and strength against societies stereotypes. It's time for us to reclaim our independence, sexuality and power, and be completely unapologetic whilst doing so.
Ash Magazine - An inclusive and optimistic print magazine for ordinary, extraordinary people. The magazine is full of stories and art by womxn and non-binary people.
Dorcas Creates Dorcas is passionate about representing and uplifting Black people specifically Black women through Illustation. Her work includes jewellery, clothing and paper products, you'll find a lot of bold colours, pattern-work and references to her Nigerian heritage.
Sam Dawood - Sam works as a freelance artist specialising in fabrication and figurative sculpture. Her aim is to support others in not being embarrassed by nudity; sharing the wonderful human form through art without censorship, shame or sexualisation
PANEL
We are hosting a panel discussion featuring entrepreneurial business babes Laura Callan founder of Bright Zine, Char Ellesse founder Girls Will be Boys, Artist Saucy Sez and more TBC. They will be discussing their journey from initial idea to actualised career as well as the challenges and the achievements along the way! We'll be talking confidence, the importance of community, career progression, the gender pay gap and more. We will also include a Q&A and lots of time for networking, we hope you'll leave the event with tangible take aways for your own career, business, project or side hustle.
TREATMENTS
Suhaiyla Shakuwra We have the incredible Beauty Stack pro's in the space providing services throughout the day. The magickal tarot practioner @suhaiylashakuwra will be offering insightful readings with a special 40% OFF on the day. Use the BeautyStack app to book in with her.
CRAFTING
We have a crafting table for you to get creative and chat with other likeminded babes. There are three activities for you to take part in.
+(Sassy) xmas card making for your loved ones. Sass encouraged but not compulsory!
+Wrap your presents with recyclable paper and repurposed textiles. Did you know the UK uses 227,000 miles of wrapping paper each year, and much of it ends up in landfill.
+ Make your very own eco, wooden bauble decoration. We think vulva designs are a vibe, but if that's not you're thing free do your thing!
RAFFLE
The evening will end with a raffle with incredible prizes, all proceeds will be going to Rape Crisis to support their vital work.
FURTHER DETIALS
Location: The event is taking place in the dreamy BeautyStack offices in London.
Tickets: £10 with £5 redeemable to spend at any of our stalls.
As always we reserve spaces for people who are unable to pay the full amount. Give us a shout if that is you, this is a no shame zone!
P.S The lovely people at Pollen will be providing CBD goodies and we have other treats and refreshments for you too!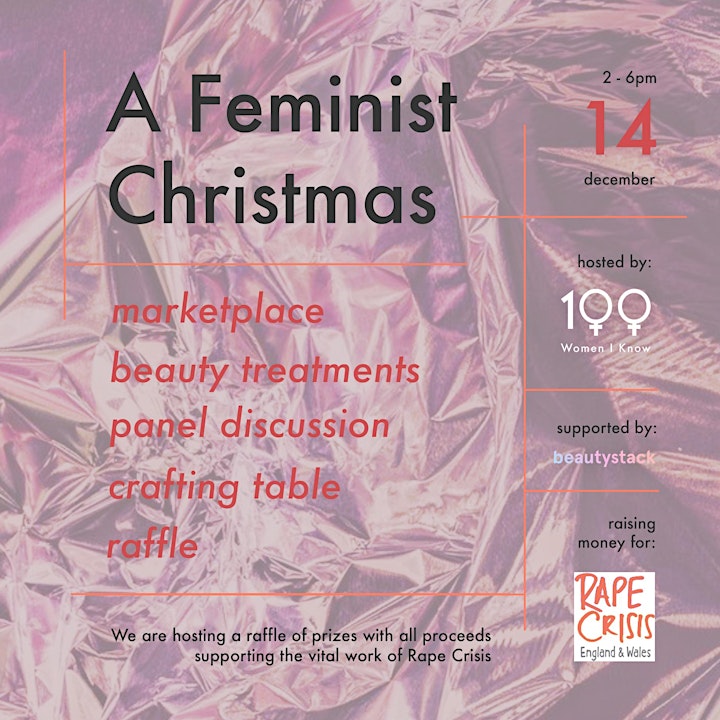 Organiser of A FEMINIST CHRISTMAS - The Marketplace
'100 Women I Know' are a small organisation run by survivors of sexual assault, through our work we aim to strengthen solidarity between survivors of sexual assault and their allies. We have produced an award-winning documentary, and published a book of women's account of rape and sexual assault. We host events where we bring together people to discuss important issues and empower people.