Join London Drawing Group as we explore the magical world of BOTANY for our new class dedicated to visionary female artist HILMA AF KLINT!
About this event
Join London Drawing Group as we step inside the magical world of BOTANY for our newest class dedicated to the intersection between FEMINISM, BOTANY, and this time... SPIRITUALITY AND ABSTRACTION!
This class is dedicated to the life and work of one of the most visionary female artists you've never heard of - Hilma Af Klint was a swedish victorian woman, who, obsessed with the natural world around her, envisioned a kind of art no one had ever dreamed of before.
Now lauded with 'inventing' abstraction at least five years before Kandinsky (the man previously accredited with this concept), Hilma AF Klint is FINALLY starting to be recognised for the unique and incredible talent she was, over 70 years after her death.
As well as being a visionary artist, she was also a unique character in terms of her beliefs, inspired by Theosophy and cutting edge scientific discoveries of the time, Her paintings became a unique visual representation of her complex spiritual ideas.
This class will explore Hilma's Life, Works AND her links to Spirituality in a 30 minute lecture before the practical element of the class kicks off.
Students will then be guided through the creation of their own abstract works in the manner of Hilma's beautiful paintings. We will work from both imagery on the screen, but also from your own houseplants, inviting you to consider the beauty and interconnectedness of life as she saw it, creating our own works in watercolour or gouache in a state of mindful creativity.
This will truly be a totally unique class and we are very excited to get drawing with you all!
--------------------------------
Please read the following FAQ's as you may find the answer you are looking for already listed below. If these do not answer your question, then please email us with the subject heading "UNRESOLVED ENQUIRY" and we will be in touch as soon as possible.
Thank you for your patience!
Love, LDG
What other LDG classes do you have coming up?
You can book and find all events info here: https://www.eventbrite.co.uk/o/london-drawing-group-11407647443
Is there a Recording?
Yes, all classes have a recording sent an hour after the live session. The recording will be available for three days.You will be able to watch the recording ONCE within the 3 day period.
What time does the class start where I am?
All our classes take place UK TIME
You can use this site to convert UK time to where you are: https://www.timeanddate.com/worldclock/converter.html
How do I attend your classes?
You need to book your place via our eventbrite page: https://www.eventbrite.co.uk/o/london-drawing-group-11407647443
Our classes take place online via Zoom. You will need to download and register with zoom
We will then send you a link to join the live class and/or recording depending on your ticket selection.
We send you the link to the class or more info about your recording a day before and again on the day of the event.
If you cannot find them, Please check your junk folders for eventbrite emails from us.
I haven't received the link to the live zoom class, what should I do?
Please wait a day before your class to receive your link.
Check your junk/spam folder for an eventbrite email from us.
If you still can't find it email us at londondrawinggroup@gmail.com clearly stating the class title in the subject heading.
What materials do I need?
The materials you will need are stated in the class description.
All refund requests can only be processed via eventbrite before the event start time. Please login to your eventbrite where you will be required to state a reason for your refund.
Thank you for your interest and support!
Best wishes,
LDG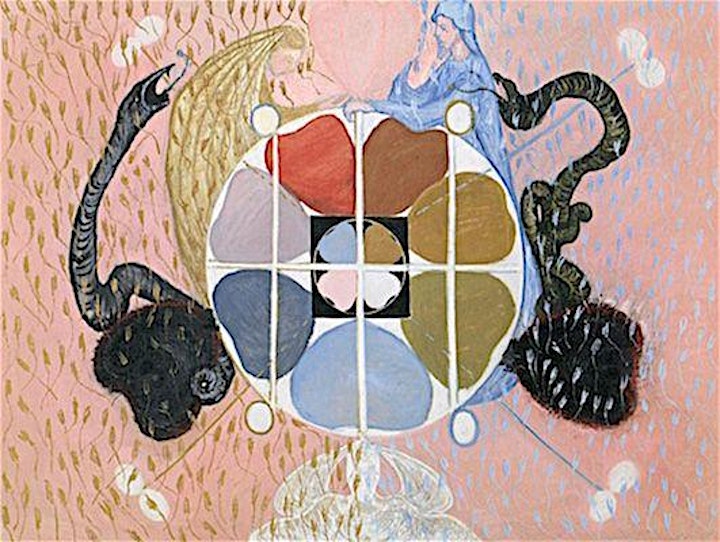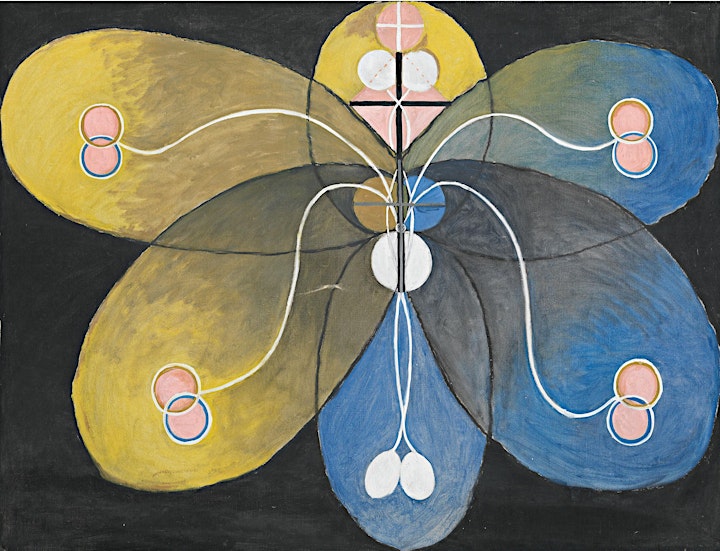 Organiser of A FEMINISTS GUIDE TO BOTANY: HILMA AF KLINT & ABSTRACTION
The London Drawing Group is a collective of three contemporary artists currently practising in London. Although our practices are individually varied and diverse, we are brought together by our shared love of and passion for drawing, and our experiences of being taught by a huge range of practising artists at the Royal Drawing School Central.
Our aim as a collective is simply to get more people drawing, making, connecting and engaging with art. We genuinely believe that art is for everyone, and that sometimes the only thing keeping people from engaging in the playful, unknown and unpredictable process of art-making, is that it can seem intimidating. Through working to break down contextual barriers through innovative methods of teaching and creating, we hope to make drawing approachable to everyone.