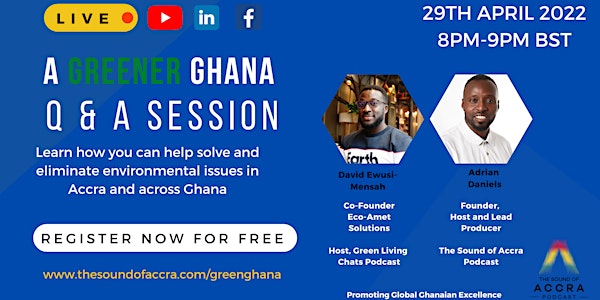 A Greener Ghana | Eco-Amet Solutions Live Q&A w/ The Sound of Accra Podcast
Learn how you can help solve and eliminate environmental issues in Accra and across Ghana
About this event
You will be able to join the stream on the event page closer to the date
About this event
Eco-Amet Solutions focuses on helping solve and eliminate environmental problems the society is faced with in wastewater treatment, solid waste management, among others.
The Co-Founder, David Ewusi-Mensah, also is the Lead Host of the Green Living Chats Podcast, which is brought to you by Eco Amet Solutions Ghana. Its a platform to discuss emerging environmental issues and challenges in and around the world. This platform supports startups, workshops, webinars, awareness projects, research projects and many other environmental-related initiatives. The goal is to create awareness and bridge the gap between R&D-industry, awareness/education-public, entrepreneurs-investors and to Be INFORMED!
Live Q&A Details
This event is a LIVE Q&A session which seek's to explore further the agenda and mission of Eco-Amet Solutions, and to give listeners of The Sound of Accra podcast and the general public, the opportunity to learn more and get involved with impact initiatives that David and his team has.
Schedule
Icebreakers/ Introductions / Why Ghana / Africa must go Greener - 20:00- 20:30
Submitted Questions and Final Announcements - Q&A- 20:30-21:00
For those who can't make the live session or don't feel comfortable sharing their questions live, please email them to Adrian at info@thesoundofaccra.com with the subject line "Greener Ghana"
More about Eco-Amet Solutions
If you have a direct query with the Eco-Amet Solutions team, please get in touch with them:
Contact: https://ecoametsolutions.com/contact/
More about The Sound of Accra Podcast
The Sound of The Accra Podcast is a powerful Podcast series running for more than 2 years, hosted and founded by Adrian Daniels. It features powerful interviews with entrepreneurs or creatives from a Ghanaian heritage or interest, showcasing global Ghanaian excellence.
Subscribe on YouTube: youtube.com/thesoundofaccrapodcast
Website: https://thesoundofaccra.com
Instagram: https://www.instagram.com/thesoundofaccra/
Twitter: https://twitter.com/thesoundofaccra
Facebook: https://web.facebook.com/thesoundofaccra
Linkedin: https://gh.linkedin.com/company/the-sound-of-accra
More links: https://linktr.ee/thesoundofaccrapod