Description
On 17th October, join Barry Forshaw and friends at Heffers for an evening in celebration of his new book Crime Fiction: A Reader's Guide. Joining Barry in conversation will be crime authors Christopher Fowler, (Bryant and May series) Kate Rhodes (Alice Quentin and Ben Kitto series') and Nicola Upson (Josephine Tey series), all of whom have their work featured in the Guide.
Are you a lover of crime fiction looking for new discoveries or hoping to rediscover old favourites? Look no further. There are few contemporary guides that cover everything from the golden age to current bestselling writers from America, Britain and all across the world, but the award-winning Barry Forshaw, one of the UK's leading experts on the field, has provided a truly comprehensive survey with definitive coverage. Every major writer is included, along with many other more esoteric choices. Focusing on a key book (or books) by each writer, and with essays on key crime genres, Crime Fiction: A Reader's Guide (with a foreword by Ian Rankin) is designed to be both a crime fan's shopping list and a pithy, opinionated but unstuffy reference tool and history. Most judgements are generous (though not uncritical), and there is a host of entertaining, informed entries on related films and TV.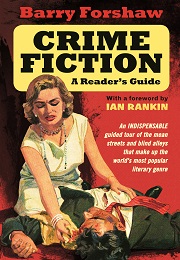 Barry Forshaw writes for a range of magazines and newspapers and broadcasts on crime fiction for radio and TV. He is the editor of Crime Time and appears at many literary festivals interviewing popular crime authors. Barry's award-winning books include the much-acclaimed Nordic Noir, Brit Noir, Euro Noir, American Noir, Historical Noir and Italian Cinema.
Tickets for the event are priced at £7 in advance or £8 on the door, and can be purchased through this page, by calling 01223 463200 or in person at Heffers bookshop. Please note that tickets are transferable but non-refundable.
Like this? See a full list of our forthcoming events by clicking here.