Location
The Lido
The Promenade
Grange-Over-Sands
LA11 7DS
United Kingdom
Sales Have Ended
Registrations are closed
Unfortunately, ticket sales have now ended. Please check availability for our other times and days. If you would like to go on a waiting list then please send an e-mail with your details to janet.carter@savegrangelido.co.uk
A thrilling opportunity to be one of a limited number to visit this​ unique derelict Lido before work to restore it begins.
About this event
Save Grange Lido is pleased to be able to host this exciting opportunity to visit the derelict Lido at Grange-Over-Sands, events made possible with a grant from the National Lottery Heritage Fund. The Lido has its own beauty and is set in a stunning location with breath-taking views across Morecambe Bay.
This Grade 2 Listed building has been closed to the public since 1993. Since then, many have taken photos from the outside but few have been allowed access to really appreciate the ambience whilst enjoying the surroundings.
On this visit our guide will take you to the first floor of the pavilion overlooking the pool and diving boards, giving an outstanding panorama of the area.
Although there is no doubt it is a beautiful setting, the Lido currently has an incredibly melancholy feel to it, as if it is waiting to be woken from a long period of rest. You will be able to stand on the pavilion balcony and take in the panorama in front of you whilst enjoying breathing the fresh sea air.
Take a few minutes to imagine the fun and laughter, families and friends enjoying the atmosphere of this spectacular pool in the days gone by.
Then visualise it revitalised with people swimming and splashing about in the unique 50 metre pool, or maybe dining in the restaurant where you are standing, or sitting around the pool enjoying a drink. Imagine the vibrancy and buzz of this beautiful building brought back to life, the swimming pool and the community at its core. A location to be proud of.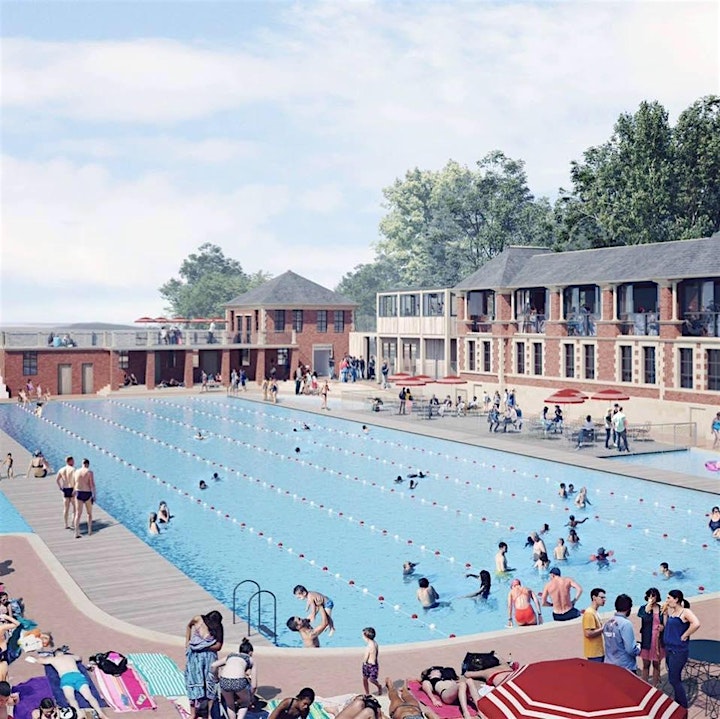 TERMS & CONDITIONS
Due to the condition of the buildings there are Health and Safety requirements set by the building's owners SLDC that we are required to adhere to in order for the visits to take place:-
Limited numbers, all ticketed and booked in advance.
No children under 16.
No one with any mobility issues.
Access is to the first floor of the Pavilion only.
Hard hats must be worn (we will provide them before access)
Stout closed footwear must be worn (no sandals, flip flops or open toes)
This event can be cancelled at short notice if the buildings deteriorate.
PLEASE NOTE
Individual names are required for registration and H & S check in, so duplicate tickets will be cancelled.
Due to demand and the limited numbers allowed you must arrive at least 10 minutes to check in before your allotted time.
If you have not arrived by this time then your ticket will be reallocated so that the opportunity is not wasted.