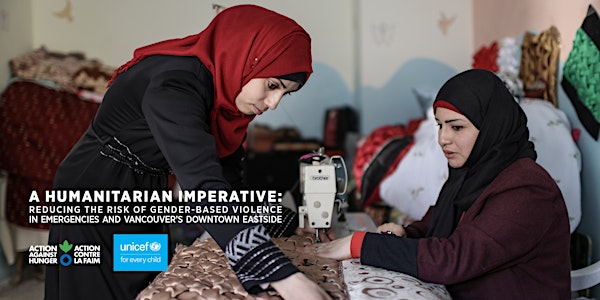 A Humanitarian Imperative: reducing the risk of gender-based violence
Location
Fairmount Waterfront Hotel, Princess Louisa Room
900 Canada Pl.
Vancouver, British Columbia V6C 3L5
Canada
Description
Hosted by Action Against Hunger and UNICEF
What is our humanitarian imperative to reduce risks and not cause harm to communities affected by crisis? What are the linkages between nutrition programmes and risks of violence for women and girls? What does 'safety' mean in an environment of systemic violence for women in Vancouver's Downtown Eastside?
Hear from practitioners on the frontlines who are providing dignified and safe services to women and girls in humanitarian emergencies and Vancouver. Network and movement-build with activists, service providers and policy specialists.
This event is hosted on behalf of the IASC GBV Guidelines Reference Group, an inter-agency, global initiative focused on mitigating the risks of gender-based violence across all sectors of humanitarian response. Action Against Hunger and UNICEF are Reference Group members.
Speakers & presenters

Michael Arnaud, Associate Director for Gender and Gender-Based Violence, Action Against Hunger
Mebrat Beyene, Executive Director, WISH
Brittany Lambert, Women's Rights Policy and Advocacy Specialist, Oxfam
Sonia Rastogi, Gender-Based Violence Knowledge Management Specialist, UNICEF
On exhibit
Action Against Hunger's photo series "Ten Years of Blockade, A privileged insight into the lives of women breadwinners in Gaza". This photo exhibit is a collection of intimate stories illustrating the devastating impact of blockade and war.
Light bites & beverages provided. Space limited. RSVP requested by 1 June.
#WD2019 #Humanitarian4Her