A one-day conference at St John's Waterloo (and online), in partnership with Art and Christianity, and Insiders/Outsiders.
About this event
How did a German-Jewish refugee artist come to be responsible for more murals in Church of England churches than any other artist in its entire history? Who were the other Jewish artists employed by the Anglican and Catholic Church or using Christian iconography in the post-war period? And what has become of their work today? Do these artists deserve greater recognition and what can be done to save their works, many of which are under threat?
St John's Waterloo, home to two magnificent murals by Hans Feibusch, is hosting a one-day conference to address these issues on Wednesday 16th June*, 2021, 9.30am – 5:00pm followed by an evening reception and talk by descendants of some of the artists under discussion involved from 5:15pm. Edmund de Waal will open the conference with a specially recorded message and well-known TV antiques expert Marc Allum will host the evening reception.
The conference is held in association with Art and Christianity, the leading UK organisation exploring visual art and religion, and Insiders/Outsiders, a continuing celebration of the contribution of refugee artists from Nazi Germany to British culture. It is part of international Refugee Week 2021 and the 11th annual Waterloo Festival.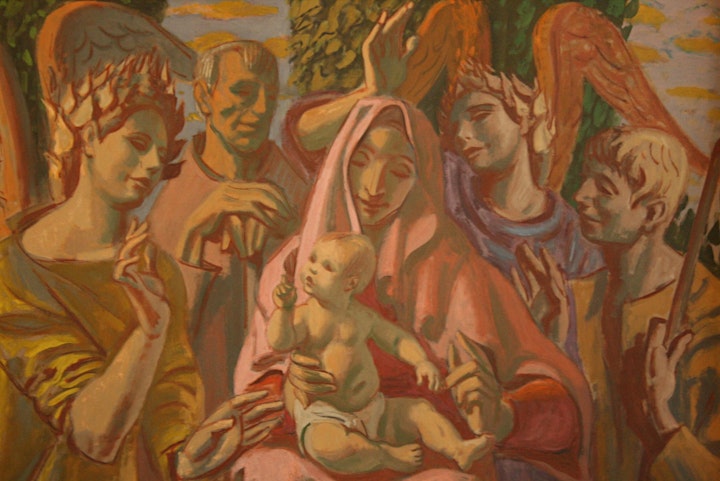 This conference is prompted by a campaign to restore The Crucifixion and The Adoration of the Shepherds, two fine wall paintings by German-Jewish refugee artist Hans Feibusch, created for the rededication of St John's Waterloo as the Church of the Festival of Britain in 1951.
Feibusch (born Frankfurt 1898; died London 1998) was condemned as "degenerate" by the Nazis, escaped to Britain in 1933 and went on to produce murals for more than 30 Church of England churches. Yet today he is little-known to a wider public.
Using Feibusch as a starting point, the conference will address the broader theme of Jewish artists who produced paintings and sculptures for churches and/or employed Christian iconography during the 1930s-1950s. This was a period dominated by the rise of Fascism, World War Two and the Holocaust in which the figure of Jesus was often seen (by Jews and non-Jews alike) as the embodiment of contemporary Jewish suffering. How did these artists influence both the style and substance of British Modernism? And was society's view of both Christianity and Judaism changed by their work?
Other émigré artists to be discussed - most of them Jewish, but, like Feibusch, from assimilated and often non-observant backgrounds - include German-born sculptor Ernst Müller-Blensdorf, Hungarian-born stained glass artist Ervin Bossanyi (best known for his windows at Canterbury Cathedral), German-born sculptor and letter-cutter Ralph Beyer (whose masterpiece is the Tablets of the Words series at Coventry Cathedral), ceramic artist Hans Coper (who produced a set of monumental altar candlesticks, also for Coventry), Heinz Edgar Kiewe (designer of a tapestry at St. Michael's Church, Boldmere, Sutton Coldfield) and John Ivor Allenby, born Johannes Ilmari Auerbach (creator of an ensemble of sculptures at St. Etheldreda, Horley near Oxford); Holocaust survivors Arnold Daghani (creator of a series of powerfully reductive brush drawings entitled Stations of the Cross) and quasi-abstract sculptor Naomi Blake; and the non-Jewish Theodor Kern and Adam Kossowski.
We look forward to hearing not only from academics in this emerging field, but also from the descendants and relatives of Hans Feibusch, Naomi Blake, John Ivor Allenby and George Mayer-Marton whose vast 1955 Crucifixion, a rare combination of mural and mosaic, at the Catholic Church of the Holy Rosary, Fitton Hill, Oldham, is currently at risk and in the news.
Finally, the subject of the Church as patron of non-Christian artists will be examined. We will look at the prominent role played by George Bell as Bishop and Walter Hussey as Dean of Chichester Cathedral in the post-war era and at the role of the Church as a commissioner of new art today.
Canon Giles Goddard, Vicar of St John's Waterloo, said: "Our Feibusch murals have graced St John's and focused our thoughts for almost 70 years. But it is only now that we, and other churches blessed with works of this period, are beginning to see the bigger picture. What did Feibusch and his fellow non-Christian artists bring to our faith and to our understanding of the post-war world? How can we save their legacy, so significant and yet so much at risk? And how can we respond to the art of refugees in Britain today? Do join us!"
Our sponsors
We are grateful to the Worshipful Company of Art Scholars, The Gibbs Trust, and Chiswick Auctions for their support of the conference and to Liss Llewellyn for the donation of copies of British Mural Painting 1920-1960 for sale in aid of the St John's Waterloo Feibusch appeal.
For further press information, please contact us at comms@stjohnswaterloo.org.
Concession tickets apply to under 18, students, those unemployed or 60+.
*Originally scheduled for Wednesday, 17th March 2021. Postponed to 16th June due to COVID-19 pandemic.
Programme (as of 9th June 2021)
09.30 Doors open/Registration
10:00 Welcome by Euchar Gravina, Artistic Director of the Waterloo Festival
Session I
10:10 pre-recorded address by Edmund de Waal
10:20 Emma Rose Barber: On Hans Feibusch, setting his work for St John's and other Anglican churches in the broader context of his life and times.
10:45 Monica Bohm-Duchen: On Jewish refugee artists who came to the UK and worked for the Church and/or dealt with Christian themes, as well as non-refugee Jewish artists such as Jacob Epstein, Emmanuel Levy and Morris Kestelman and artists working outside the UK, notably Marc Chagall.
11:20 10 mins for Q&A
11:30 Welcome by Rev'd Canon Giles Goddard, Vicar of St John's Waterloo and the conservator for the Feibusch murals at St John's Waterloo
11:35 Break for 20 mins
Session II
11:55 Edward Kessler: the theological context for Jewish-Christian Relations
12:15 The Revd Dr Andrew Williams: the church's reception of Jewish crucifixion imagery after the Holocaust.
12:55 Olivia Power: Marc Chagall's stained glass windows at All Saints' Church, Tudeley, Kent.
13:10 15 mins for Q&A
13:25 Lunchtime
Session III
14:25 Aaron Rosen (live online from the USA): Diasporic identity in contemporary art, plus 5 mins Q&A straight after
14:50 Peter Webster: Bishop George Bell and Dean Walter Hussey as supporters of Feibusch and patrons of the arts.
15:10 Clare Price: At-risk murals/works of art in UK churches
15:30 5 mins for Q&A
15:35 Tea break (provided)
16:05 Panel discussion, chaired by Ben Quash with Alan Powers, Issam Kourbaj and Jacquiline Creswell. Topics to be discussed include significance of non-Christian and diasporic artists working for the Church, past and present; inter/cross-faith communication through the arts; the urgent need to protect artworks in threatened buildings.
17:15 Drinks reception
17:30 Jewish artists whose work can be seen in UK churches, short talks (5-10 mins each) by surviving family or friends:
Nick Braithwaite (grand-nephew of George Mayer-Marton)
Anita Peleg (daughter of Naomi Blake)
18:00 Marc Allum in conversation with Paul Werth, grandson of Hans Feibusch
Edmund de Waal, OBE is an artist, master potter and author, best known for his book 'The Hare with Amber Eyes' and his large-scale installations of porcelain vessels often created in response to collections and archives or the history of a particular place.
Emma Rose Barber is an art historian who has been teaching adults for over 25 years. She has spent the last five years with a Mini A-Z of London looking for churches to write about, many of which can be found on her blog. Her book, 111 Churches In London That You Shouldn't Miss, is being published in September 2020. She is also writing a Cultural History of Wayfaring.
Monica Bohm-Duchen is a London-based independent writer, lecturer and curator. Her many publications include After Auschwitz: Responses to the Holocaust in Contemporary Art and Art and the Second World War. She was the initiator and Creative Director of Insiders/Outsiders, a nationwide arts festival celebrating the contribution of refugees from Nazi Europe to British culture.
Dr Edward Kessler, MBE is Founder Director of the Woolf Institute and a leading thinker in interfaith relations, primarily, Jewish-Christian-Muslim Relations.
Rev'd Andrew Williams is Senior Lecturer and in Religious Education at the University of Roehampton and is extensively engaged in promoting inter-faith dialogue.
Olivia Power is Head of Critical Thinking at Sevenoaks School. Her MA dissertation at Birkbeck, University of London was titled 'From Jewish Jesus to Universal Christ: Reconsidering Chagall's Windows at All Saints' Church, Tudeley'.
Dr Aaron Rosen is Professor of Religion & Visual Culture and Director of the Henry Luce III Center for the Arts & Religion at Wesley Theological Seminary. He is the author of 'Art & Religion in the 21st Century', 'Imagining Jewish Art', and 'Brushes with Faith'.
Peter Webster is an historian of Christianity in 20th Century Britain, and author of 'Church And Patronage in 20th Century Britain: Walter Hussey and the Arts'.
Clare Price is the Twentieth Century Society's Head of Casework. She is a Chartered Surveyor, and has an MSc in Conservation of the Historic Environment. She is studying for a PhD in Architectural History at Oxford University, researching Inter-war churches.
Ben Quash has been Professor of Christianity & the Arts at Kings College London since 2007. From 2004-2007 he was Academic Convenor of the Cambridge Inter-Faith Programme in the University of Cambridge's Faculty of Divinity. He continues to collaborate with Jewish and Muslim theologians, and is increasingly fascinated by how the arts can play a part in renewing theological engagement with the Bible.
Alan Powers specialises in the study of art, architecture and design in Britain in the middle years of the twentieth century, teaching, writing and playing an active role in conservation. He teaches at the University of Kent and is History Leader at the London School of Architecture. A founding member of the Thirties Society in 1979, he became its first honorary casework officer and later led its name change to the Twentieth Century Society. He was Chairman 2007-12, and continues to play a role in events, casework and publications.
Issam Kourbaj is a Syrian artist now based in Cambridge. He is artist-in-residence at Christ's College and lectures in art.
Jacquiline Creswell is a freelance Visual Arts Advisor. Since 2009, she has been responsible for developing Salisbury Cathedral's pioneering Arts Programme. She is a trustee of Art + Christianity.
Nick Braithwaite is the great-nephew of Hungarian-born artist George Mayer-Marton (1897-1960) and is currently campaigning for the preservation of a Crucifixion mural by Mayer-Marton at the former Church of the Holy Rosary in Oldham.
Anita Peleg is a University Lecturer and a National Teaching Fellow. She has published two books about her mother, Naomi Blake, a sculptor and survivor of Auschwitz.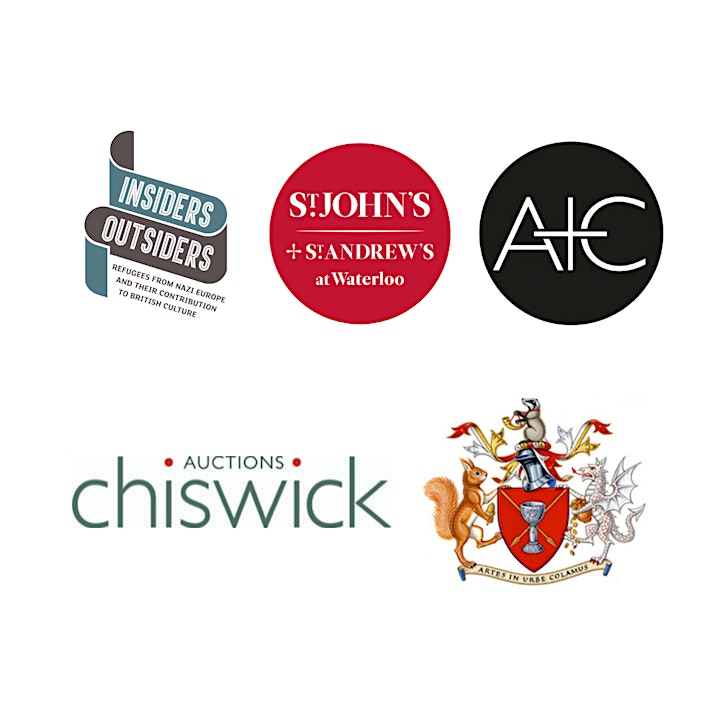 Getting to St John's Waterloo
St John's Waterloo is accessible by bus, tube or train; the nearest station is Waterloo Station.
Parking is available in Exton Street on pay bays, Monday to Friday from 8.30am till 6.30pm & Saturday 8.30am till 1.30pm at £5.40 per hour. Payment must be made by phone or app, details can be found on signs along Exton Street. After 6.30pm (1pm on Saturday) parking is free within the bays and on single yellow lines. There are no disabled bays along Exton Street.
Parking is also available in car parks in York Road and Cornwall Road, details for both can be found online.
Health and Safety
Social distancing measures will be in place at all times and regular sanitation of the space will be taking place to ensure the safety of ticket holders and staff members. Multiple sanitation stations will be available in place around the event site. Masks must be worn at all times.
Seating is provided, but not pre-allocated. A steward will seat you with your social bubble or group on your arrival. Audience members are asked to keep to their households and social bubbles in line with Government guidance and will be allocated an area to bubble on arrival.
The maximum size of a social bubble will be 6, groups larger than 6 will be split across two bubbles. Wheelchair users will be seated with their social bubbles.
Attendees are asked to limit personal possessions to a minimum to assist with social distancing. No lockers or cloakrooms are available onsite.
Any persons displaying symptoms of COVID-19 should not attend.
Organiser of A Jewish Jesus: Art and Faith in the Shadow of World War II
The church on the roundabout at Waterloo, rebuilt for the Festival of Britain in 1951, is committed to being here for you. Today we're known as one of the most inclusive, LGBTI+ churches in London. We run Waterloo Well - therapy, wellbeing, work training and gardening for homeless and vulnerable people. We produce a year-round programme of arts and culture including the annual Waterloo Festival and are home to Southbank Sinfonia.