Description
In order to mark 2018's International Women's Day (8th March), CRL and Women of Wearables will be jointly hosting a panel discussion with a range of industry-leading female entrepreneurs, who are making waves within the world of hardware. As this is also CRL's first meet-up of the year, they'll be dissecting what they think the trends and challenges are likely to be for their discipline (including wearables, robotics and tech) in 2018.
We're proud to have some of the most innovative, product-focused entrepreneurs on our current Accelerator programme and as part of our wider community. The event will shine a spotlight on these entrepreneurs, as well as a range of the inspirational women encouraging more female talent to join the industry and helping them to prosper within it.
This will be a celebration of the rich female talent that exists at CRL and throughout the hardware sector.
Come and meet with likeminded women (and men!) and maybe even find your next mentor, cofounder or collaborator.
Drinks and pizza on offer!
Update! Jacqueline de Rojas, President of techUK and the chair of the Digital Leaders board, will be filming a video message specifically for us, which will be screened at the start of the event.
Jacqueline is the President of techUK and the chair of the Digital Leaders board. She sits as a Non-Executive Director on the board of UK technology business Rightmove plc; on the board of Costain plc, which is committed to solving the nation's Infrastructure problems; and was recently appointed to the board of the online retailer AO World plc. Jacqueline serves on the government's Digital Economy Council and is a supporter of the University Technical College in Newcastle. An advisor to fast moving tech businesses and a business mentor at Bird & Co offering board and executive level coaching. She advises the board of Accelerate-Her and is especially delighted to lend her support to the Girlguiding Association for technology transformation. Passionate about diversity and inclusion which informs where she places her support.
The compère for the event will be Marija Butkovic, Women of Wearables
Marija Butkovic is a founder and CEO of Women of Wearables and co-founder of Kisha Smart Umbrella – a wearable tech startup behind the world's smartest fashion tech umbrella. She is digital marketing and business consultant who has worked across a range of projects in different industry sectors, including legal, journalism, tech, IoT, wearable tech and fashion tech. She regularly writes and blogs on topics of wearable tech, diversity and entrepreneurship. She has been featured in major tech and business publications such as TechCrunch, The Next Web, Management Today and Huffington Post and regularly appears as a public speaker and panelist on conferences, meetups and corporate events. Marija was selected as one of the Most Influential Women in UK tech: The 2017 longlist by Computer Weekly.
CRL is incredibly excited to announce that Marija will be involved in this year's CRL BOOST programme.
Read more about Women of Wearables here.
Speakers set to include:
Wan Tseng of Wisp (currently on CRL's Accelerator programme)
Wan is a designer, maker, researcher and adventurer working on a FemTech Startup. Wisp is a FemaleTech, SexTech & FashionTech startup developing sensual wearables to provide a range of personal experiences. For her, design is about understanding the individual experience and creating more inclusive spaces for all people. She envisions a future in which sexual education won't be just a biological topic, but an evolution of the social, emotional, and mental aspects of the human experience.
Read more about Wisp here.
Hadeel Ayoub of RE.VOICE (currently on CRL's Accelerator programme)
Hadeel Ayoub is a Saudi designer who spent 8 years teaching digital design courses to girls in higher education in Saudi Arabia. She then moved to the UK to pursue postgraduate studies. She obtained a Masters of Arts from Goldsmiths, University of London in Computational Arts where she stayed on to do her PhD in Arts & Computational Technology. Hadeel's research is focused on developing assistive technology pieces to disrupt the healthcare innovation industry. Her studies engage speech disabled participants and children with non-verbal autism. Her goal is to design multiple wearable technology assistive tools to help sign language users with their daily communication.
Read more about RE.VOICE here.
NEW SPEAKER ANNOUNCED! - Clara Pozzetti, Breath!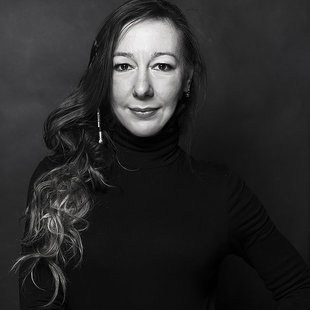 "Clara is Co-founder of Breath, a wearables company based in Milano. Breath is a eco-friendly wearable and smart garments collection born to aid people to perform proper breathing during Yoga and Pilates practice. Breath! team is made up of experts in wearable computing and product design, Clara Pozzetti is in charge for what concern fashion design and she is a Yoga and Pilates Personal Trainer. She is also the owner of Clara Pozzetti Design, a multidisciplinary studio, through which she works as a creative director and consultant on a wide range of projects in visual and communication, fashion and accessories, installation and exhibit design, interior architecture, film and photography, product and lighting".
Read more about Clara here and more about Breath here, a video on the here.

We're so excited to be welcoming in the year with an event which reflects our desire to creative a more diverse workplace!