A virtual cultural experience through Ancient Egypt (Kemet). Learn to speak and dance like an Ancient Egyptian with live traditional music!
About this event
A Journey Through Kemet
A Virtual Experience by Kamitan Arts
☥ ~♥~ ☥
A virtual cultural experience through Ancient Egypt (Kemet), with traditional Ancient Egyptian music, Kemetic Yoga (Egyptian Yoga - Sema Tawi in Metu Neter), Ma'at'ian Movement (Ma'at = Ancient Egyptian deity of Justice, Truth, Harmony and Order depicted in KA's logo), and some very insightful presentations. The community will have a chance to learn to speak in the ancient languages of Ancient Egypt: Coptic and Metu Neter (the language of the Hieroglyphs)! A prominent Egyptian Professor Physician and Mummy expert who has scanned over 100 mummies will also share an awe revealing presentation on the 'Hidden Beauty of the Pharaohs'! Also hear from 'Egypt Migrations' about their impactful humanitarian project.
FREE For All The Family!
Tutors / Artists
Professora Sahar Saleem
Egyptian physician, professor of Radiology and a mummy expert. Professora Sahar Saleem has examined hundreds of ancient Egyptian mummies by X-ray and CT scans and is known for solving the mysteries of King Tutankhamun and Ramesses III. Recently she had given lectures at the British Museum and previously at the Egyptian Bureau of Cultural and Educational Affairs in London.
Mina Salama
Researcher & lecturer, Assistant Conductor & Principal player in The Egyptian Opera House, Multi-instrumentalist, Composer & music arranger, Sound Engineer & Sound Studio Manager. Mina is a member of the Coptic Orchestra, the Manchester International Roots Orchestra (MIRO), the Oxford Maqam and Rafiki Jazz, works closely as an associate-artist with Arts on the Run and performs at festivals and concerts across the country. Mina plays the oud and ney (end-blown flute), alongside the 'qanun', piano, oriental violin, mandolin and recorder, and a range of other Middle Eastern instruments.
"...music and arts can bring people together regardless of their differences in culture, religion or ethnicity. With modern technology we have the ability to access the arts more than ever; to listen and try to understand each other. I don't care about being famous, all I want in life is to be part of that." - Mina during his interview for Refugee Week in 2017.
Simone
Coming from a professional dance background, Simone has experience in a variety of dance forms, martial arts and teaching. Her yoga practice grew alongside her dancing life and has supported her spiritually, mentally and physically during her dance career. She has explored and practiced different forms and aspects of yoga and continues to develop her yoga practice, teaching and studies , focusing on yoga as a lifestyle and being involved in promoting health and well-being in the community . Simone has trained with master Yirser Ra Hotep of Kemetic Yoga, Yoga Skills method 200hr training in 2012.
Simone is grateful for the blessing to be teaching yoga and looks forward to embracing everyone who will be joining her to practice. @SimoneRootsYoga
Emmanuelle Marcel
Founding and Artistic Director of Kamitan Arts, Choreographer, International Rap-Poetess, and Accredited Creative Healing Facilitator. With over 20 years training, teaching, project curating and performing professionally in the fields of Dance, Rap-Poetry and Integrated Arts to bring about cultural awareness and social justice Globally. 'Princess Emmanuelle' is also the driving force behind the @Poetry4Grenfell project, compiler and editor or the multi-lingual intergenerational book and director of the short 'Best Art' film award at Portobello Film Festival, 2017. Also known as: EmpresS *1 where she has toured the UK, Brazil, Egypt, Sudan, Berlin, etc. and shared stages with notable artists such as; Public Enemy, Jocelyn Brown, West El Balad, Gyptian, Al Wazza, United Nile Reggae, Dawn Penn, Mensengem Negra, O Rappa, Racoinais MC's, in venues such as; Royal Festival Hall, Cairo Opera House (Egypt), Cirque Voador, Lapa, (Rio de Janeiro, Brazil), CAC (Cairo American College), Bush Theatre, The Forum, Chats Palace, The Tabernacle etc.
Emmanuelle's heart is deeply embedded in the performing arts, her community, and humanitarian work; she is very passionate about her Egyptian roots and Kemetic philosophy which she embeds within her projects. @KamitanArts @EmpresS1Egypt
Michael Akladios
Sessional lecturer in Historical Studies at UTM & the Founder and Executive Director of Egypt Migrations: A Public Humanities Project. A historian of 20th century Egyptian migrations, his research and scholarship critically reflect on the mundane transnationalism of Coptic and Muslim middle-class professionals in Cold War North America. Dr. Michael Akladios details the historical trajectory of Coptic diasporic activism in a forthcoming chapter in Dalia Abdelhady and Ramy Aly eds., The Routledge Handbook on Middle Eastern Diasporas (Routledge, 2021). @EgyptMigrations @michaelakladios
☥ ~♥~ ☥
Schedule
1-2pm - Kemetic Yoga
2pm-2:30pm - Learn basic words in Metu Neter, Coptic & Egyptian Arabic!
2:45pm – 3:45pm - The Hidden Beauty of the Ancient Egyptians
4– 5pm - Ma'atian Movement and Creative Healing
5:10pm - 5:40pm - Ancient Egyptian Music
5:40 – 6pm - Egypt Migrations
☥ ~♥~ ☥
Kamitan Arts would like to thank RBKC Arts and the Westway Trust for their sponsorship and allowing us to make this community event free and accessible to you all.
Kamitan Arts Fundraising Shop
Any products on this site are for fundraising purposes to support our non-profit work within the community.
To purchase a copy of the 'Poetry 4 Grenfell' book or KA bags to support our cause:
If you would like to kindly donate to Kamitan Arts please follow this link:
http://www.Paypal.me/KamitanArts
☥ ~♥~ ☥
Ankh-Wdja-Snb
(Life-Prosperity-Health in Metu Neter)
Ƹ̵̡Ӝ̵̨̄Ʒ
More information:
Kamitanarts@gmail.com
#Kemet #KamitanArts #KA #RBKC #Community #Dance #Music #TheRoyalBoroughOfKensingtonAndChelsea #BHM #AfricanHeritageMonth #BlackHistoryMonth #KemeticYoga #Maat #AncientEgypt #KemeticPhilosophy #Dance #LiveMusic #Poetry #FamilyFriendly #EgyptMigrations #Egypt
PLEASE NOTE: We will be filming and taking still images from these online sessions for Kamitan Arts's portfolio and promotion on our social network platforms, as well as to share with our funders, if you do not authorise for your still/moving image taken or used by us please make sure to kindly turn off the camera icon at the bottom of your zoom screen. Please have your mic muted throughout the sessions funless asked to un-mute.
IMPORTANT INFO: Please be aware that this will be a community friendly platform and we will not tolerate any disrespectful or inappropriate attitudes or behaviour; which may result in being removed from the online event.
Kamitan Arts adheres to GDPR, Data Privacy, Equal Opportunities, and strict Safeguarding Policies.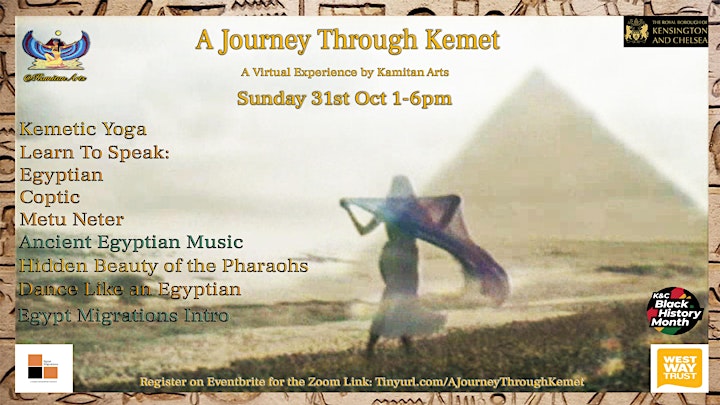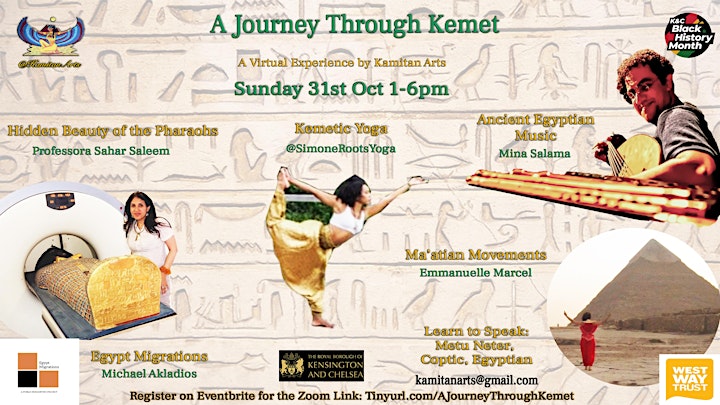 Organiser of A Journey Through Kemet
Kamitan Arts CIC is a Non-Profit Community Company​
@KamitanArts
Our objectives are to explore cultural identity and the heritage of our diverse community, as well as highlighting injustices and empowering women. We do this by promoting community cohesion and understanding of humanitarian issues through the performing arts. This includes workshops and productions in rap poetry, dance, drama, music, and film. Kamitan Arts works with many artists and youth practitioners from Kensington and Chelsea and beyond, thus we're well-connected with the local voluntary and community sector. All our programmes are inclusive and we always observe, critique and evaluate the learning and apply this to future work. Our work has taken us to Brazil, Egypt, Europe and Sudan, as we continue to develop and implement cross-disciplinary arts and cultural projects, which connect people, build and empower communities and helps create social change.​
Kamitan Arts CIC is a Non-Profit Community Company registered in England and Wales Reg No. 11216952