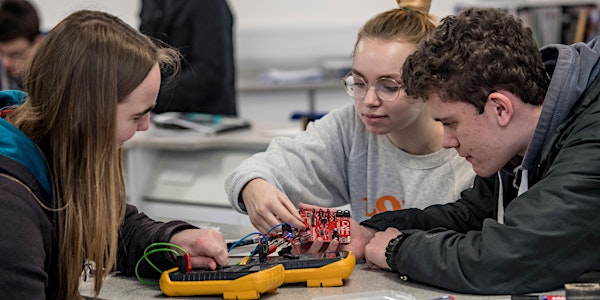 A-level Teachers Workshop: Physics Teachers
Location
University of Southampton Highfield Campus
Southampton
SO17 1BJ
United Kingdom
Description
Any queries on the day: please call 023 8059 9047
A-level Teachers Workshop in Electronics, Computing and Physics
This registration page is for A-level Physics teachers only. Registration for Computer Science teachers may be found at 2018cs.eventbrite.com
This free-of charge (refundable deposit required), exciting and innovative event, hosted in our world-leading Undergraduate teaching labs, is centred around subject-based activities. Hands-on activities include the 'Photonics Explorer Kit', and a 'Music Mixer' circuit board which teaches core electronics concepts for A-level Physics students. Photonics Explorer classroom kits, valued at approximately £150, will be provided free-of-charge to attendees! Attendees will also be provided with a Music Mixer circuit board, with the opportunity to apply for a free classroom set valued at over £300 (limited quantities available).
The programme is also expected to include:
Opportunities to network and share best practice.
A welcome lecture on applications of STEM in a University research environment.
An interactive session on improving diversity in STEM.
An insight into University admissions "from our point of view".
Tours of our world-class research facilities, including our £100m nanofabrication centre.

More information on the draft content of the event can be found on the Activity Details page.
The event programme will run from approximately 10am on Monday 16 July until 3.30pm on Tuesday 17 July. There will be a meal on the Monday night (optional). Residential attendees will be provided with accommodation on the Monday night. Joining instructions and the detailed workshop schedule will be directly communicated to registered attendees in due course.
The event is only open to UK attendees teaching A-level Physics or Computer Science, and where school staff did not attend the 2017 Teachers Workshop for that subject (please our Eligibility page for the full list). We must limit attendance to one attendee per school per subject (i.e. up to one teacher of Physics and one teacher of Computer Science).
Please note that on-campus parking is very limited (except for blue badge holders). Parking is likely to be provided at a nearby University site (10-15 minute walk, or a short bus journey).
This event has very limited capacity. You may alternatively be interested in our one-day training events, only for UK-based A-level Physics teachers from state schools, focussing solely on the Music Mixer circuit board. These take place on Thursday 12 July 2018 and Friday 13 July 2018. Please note that schools can either register for this event or one of the one-day training events (and will not be eligible to register for either if they have previously received a Music Mixer classroom set).
Equipment issued to attendees is provided by UK Electronics Skills Foundation and other partner organisations. As a condition of issue, we are required to share basic contact details with them (i.e. name, school, email address). This will be used solely for the purposes of tracking usage of equipment and will not be used for marketing.