A LIFE MORE EXTRAORDINARY - LOVE & LOSS
About this event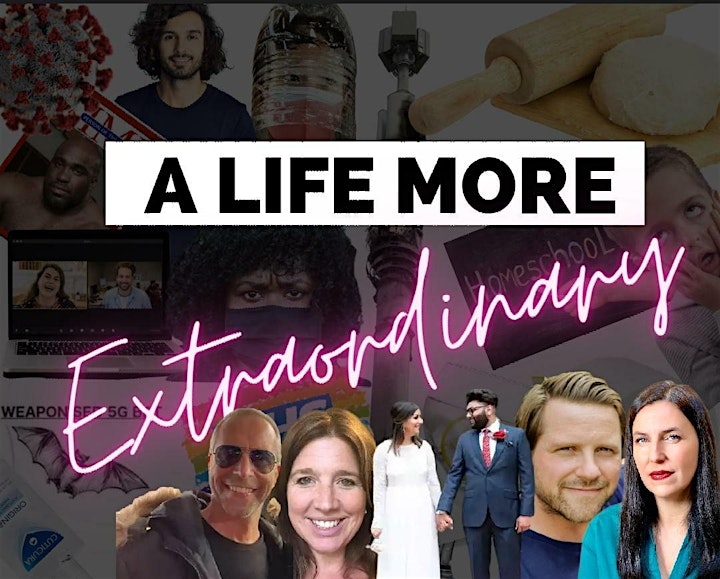 Please join us for our next episode of A Life More Extraordinary on Friday 18th February 2022, 11am.
Despite unprecedented restrictions, the threat of an unknown pandemic and being shackled to the sofa, nothing could quarantine the beautiful and terrible realities of love and death.
Please join us to hear our panel's powerful tales of love and loss in a time of lockdown, and celebrate the inspiration that these provide as we look to make 2022 more extraordinary.
Look forward to seeing you there
Panellists:
Grant Morgan
https://happiful.com/bemorejack-campaign-launched-on-world-cancer-day/
The youngest of five children, I left school at 16 with few qualifications and pursued a career in hospital radio and free-lance satirical journalism. Formed www.louiskennedy.com in 1991, having over time delivered £250M in social good. Have written a sitcom (pilot in planning) and midway through a book, a surreal look at celebrity culture. Married Emma in 1993, we have four beautiful children Jack, Joshua, Sam & Charlotte. Haven't seen Jack since August 26 2019 when he went on a new journey.
Luba Kassova
Luba Kassova is an award-winning evidence-based storyteller and TEDx speaker. Alongside her writing, Luba is also an audience strategist and researcher. She co-founded AKAS, an international audience strategy consultancy, in 2012. Her news media experience and clients include BBC News, C4 News, The Guardian, BBC Media Action, The Fuller Project, Hromadske, and CPJ. Her passion lies in improving gender and racial equity; advancing the response to the climate crisis; supporting freedom of press; and protecting children's wellbeing. Luba's written work and articles have been quoted or published in over 300 news outlets in more than 75 countries across the world, including the Guardian(on vaccines), The Washington Post, The Independent, Reuters Institute for the Study of Journalism and many others. Luba is currently researching and writing a book about emotional empowerment..
Having lost her father to COVID-19 in Bulgaria, Luba channelled her own grief to share his story and help others. In so doing, she challenged some of the political and social injustices surrounding vaccine inequality around the world. She thought that transforming her grief into outwardly mission was going to be enough to get her through her father's loss, but it wasn't. She had to learn to live with her grief.
Tasha and Mou Shah
Nothing pours cold water on the flames of a long-awaited wedding like a global pandemic. Four cancelled weddings, thousands of 'save the dates', rearranged honeymoons and hundreds of re-printed personalised face- masks later, hear how love won and Tasha and Mou finally said I do.
Mr and Mrs Shah - (Tasha and Mou) - join us fresh from their honeymoon in the Caribbean.
Hosts:
Sarah Burbedge:
Sarah Burbedge: A BBC Radio and TV reporter, turned live events producer, turned Head of Change, Sarah's career has followed a Bridget Jones to W1A trajectory. Passionate about people, content and change, she is a creative leader with a 'can do' attitude and a track record for getting stuff done whilst having plenty of fun along the way! In her other- equally rewarding and exhausting role as Mummy, Head of Fun and Exec Assistant to Oliver (7)and Gracie (5) and Ginny the spaniel (1)– Sarah is busy questing for the ultimate cocktail of sense of humour, wellbeing and work-life balance. Sarah is a Trustee for Soulscape.com and sits on the Advisory Board for 2-3 days.com.
Oliver Matthews:
Olly is a commercially minded creative with a passion for finding meaningful approaches to solving real problems and making things better. Having worked all over the world with some very talented people, he truly believes in the importance of focusing on purpose, collaboration and leadership. He's a mad sports fan who commentates on rugby and cricket for The Roar as well as co-hosting his own sports podcast. He set a World Record for the longest game of non-stop darts ever played, and his eight year old daughter has him wrapped around her little finger.
When and Where is it?
The event will take place on Friday 18th February 2022, 11:00am till 12:00pm via Zoom:
Join Zoom Meeting
Meeting URL: https://bbc.zoom.us/j/93968074573
Meeting ID: 939 6807 4573
How do I sign up?
You can sign up via this Eventbrite link. But hurry, as tickets are limited.
If you have any more questions, then please email: natasha.shah@bbc.co.uk
Hope you can join us.
Please note that by joining this webinar you are giving your consent to be recorded of which the material may be used on social media.