Description
No Mess? No Stickiness? Try Construction!
A Limbic Model of Attachment-Based Play
A one day course with Dr Sue Jennings, authority on Neuro-Dramatic-Play.

Many children, teenagers and adults avoid anything messy. Some children won't drink orange juice with bits, others will only drink it with bits! Textures in taste as well as messy activities make a big impact, especially with children on the autistic spectrum.

This one day workshop explores the underlying theory of mess avoidance and it's possible roots in early adverse experience. Too much mess or chaos can be overwhelming; sticky or slimy textures can have many associations; chaos rather than order can be a very frightening experience.

In the limbic mode of construction play there is the opportunity to put everything back together again both in the lives of people at any age and the surroundings that may have become hostile. The limbic area of the brain is where we experience nurture, feelings and the building of relationships.

With nurture and support we are able to undertake new tasks and find the basis of our individual creativity. This in turn reinforces our identity which may have become fragile through trauma or other adverse experience.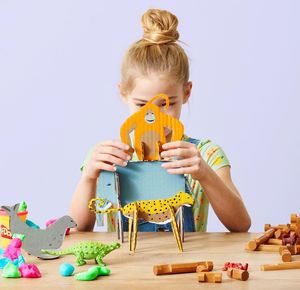 Date: Saturday 7 December 2019
Time: 10am-4pm
Location: Stratford-upon-Avon at The Other Place Theatre
Fee: £90 including Eventbrite booking fee, all resources and some take-away toys. 2 bursaries are available for help on the day, contact Dr Sue on drsue@ndpltd.org. Welcome tea / coffee and fresh croissants are provided as well as still and sparkling water. (The theatre itself has an excellent restaurant where we can order food if you wish.)
Who is it for? Therapists, teachers and parents will find this course helpful.
Please bring: a small blanket or shawl, a shoebox, and any recycled card such as postal book wrappers.
Course credits: This course can be credited towards Neuro-Dramatic-Diploma or Certificate in Attachment-Based Play.
Please note: details of parking, directions and transport will be provided nearer the time, PLEASE do not ring the theatre for this information!