A live podcast critiquing current popular narratives around propaganda
Dr Richard Carver discusses and critiques the 'We Need You' series of podcasts that focus on the current narratives around propaganda.
About this event
How does the distortion of story telling and news reporting affect our understanding and our world views. Inspired by the 'We Need You' series of podcasts we invite Dr Richard Carver, expert in human rights and freedom of speech to critique the short series. Topic include press, protest, deception and the awesome power of words.
Lucie Dick and Victoria Greenwood in conversation with Dr Richard Carver Senior Lecturer, CENDEP Associate, School of Architecture, Faculty of Technology, Design and Environment
You can find the 'We Need You' podcast series on Spotify here
Podcast 1: Belinda Goldsmith, Editor-in-Chief of Thomson Reuters Foundation, helps us make sense of how to preserve truth and reality when misinformation, disinformation and propaganda freely pollute our information systems. (25mins)
Podcast 2: Josie Naughton is the CEO of Choose Love, we expose the hostile political narrative and how this impacts the lives of refugees, and we ask if shared common humanity since the pandemic can unite us.
Podcast 3: Esther Stanford-Xosei, Advocate of Extinction Rebellion unpacks how the media portrays activism and civil disobedience and we assess the power of protest and disruption.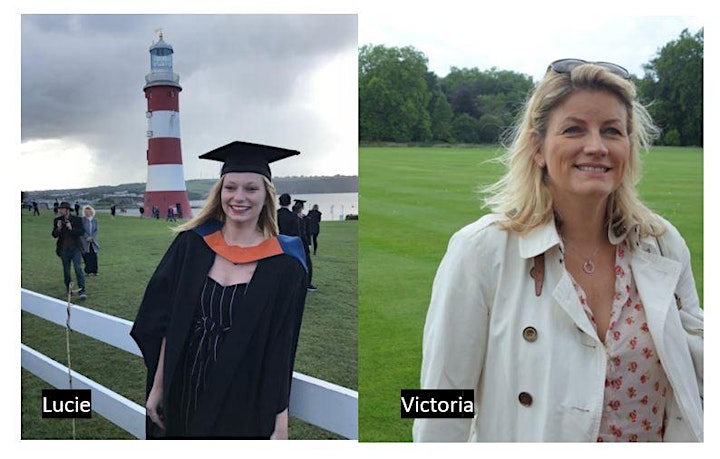 Event Notice: This event will be recorded on Zoom and published on our social media and YouTube channel after the event. If you attend you have the option of turning off your camera.
Event organiser: This event has been organised by the Oxford Human Rights Festival; Planning Committee; Centre of Development and Emergency Practice (CENDEP) at Oxford Brookes University.
When you sign up: When registering with Eventbrite to book tickets please read Eventbrite's T&Cs and privacy policy carefully about whether or not to subscribe to any additional Eventbrite marketing, please be aware that they are an external company and their privacy policy will be different to the one of Oxford Brookes University.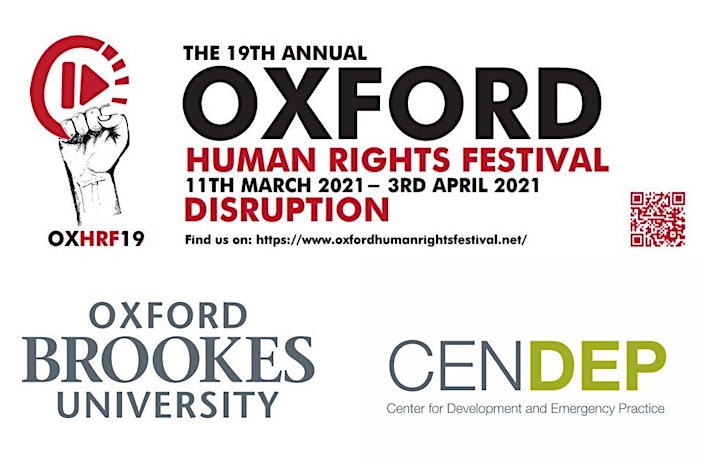 Organiser of A live podcast critiquing current popular narratives around propaganda
Raising Awareness of Human Rights through the Arts
FOUNDED in 2003 by MA students on the Development and Emergency Practice programme
which is run by the Centre of Development and Emergency Practice (CENDEP) based within
the school of Architecture.  
OUR AIM is to raise awareness of human rights issues through informative films,
performances, talks, workshops, and exhibitions.
THE FESTIVAL IS CURATED AND LED by students and the organising committee
which is open to all undergraduates and postgraduates across the university including
Film Studies, Business & Marketing and International Relations.
FESTIVAL THEMES have included IDENTITY, HOME and ACTIVISM and we have
explored what these mean in terms of gender, sexuality, race, ability, class, wealth,
religious beliefs, forced migration, homelessness, nationality and much more. 
PAST EVENTS  2017 Ken Loach opened the OXHRF with a screening of his highly
acclaimed film I, Daniel Blake. 2016 Ziauddin Yousafzai, father of equal education
activist Malala Yousafzai, spoke at our screening of their film He Named Me Malala.
WE WELCOME sponsorship and collaborations.
Film, music, performance and arts are all part of our expressions.