About this Event
The Start-Up Drinks Lab (SUDL) is an exciting, mould-breaking business that launched in June 2018. SUDL are a small batch bottling facility based in Port Glasgow, producing craft sodas, mixers, RTDs, beers and ciders for brands all around the UK. SUDL offer help to produce and market craft drinks from concept through to shelf by providing recipe development, branding and small batching bottling assistance.
The idea for Start-Up Drinks Lab was implemented by Co-Founders Hannah Fisher and Craig Strachan to solve the problem faced by the hundreds of small, craft drink producers that exist throughout the UK and into Europe. Given their smaller volumes, these companies found it incredibly difficult to find a third party manufacturer who can accept their lower volume runs and so the Lab was born!
Craig and Hannah also have their own individual craft soda business as well as their 'Sparklingly Sober' range of non-alcoholic champagne-inspired tipples which has recently attracted a supermarket listing from Scotmid. The range will be stocked in Scotmid stores across Scotland, marking the first national deal for the Port Glasgow craft drinks producer.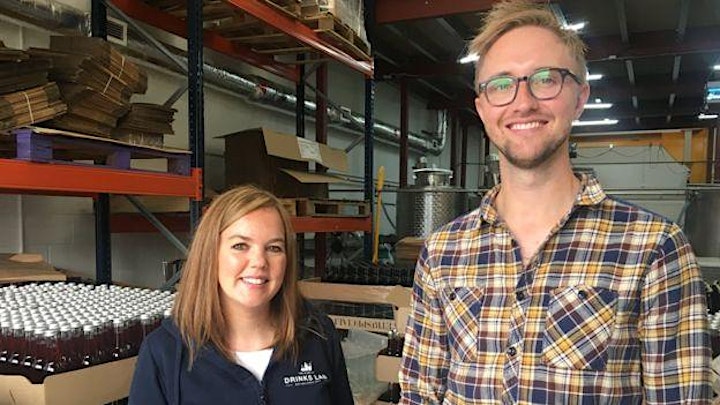 Above: Start Up Drinks Lab Co-Founders Hannah Fisher and Craig Strachan
We will take a look into the process taken from recipe development, bottling and branding which are all offered by the company to help launch small batch drinks. There will be inspirational talks from Co-Founders Hannah Fisher and Craig Strachan on their journey with the company and a short tour of their manufacturing facilities and modern offices.
Inverclyde Chamber will also provide an update on upcoming events and initiatives and there will be plenty of networking opportunities before and after. Get your tickets now and join us for an informative morning. The event is free for Chamber Members and £5 to non-members.
Venue: Start Up Drinks Lab, Unit D4, Kelburn Business Park, Port Glasgow PA14 6BL
Date: Thursday 16th January 2020 Time: 08:00—10:00am
Contact: seo@inverclydechamber.co.uk
For more on Start Up Drinks Lab visit: https://startupdrinkslab.com/