Description
After the sell-out success of our first workshop, with an average of 8.95 out of 10 for overall presentation, we are pleased to announce the second date after much demand.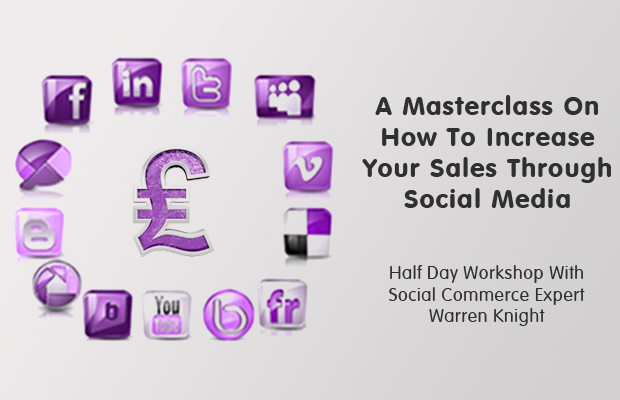 Sales, Marketing and Customer Service are the three biggest reasons why companies must use social media. During this ½ day workshop you will understand how to make money using Social media and implement a strategy designed for your business.
Who is it for?
SME Business Owners
Marketing Managers
Consultants
Start-ups
What will you take away from this workshop?
How to use Twitter and Facebook to increase your online sales

The latest Social Media tools to help you save time

How to define and reach your online target audience

Design a Social Media Strategy to use Twitter, Facebook, Google+, LinkedIn and more

Why sentiment is important to drive sales

How to define your online voice and improve the brand awareness

The do's and don'ts when implementing your Social Media Strategy
And much, much more.
What to expect on the day
Selling through Social media; learning where your consumers are and where they are most likely to buy.

How to generate leads and build customer insight

Digital Marketing Strategies - How to build credibility using tools such as email marketing and blogs.

Help define your business goal and marketing plan to implement your Social Media strategy.

Mastermind sessions where you will connect with like-minded professionals to share knowledge on Social Media
BIO

Warren Knight is the Co-Founder of Gloople; The UK's first award winning Social Sharing Ecommerce Platform. Warren has spent the last 20 years specialising on growing companies through sales and marketing and has been using social media since twitter launched. Warren has worked with over 100 companies helping them increase their sales by up to 300%.
Click here to see how Warren achieved an increase of 300% in sales by using social media Click here to see how Warren helped one of his clients achieve record-breaking sales.
TESTIMONIALS
Zandra Johnson - Fairytale Furniture
"Warren is direct, incisive and frank. His profound knowledge of social media backed by years of experience in business make him a valuable ally in promoting and developing a business. My turnover has increased by 500% during the first half of this year."
Richard Brenkley – Coast Digital
"Deep and meaningful knowledge of Social Media is rare to find but Warren is an expert in his field, and truly understands his subject in the context of the wider marketing mix. He is a pleasure to work with and always looks to add value to our business."
Andrea Littlefair – Cheeky Beach
"Warren always delivers what he promises and implements proven social media strategies to your business that work. His knowledge and experience have been invaluable to the growth and development of my business and since working with Warren, my sales increased by over 300%"
Organizer of A masterclass on how to increase your sales through social media
The event is organised by Central Working, the UK's premier homegrown shared
workspace provider, transforming the way people work and companies grow.
Today we operate from eleven beautifully designed clubs across the UK, providing thousands of
businesses with the environment, connections and support they need to thrive. Members have the
option of dropping-in, occupying a permanent office or using a collaborative workspace.
Central Working operates as a premier service business - our service is helping your company
grow, introducing you to the people and organisations that can help you succeed. Our 30 Day
Guarantee offers any member their money back if we don't provide them with at least one valuable
business connection in their first month.