A Masterclass on Measuring Human Rights

Friday, 31 May 2019 from 10:00 to 12:00 (BST)
Event Details

School of Social & Political Sciences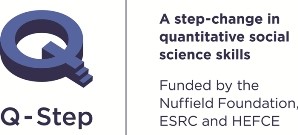 Q-Step Glasgow with Glasgow Human Rights Network
Present a Masterclass on Measuring Human Rights
 by Professor Todd Landman, FRSA
Pro-Vice-Chancellor, University of Nottingham
2019 CELEBRATION EVENT
 Friday 31 May 2019
10 am – 12 noon
Humanities Lecture Theatre, Main Building
As part of Q-Step Glasgow's Annual Celebration Event, Glasgow Q-Step with Glasgow Human Rights Network present a Masterclass by Professor Todd Landman, FRSA, Pro-Vice-Chancellor, University of Nottingham.
 Measuring Human Rights
 The masterclass will provide participants with an overview of the progress that is being made in the measurement and analysis of human rights, and will cover events data, standards data, survey data, and socio-economic and administrative data, as well as developments in the analysis of new forms of data relevant to human rights problems. The masterclass will provide concrete examples of application of data measurement strategies to real world human rights problems, including civil and political rights, social and economic rights, as well as the problem of modern slavery, which is a particular focus of our University's Research Beacon of Excellence, the Rights Lab.
Landman, T. (2018) 'Democracy and Human Rights: Concepts, Measurement, and Analysis,' Politics and Governance, 6 (1) https://www.cogitatiopress.com/politicsandgovernance/article/view/1186
Edwards, H., Landman, T., Kernohan, D., and Nessa, A. (2018), 'Good Neighbours Matter: Economic Geography and the Diffusion of Human Rights', Spatial Economic Analysis (February): 1-19.  www.tandfonline.com/doi/abs/10.1080/17421772.2018.1412087
Todd Landman and Edzia Carvalho (2017) Issues and Methods in Comparative Politics: An Introduciton, 4th Edition, Oxford and London: Routledge.
When & Where

University of Glasgow
Humanities Lecture Theatre. Main Building
University Avenue
G12 8QQ Glasgow
United Kingdom


Friday, 31 May 2019 from 10:00 to 12:00 (BST)
Add to my calendar
Organiser
Q-Step is a £19.5 million programme designed to promote a step-change in quantitative social science training. Over a five-year period from 2013, fifteen universities across the UK are delivering specialist undergraduate programmes, including new courses, work placements and pathways to postgraduate study. Expertise and resources will be shared across the higher education sector through an accompanying support programme, which will also forge links with schools and employers.