Description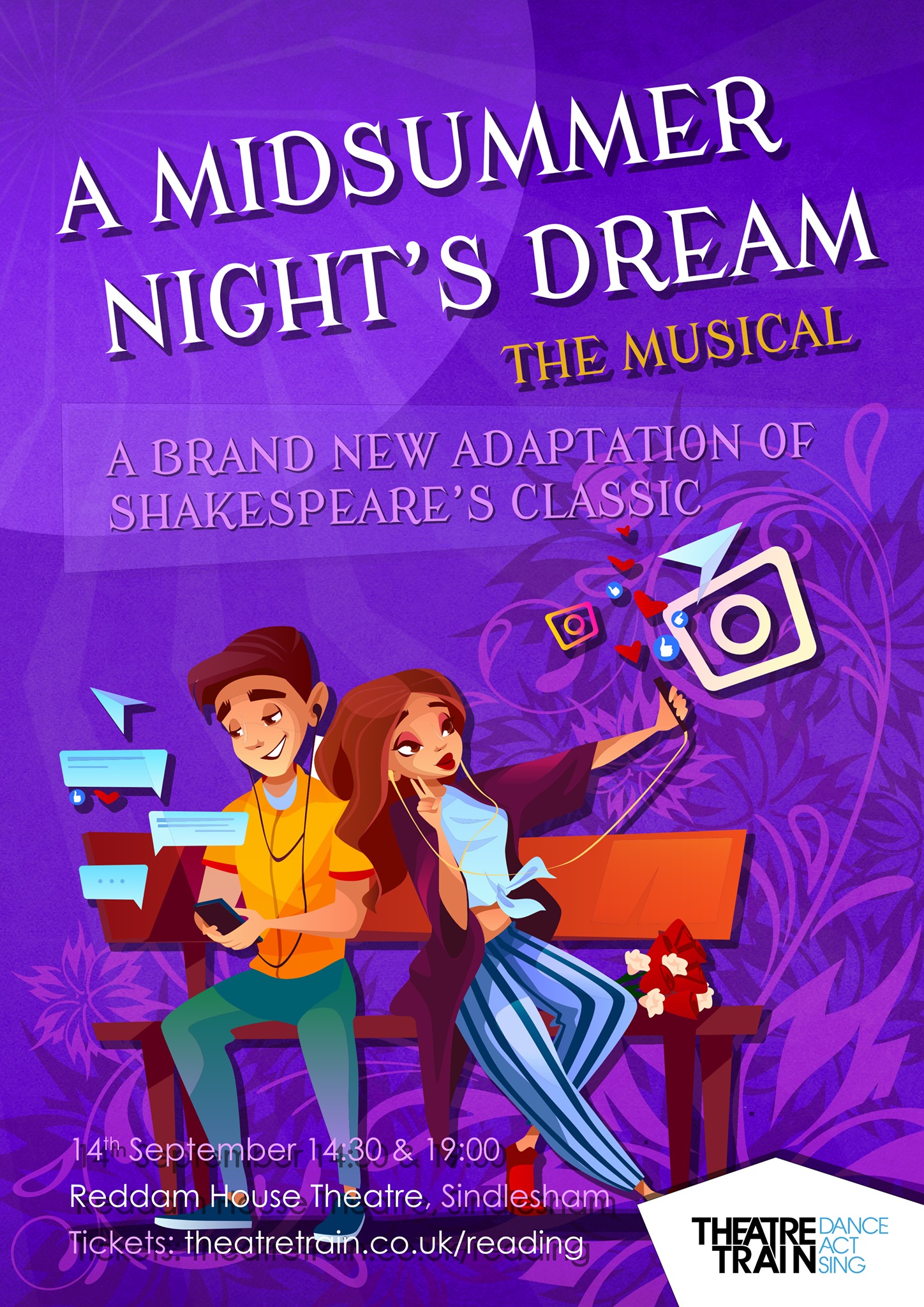 A Midsummer Night's Dream: The Musical feaures 5 industry professionals including Seasoned West End performer, Charlotte Steen (Bat Out of Hell, 42nd Street, We Will Rock You) alongside Theatretrain Reading students.
WE live all over social media… wherever you go, we will find you!
Obsessed with their phones and seemingly unable to communicate without one surgically attached to them, teenagers burst onto the stage. How many likes and followers have you got? Hermia, a popular and successful Vlogger is trying to teach her friend Helena how to do it 'properly'. Catfished, and 'unlucky in love' Helena, would love to catch Demetrius' eye. Demetrius however, really likes Hermia … and so does new girl in school, Lysandra!
It is only 4 days until Meghan and Prince Harry's Royal Wedding and everybody is talking about it AND the ultimate festival that is happening in THE WOODS that weekend, in Reading! Forbidden to go to THE WOODS by her father, Hermia runs off with Lysandra. Social media goes crazy, as Hermia posts a cryptic post and goes offline: she has literally disappeared!
PUCK pulls the plug on social media, forcing everyone to enter his crazy magical world! This is a place where there are no rules (well, just Oberon and Titania's rules really, as the King and Queen) and anything can happen when you are in these woods…!
Now, no adaptation of A Midsummer Night's Dream would be right without including the funny Mechanicals who are trying soooo hard to make it… and they have a gig planned at Harry and Meghan's wedding, so they can't be that bad, can they?
Tickets are just £16 Adult and £9 Children. Saturday 14th September 2:30pm and 7pm
Please contact reading@theatretrain.co.uk for more information.
(A Midsummer Night's Dream: The Musical - This brand new adaptation was written, directed and choreographed by Tiffany King)
Tiffany King is an experienced professional having performed in numerous productions including the UK tour of the Jungle Book, a Director/Choreographer for the National Youth Theatre of Great Britain, LAMDA coach, Modern/Jazz dance teacher, Former Head of Dramatic Arts at St. Joseph's College, Current Head of Drama at Reddam House, Director of International project EDERED as well as the Centre Director of Theatretrain Reading for the past 10 years. TIFFANY WAS INVITED TO BUCKINGHAM PALACE IN 2011 IN A RECEPTION GIVEN BY THE QUEEN AND DUKE OF EDINBURGH FOR HER ACHIEVEMENTS IN THE PERFORMING ARTS. Tiffany Directed, Choreographed and wrote the script for the concert-style show Respect: The Aretha Franklin Songbook which featured a stellar line-up of artists including Olivier Award winning Actress Amber Riley, Mica Paris, Jaki Graham and Cleopatra Higgins. Tiffany is currently developing this show ahead of a National UK tour this September – November.