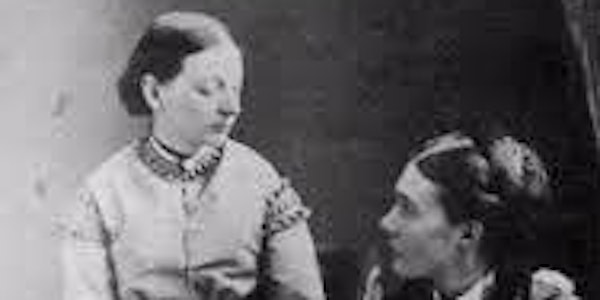 A Moral Amazon: The Story of Miss Amy Dillwyn
USW's Centre for Gender Studies invites you to an online performance by Queer Tales From Wales
About this event
For LGBTQ+ History Month 2022
Queer Tales From Wales
presents:
A Moral Amazon: The Story of Miss Amy Dillwyn
Born a tomboy in Swansea in 1845, Amy Dillwyn spent many years searching for a meaningful existence. This lively dramatised presentation explores her life: how she became a successful novelist and a cigar-smoking industrialist, stood for public office and stood up for women's rights. Amy would become a famous figure in South Wales. But she never forgot her one true love – the girl who would not love her back.
Written, researched and narrated by Jane Hoy, with Helen Sandler as Miss Dillwyn.
Ar gyfer Mis Hanes LGBTQ+ 2022
Mae Canolfan Astudiaethau Rhyw yng Nghymru PDC yn eich gwahodd i berfformiad ar-lein
Queer Tales from Wales
cyflwyno:
Amazon Moesol: Stori Miss Amy Dillwyn
Ganed Amy Dillwyn yn Abertawe yn 1845, a threuliodd flynyddoedd lawer yn chwilio am fodolaeth ystyrlon. Mae'r cyflwyniad bywiog hwn yn archwilio ei bywyd: sut y daeth yn nofelydd llwyddiannus ac yn ddiwydiannwr sy'n ysmygu, yn sefyll am swydd gyhoeddus ac yn sefyll dros hawliau menywod. Byddai Amy yn dod yn ffigwr enwog yn Ne Cymru. Ond ni anghofiodd erioed ei hun wir gariad – y ferch na fyddai'n ei charu'n ôl.
Ysgrifennwyd, ymchwil a adroddwyd gan Jane Hoy, gyda Helen Sandler fel Miss Dillwyn.
About the company: Queer Tales From Wales
QTW is a micro theatre company based near Machynlleth, telling stories about a variety of queer characters from Welsh history: www.aberration.org.uk/queer-tales-from-wales
The presenters are Jane Hoy and Helen Sandler, who are also co-programmers (with Ruth Fowler) of Aberration – LGBTQ+ cultural events in mid Wales.
Aberration's 9th LGBTQ+ History Month programme will take place on Saturday 26 March at Aberystwyth Arts Centre. Tickets on sale soon: www.aberystwythartscentre.co.uk
Ynglŷn â'r cwmni: Queer Tales From Wales
Mae QTW yn gwmni theatr micro wedi'i leoli ger Machynlleth, yn adrodd straeon am amrywiaeth o gymeriadau queer o hanes Cymru: www.aberration.org.uk/queer-tales-from-wales
Y cyflwynwyr yw Jane Hoy a Helen Sandler, sydd hefyd yn gyd-raglennu (gyda Ruth Fowler) o Aberration – digwyddiadau diwylliannol LGBTQ+ yng nghanolbarth Cymru.
Cynhelir 9fed rhaglen Mis Hanes LGBTQ+ Aberration ddydd Sadwrn 26 Mawrth yng Nghanolfan y Celfyddydau Aberystwyth. Tocynnau ar werth yn fuan: www.aberystwythartscentre.co.uk