Description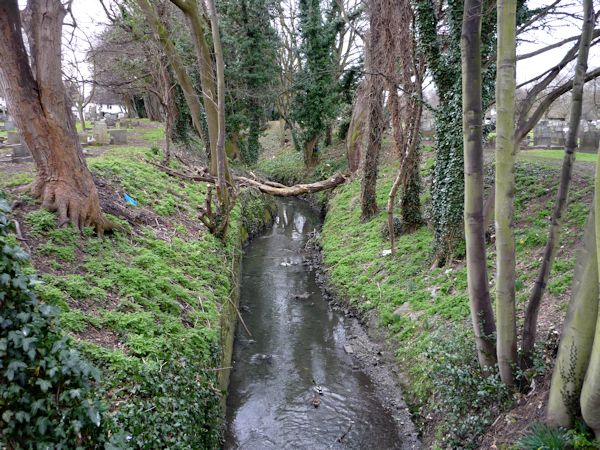 The Moselle in Tottenham Cemetery © Jen Pedler
A Moselle Mosey
This day-long walk follows the course of Haringey's hidden River Moselle from its source in Queen's Wood, Highgate to its confluence with the River Lea in Tottenham.
The river is not completely hidden; we will see short stretches above ground in Lordship Rec and Tottenham Cemetery. And even when we can't see it we'll spot evidence of its existence along the way.
Meet 9:45am for 10am start at Queen's Wood Café, close to Highgate tube station (five minute walk). Directions to café
The walk finishes at Markfield Park in Tottenham (near Tottenham Hale station or buses to Seven Sisters/Turnpike Lane). We aim to arrive there by 4pm at the latest but this will partly depend on the speed we walk!
We will have a short lunch break at the Hub Café in Lordship Rec where food is available or bring your own.
This is a fairly long walk (7.5 miles) but there's a great sense of achievement in having walked the entire course of the river. It's not possible to join the walk part-way through as the timing at various points along the route can't be exact. However, should you wish to join at the start but leave before the end, there are plenty of opportunities to drop-off along the way. Please email me for further information or ask on the day if you want to do this.
Note: the walk includes some unsurfaced and/or rough paths so please wear appropriate footwear.
Look forward to moseying the Moselle with you!
Please check travel arrangements on the day at Transport for London's Journey Planner site.