Description
Step inside Bloomsbury Publishing as we celebrate how the writing legacy of Dame Agatha Christie is still influencing today's mystery writers and readers.
For one night only, we bring together three very modern mystery writers of the page, stage and screen to share how the "Queen of Crime", often considered a masterclass in suspense, plotting, and characterisation, has inspired so many of the world's greatest crime authors and entertained millions of mystery readers.
We're delighted to present this literary evening at Bloomsbury that looks a bit deeper into the secrets of Christie's devilish storytelling. After all, we all love to be the first to solve a good mystery!
Our guests:
- Just announced! Sarah Phelps, radio writer, television writer (including Agatha Christie's The Witness For the Prosecution, the Ordeal by Innocence mini-series and And Then There Were None), screenwriter, playwriter and television producer
- Stuart Turton, author of The Seven Deaths of Evelyn Hardcastle (Bloomsbury, 2017)
- Andrew Wilson, author of A Talent for Murder (Simon & Schuster UK, 2017)
Chair: Danuta Kean, book news correspondent at the Guardian and books editor of Mslexia.
Date: Thursday, September 13th
Timing: 6:30pm to 8pm (doors and drinks reception from 6pm)
Venue: Bloomsbury Publishing, 50 Bedford Square, WC1B 3DP
Nearest station: Tottenham Court Road
Tickets: £20 Adults / £15 Concessions and every ticket includes a copy of Stuart Turton's The Seven Deaths of Evelyn Hardcastle - a brilliantly original high concept murder mystery: Gosford Park meets Inception, by way of Agatha Christie's Murder on the Orient Express.
If you would like to bring a group of five or more together, please email institute@bloomsbury.com for a significant discount on your tickets.
This event is hosted by Bloomsbury Institute, a division of Bloomsbury Publishing. Please read our Event Terms and Conditions carefully as by buying a ticket to this event, you confirm that you accept these terms and condition and that you agree to comply with them, alongside the Eventbrite terms and conditions. For any questions about this event, email institute@bloomsbury.com
***
Sarah Phelps is a British radio writer, television writer, screenwriter, playwriter and television producer. She is best known for her work on EastEnders, a number of BBC serial adaptations including Agatha Christie's The Witness For the Prosecution, the Ordeal by Innocence mini-series and And Then There Were None, Charles Dickens's Great Expectations and Oliver Twist, J. K. Rowling's The Casual Vacancy and work with the Royal Shakespeare Company. Phelps also wrote for the World Service Soap opera Westway before joining the BBC in 2002.
Stuart Turton is a freelance travel journalist who has previously worked in Shanghai and Dubai. The Seven Deaths of Evelyn Hardcastle is his debut novel. He is the winner of the Brighton and Hove Short Story Prize and was longlisted for the BBC Radio 4 Opening Lines competition. He lives in West London with his wife. Follow him @Stu_Turton.
Andrew Wilson is the highly acclaimed author of biographies of Patricia Highsmith, Sylvia Plath and Alexander McQueen. His first novel, The Lying Tongue, was published in 2007. His journalism has appeared in Guardian, Daily Telegraph, Observer, Sunday Times, Daily Mail and Washington Post. Andrew Wilson is the author of A Talent for Murder and A Different Kind of Evil, novels featuring Agatha Christie as detective.
Danuta Kean is Books Editor of Mslexia and a respected publishing expert and journalist. Her work appears regularly in national newspapers, including the Financial Times and Independent on Sunday. She is a regular speaker at festivals, interviewing authors and revealing the inner workings of a trade that seems opaque to many writers. When not writing she is invariably found at the back of gigs in small venues or looking guilty as she walks past her gym. Follow her @Danoosha.
***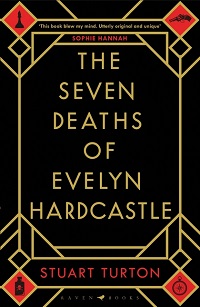 The Seven Deaths of Evelyn Hardcastle by Stuart Turton
'Somebody's going to be murdered at the ball tonight. It won't appear to be a murder and so the murderer won't be caught. Rectify that injustice and I'll show you the way out.'

It is meant to be a celebration but it ends in tragedy. As fireworks explode overhead, Evelyn Hardcastle, the young and beautiful daughter of the house, is killed.

But Evelyn will not die just once. Until Aiden – one of the guests summoned to Blackheath for the party – can solve her murder, the day will repeat itself, over and over again. Every time ending with the fateful pistol shot.

The only way to break this cycle is to identify the killer. But each time the day begins again, Aiden wakes in the body of a different guest. And someone is determined to prevent him ever escaping Blackheath...
PRAISE for The Seven Deaths of Evelyn Hardcastle:
"Complex, fascinating and bewildering.... An astonishingly polished debut" – Marcel Berlins, The Times
"This book blew my mind. It is utterly original and unique. I couldn't get it out of my head for days afterwards" - Sophie Hannah
"Mind-boggling...what a pleasure it is to give oneself up to the book, to be met with discoveries and thrilling upsets at every turn in the labyrinth... it's the story that triumphs, with a series of last-minute revelations as dazzling as the finale of a fireworks show" – Guardian
"The Seven Deaths of Evelyn Hardcastle is a mind-bending mash-up of Agatha Christie, Quantum Leap and Groundhog Day. If it isn't made into a film in the very near future, I'll eat my deerstalker" – Jake Kerridge, Sunday Express
"Dazzling … Bracingly original, fiendishly clever … Quite unlike anything I've ever read, and altogether triumphant. I wish I'd written it" – A. J. Finn, author of The Woman in the Window
"Prepare to have your brain fried and your mind blown... an exhilarating, unsettling and invigoratingly original read" – Charlotte Heathcote, Daily Express
"I hereby declare Stuart Turton the Mad Hatter of crime. Seven Deaths is unique, energising and clever. So original, a brilliant read … I tore through it" – Ali Land, author of Sunday Times bestseller Good Me, Bad Me
"Stuart Turton's remarkable debut is something the reader will not have encountered before" – Financial Times
"Darkly comic, mind-blowingly twisty, and with a cast of fantastically odd characters, this is a locked room mystery like no other" – Sarah Pinborough
"An original and high concept murder mystery, this is welcome rescue in a sea of psychological thrillers" – Stylist, 'The 20 Must-Read Books of 2018'
"It deserves to be a stonkingly popular hit ...Outstandingly enjoyable and addictive" – Sunday Express
"Agatha Christie meets Groundhog Day in the tightly plotted The Seven Deaths of Evelyn Hardcastle" – Good Housekeeping
"Audaciously inventive, gripping and original" – Louise O'Neill, author of Only Ever Yours and Asking For It
"Murder mystery goes into overdrive in this mind-blowingly original debut … It's whodunnit heaven" – Saga
"A huge, crumbling mansion, a masquerade ball, exploding fireworks, a devastating murder, and Stuart Turton has set the scene for this intricate mystery … Ingenious " – Psychologies
"A beautifully written, mind-bending whirligig of a book" – Adam Hamdy
"Dazzling in its complexity, astonishing in its fiendishness and shocking in its sheer audacity. Every page, every character, and every deliciously dark secret is an absolute treat" – Anna Stephens, author of the Godblind trilogy
"Agatha Christie on time-bending substances … Mind blowing" – Eva Dolan
"Gloriously inventive, playful and clever, this is a must for mystery fans. I wish I'd written it myself" – Robin Stevens, author of the Murder Most Unladylike Mysteries
"I'm green with envy; I wish I'd written this book" – Jenny Blackhurst, author of How I Lost You
"Absolute envy-making bloody murderous brilliance" – Natasha Pulley, author of The Watchmaker of Filigree Street
"An incredibly enjoyable read. Reads like a classic golden age mystery, yet utterly original. Very, very good." – Ragnar Jonasson,
"Wow. Quite brilliant - inventive, fascinating and compulsive" – Tom Lloyd, author of the Twilight Reign series
"An ingenious dark twist on Groundhog Day … Stuart Turton's ingenious, twist-filled debut is a crime novel with a difference" – Radio Times
"The book is outstandingly enjoyable and addictive and, by the end, you may realise that you've been so preoccupied with Turton pulling your brain in all directions that you haven't noticed he's got your heart in an iron grip as well" – Jake Kerridge, Sunday Express
"Brilliant, brilliant, brilliant! It's a work of sheer genius. An amazing, unique book that blew my mind" – Sarah J Harris
"An Agatha Christie yarn tumbling Through The Looking Glass … This utterly original thriller is brilliantly plotted and a real page-turner, with mind-bending twists and turns" – Glasgow Herald