Join us for a curated selection of traditional silent movies brought to life with live musical accompaniment from The Bookshop Band
About this event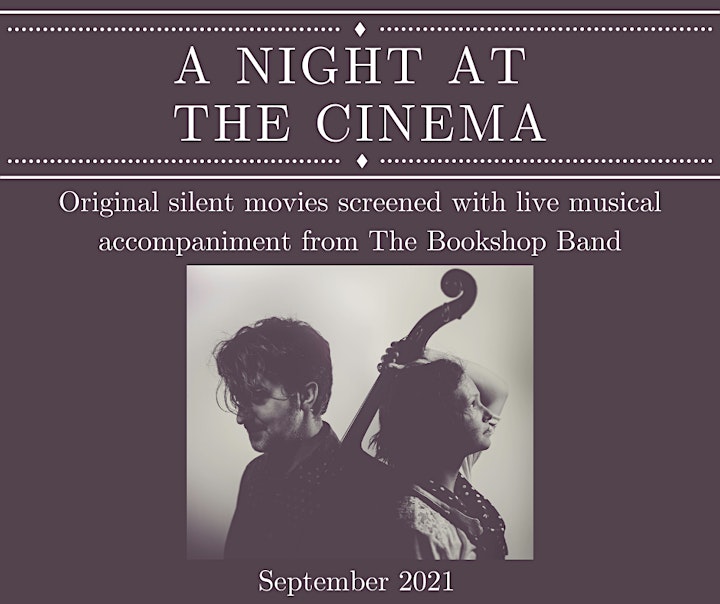 Step back in time and spend A Night at the Cinema with a curated selection of traditional silent movies brought to life with live musical accompaniment from The Bookshop Band. Ben and Beth will weave their magic into these enhanced screening experiences, in intimate local venues across Dumfries & Galloway. Join us for what promises to be a very special evening.
The New York Times: "The Bookshop Band is not just good but achingly good…
Louis de Bernières, author of Captain Corelli's Mandolin: "The Bookshop Band's approach to song writing is entirely original, and the results are both surprising and beautiful. They are two talented musicians coming to the same point from different directions."
Lasting approximately 1 hour, including a Q&A session with The Bookshop Band as they discuss their recent work scoring the new Aardman animated film, scheduled for release this Winter. "We were incredibly fortunate to land a composing job with Aardman Animations over the exact time that Covid stopped our regular live music touring work and spent the best part of 12 months writing music and songs for their 2021 Christmas special Robin Robin. It was a hugely challenging but rewarding experience, developing the music right from the outset of production and continually evolving with the story. The final result is a half hour musical featuring the vocal talents of Gillian Anderson and Richard E Grant, who were both brilliant to work with."
A Driftwood Cinema event, supported by funding from Film Hub Scotland.
About The Bookshop Band
The Bookshop Band are the offspring of an artistic love-affair between a duo of English folk singer-songwriters, Ben Please and Beth Porter, and a multi-award winning independent bookshop in the UK, Mr B's Emporium of Reading Delights. They write and perform songs inspired by books, inspired by hundreds of authors from Shakespeare to Philip Pullman, and have released 13 studio albums featuring many of the authors they have worked with.
More information can be found on The Bookshop Band website
About Driftwood Cinema
Driftwood Cinema was established in 2013 as a Social Enterprise to support communities to create cinematic events.
Their Mission is "to take the cinema experience to the audience. To enable those who cannot get access to cinema and the arts experience film and encore stage performances on the big screen right on their doorstep. To enable communities to come together to create their own sustainable community cinemas, and at the same time create community centric social events."
More information can be found on Driftwood Cinema's website
Ticket Information
Tickets are priced on a pay-what-you-can sliding scale from £0 - £5. Please pay what you feel you can reasonably afford, with reference to our Sliding Scale Guide
At checkout, you can apply the following promo codes to select your desired ticket price:
£3 Ticket - use promo code CAMPLE300
£2.50 Ticket - use promo code CAMPLE200
Free Ticket - use promo code CAMPLEFREE