About this event
On this 90 minute guided walk we explore many nasal passageways of Soho and the West End including art installations, street art and body bits. Learn about the history behind some of Soho's architecture, celebrities and facial features in an ever changing community.
Infinite wealth is nothing to be sniffed at. It's a well known urban legend that if you find all seven noses of Soho you will gain infinite wealth. Saying that though, having since found all said noses I haven't won as much as even a raffle. Will your fair any better?
Don't miss out on this fantastically unique tour of one of the most exciting areas of London, packed with secrets, street artand great stories!!
Explore quirky soho
Meet other adventurous souls
Adults only
Start: Covent Garden | End: Covent Garden
Duration: 90 mins | Step-free access: yes
What people have said about A Nosey Around :
"I walk past here every day. How can I not have seen that?!" Amanda, Chelsea
"Out of all of your walks this is one of my favourites." Ian, Greenwich
"I have done 2 of Hazel's walks so far (Seven noses of Soho and Haunted Marylebone and Mayfair) and I have not been disappointed! What I like is that the walks are a mix between historical facts and entertainment, which is a great combination for fun in my book. Hazel has a great sense of humour and she knows how to lead a crowd and make everyone feel comfortable. I wish I could do walks more often! Will definitely try another one soon!"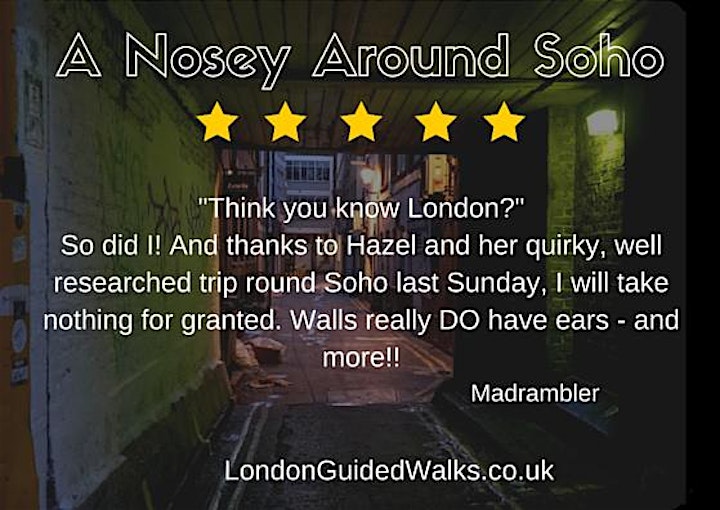 Date and time
Location
Refund policy
Organiser of A Nosey Around Soho Walk