Description

A Nosey Around Soho
Infinite wealth is nothing to be sniffed at. It's a well known urban legend that if you find all seven noses of Soho you will gain infinite wealth. Saying that though, having since found all said noses I haven't won as much as even a raffle. Will your fair any better?
On this 90 minute walking tour we explore many nasal passageways of Soho and the West End including art installations, street art and body bits. Learn about the history behind some of Soho's architecture, celebrities and facial features in an ever changing community.
Start: Covent Garden Tube station exit
Finish: near Covent Garden station
Duration: 90 mins
What people have said about our A Nosey Around Soho tour on TripAdvisor: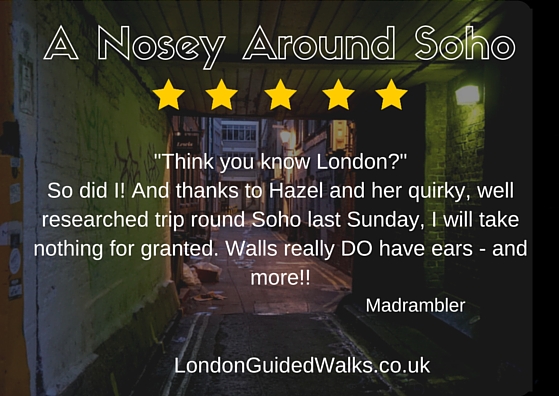 She has a style of her own and targets her content well.
"A Nosey around Soho" "Rarely have I been so cold, rarely have I been so wet, rarely have I been so captivated; I failed to notice the other two until Hazel had wound up the walk. She has a style of her own and targets her content well." Bill, Bermondsey
"Even the lousy weather that wanted to hinder the quality at every turn did not manage to spoil the fun. Going on Hazel's walks is like joining a friendly, exciting and informative club. She remembers and greets every member that has attended her walks with a warm smile. A great day added to the memory lane of 2016. Thanks, Hazel." Jessie H, London
"A nose around Soho" To make a guided walk in the pouring rain interesting, fun and immensely enjoyable takes a special sort of guide. Hazel is certainly that sort of guide. Knowledgeably and with a quick sense of humour searching for noses (and other boy parts) around familiar London streets was a terrific start to the New Year. I would highly recommend her walks to anyone with curiosity.