A One Day Family Financial Extravaganza...

Saturday, 9 April 2016 from 09:30 to 16:00 (BST)
Event Details

Presents
A One Day Family Financial Extravaganza
"More to Money than Bills, Debt & Mortgages"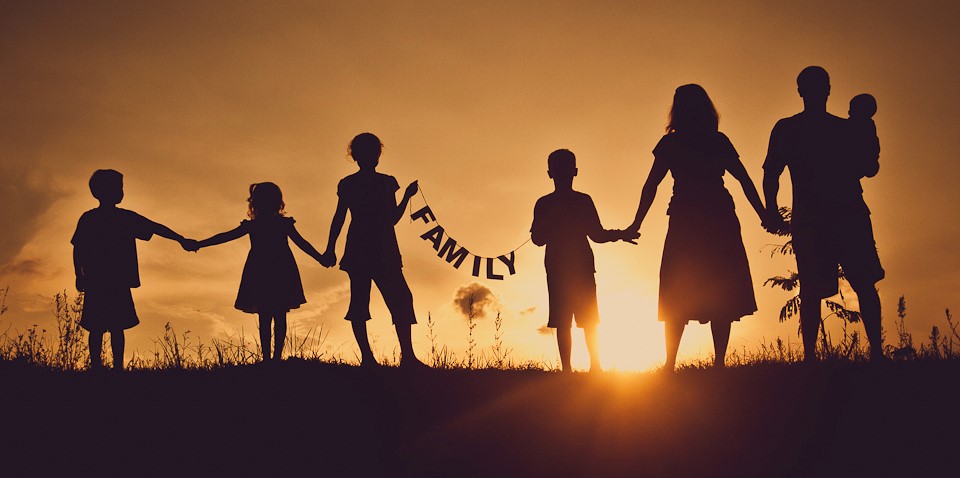 You and your family are invited to this fina
ncially fun and empowerment event
on
 Saturday 9th April 2015
Financial well-being what does it mean to you? What are your thoughts on creating generational wealth? And what are you teaching the next generation about money, peace and happiness? 
Lavinia D.Osbourne, proud owner and director of Butterfly Wealth Creation presents A One Day Family and Financial Well-Being event with Guest Speaker - Secret Millionaire, Sue Stone on Saturday 9th April at the St Luke Community Centre, Central London.
 Attend and learn how to….
Positively

redefine your relationship with money

so that you can have more, be more and do more!
Deal with and

become bigger than your debt and financial situation

by stepping into your "power"

Manage your savings like a pro

with no risk and only starting with £1*

Plan for your financial future

in an alternative way that creates ease and happiness rather than stress and worry

Create an annual budget that is joyous and easy

to implement rather than tedious and overwhelmig

Invest in yourself, your family and finances

to create a legacy of financial wealth and wellbeing with money.
---
Learning about personal finance does not have to be overwhelming!  
At this one off and enlightening event we guarantee to both

entertain

and

educate!!
This is our first child friendly event (11- 16) and we are really excited about this, as children are our future and we - as adults - are their present.
They are watching us and learning from us so attending an event like this will be purposeful and impactful to both you and them!
"After 10 minutes of being here and listening to Lavinia, I knew I made the right decision to attend…" Isaac N P Carter
April is a great month to review your money habits, behaviour and plans as it is start of the new tax year. What plans do you have for your tax free allowance? Let, Butterfly Wealth Creation give you some ideas.
With our host, Lavinia D Osbourne, and special guest speakers this will be an 

unforgettable

and

un-missable

event!  
Your Host & Special Guest Speakers

Lavinia is the author of the upcoming book 'The Little Book of Money Mindfulness'; she is a holistic personal finance expert and Money Mindfulness Coach who helps people to overcome financial stress, anxiety and trauma from the inside out, whilst teaching money management skills and wealth creation strategies.
Following several years working in the finance industry across Europe, including CitiBank, Ernst Young and The London Stock Exchange, she went on to create her own business Butterfly Wealth Creation - a holistic personal finance and empowerment consultancy - after the crash of 2008, where through her various events, courses and 1:1s she has helped influence 1000s to have a better and more empowered relationship with their money.
She expertly shows them how to become bigger than their financial situation, more mindful of their relationship with money and how to spread their financial wings in order to create, preserve & prosper.
She has been featured in PRIDE Magazine, The Observer & The Sunday People's Take It Easy magazine. As well as nominated for a national 'Women Inspiring Women Award' and listed as one of the top 50 business women to follow on Twitter by Birds on the Blog.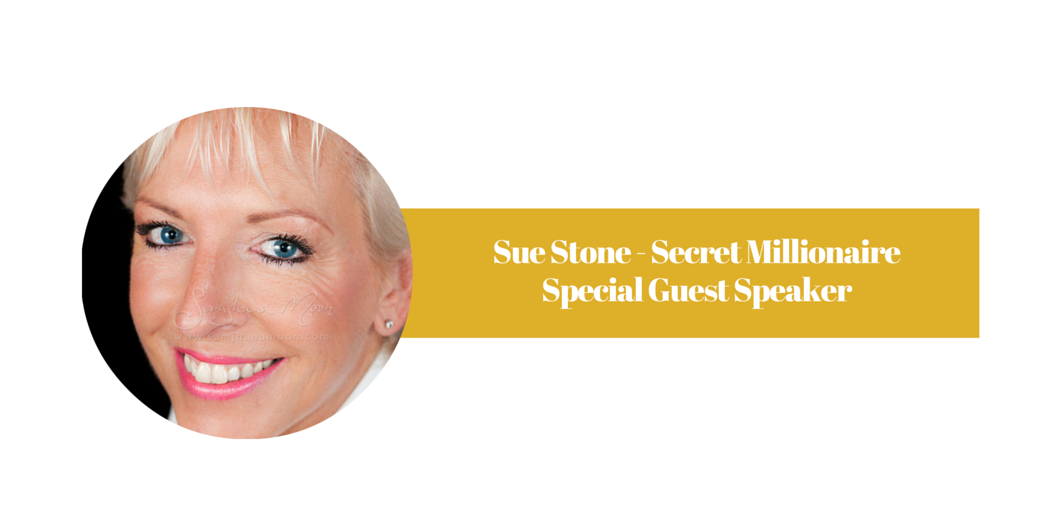 In addition to appearing on Channel 4's Secret Millionaire, Sue is the author of 'Love Life, Live Life', and a Happiness, Empowerment and Confidence Coach aka The Positivity Coach.
Sue is recognised as the UK's happiest and most positive person..... a far cry from several years ago when she had forgotten what it felt like to be happy.
From £10 left in her purse, desperate and full of fear to becoming a Secret Millionaire on TV, Sue has achieved an incredible life transformation. Sue thrives on helping others from personal coaching to inspirational business mentoring and motivational speaking.
Founder of the Sue Stone Foundation, Sue's amazing positivity and energy has infiltrated the lives of thousands, with wonderful results both at home and in the workplace.
We are really excited about having her speak at 'More to Money than Bills, Debt & Mortgages - A One Day Family Financial Extravaganza' and for you to experience her unique way of uplifting and impacting all with whom she comes into contact.
She has helped thousands from all walks of life across the world, from everyday people to celebrities and city high-fliers; so make Saturday 9th April 2016 be the day she helps you.
Jessie Bradley is a fundraiser for MyBnk and is passionate about social change, real life-skills education, and social innovation.
At MyBnk, an award winning charity that delivers the UK's highest rated financial education project for young people between 11-25 year olds – she gets to do this every day.
MyBnk was founded in 2007 by Lily LaPenna and it has helped over 125,000 young people get involved in learning how to manage money and make enterprising choices via schools and youth organisations.
"MyBnk is about giving future generations financial freedom, work readiness and a better quality of life" Lily LaPenna, Founder & Co-CEO
On the day Jessie will share the MYBNK story, how you and your children can get involved in MyBnk; as well as providing activities on the day for the young people in the audience to get involved with. 
Please Note: £2.50 of every ticket brought will be donated to MyBnk as BWC's charity of choice.
---
Are you excited yet?!!
Do you have that tingle in your belly, when you know something is for you?!
You should be excited – as having these calibre of speakers in the same room is no mean feat!!!
So, if you are still wondering if this event is for YOU and your family know that it is; especially

IF YOU ARE…
A woman who does not feel confident that you will be able to retire with enough money. Money may be a constant source of stress and frustration for you, destroying any sense of inner peace, even if you're earning and saving.
A man that constantly feels evaluated and judged by your financial success (or has struggled to achieve the success you desire but haven't quite reached). This can affect your confidence, your relationships, everything.
A business owner who has the pleasure and the pain of creating your own income but you still feel you are not doing enough to secure your financial future.
A parent who wants to start teaching your children/young adults about financial education so they can how to apply it to their lives and be money smart.
Maybe you are very successful in many ways, but you have not been able to create the freedom and security you desire. Perhaps you have even moved backwards, losing some of the income or savings you once had. You may be embarrassed to say how much you make, not because it's a low figure, rather because you're not sure where it all goes.
Perhaps you are another type of woman who is so embarrassed at the state of your finances that you would prefer to talk about everything else but money. Or you suffer, at least now and then, with "Bag Lady Fears" of losing it all, even if you own your own home and earn a six-figure income.
Ultimately you recognise that you have a "love-hate" relationship with your money. You enjoy spending it, you'd like to have more of it but at the same time, you find money frustrating, a hassle, and you would rather simply not have to "deal with it."
THE THING IS......
You have BIG DREAMS for you and your family but you don't know how to pull them off, financially.
Money feels like a barrier or a trap to you, not a useful tool to reach your dreams.
Perhaps you've read financial books and attended other seminars, but nothing has changed because the doing seemed too overwhelming and you were not ready to take ACTION!
You're done with avoiding this important topic. You're ready to make a change. But you're not sure what to do next and who can help you.
THIS EVENT will help you!

  It will help you to gain clarity on yourself and money, what steps to take next and support YOU to spread your financial wings……
"Great event and great value! Exceeded my expectations and has got me going on my plans. Very well done!" Heidi Nurminen
---
What We Will Cover.....
Money Mindset

– Transform the internal to improve the external
L

earn how to get over the financial hurdles you face by changing your perception of money.

Learn why you have the mindset that you do and how this is all intertwined with your values system.

Question what principles and beliefs you would like to have in your life. 

What commitments you want to advance?

How much is your "enough" point?
Money Mastery – Think Big to Become Better than Your Financial Circumstances
Learn how to adapt your behaviour and emotions so that you can positively be bigger than your situation and make discerning financial decisions.

Teach your children how to create wealth and manage it.

Untie the falsehoods relating to success, worth, and entitlement so you can be free to create your true idea of wealth and happiness, not someone else's.

Learn the skills to have focused intention and untangle that convoluted place of emotional thinking and behaviour related to money.
Money Management

– Leverage What You've Got To Enjoy More, Do More And Have More
We will look

at

the core pillars of money management savings, debt, investing, planning and budgeting; as well as how money comes into your life and where it goes.

How do your values show up in your income? How don't they?

The various tools and apps you can use to create vigour, energy and fun whilst managing your finance.
Money Mission

- Create a Plan That Authenticates Your Reason For Being And Doing
Traditional v alternative ways to plan

for your

long term and short term finances

How to plan for the future whilst enjoying the present?

Exercise to define the difference you want to make in the world

Learn how to create a plan that helps you to flourish and thrive
There will be fun learning activities for the children as well as an opportunity for them to extend their financial learning on the day at home and at school.** 
"Lavinia's Money Mindfulness progamme is pure genius! It touches on different areas of my financial life as well as personal life, and gives me a sense of achievement and confidence that I can be more, do more and have more….easily."  Michelle Chambers
---
This is the first time Butterfly Wealth Creation is hosting an event like this and there is no guarantee that we will be putting it on again!!
S
o, don't miss out on this event on
Saturday 9th April in Central London

, due to procrastination but instead clear your diary, get ready for a day of financial learning, fun and empowerment (with your children) and start making a positive and concerted effort towards improving your finances and creating a financial legacy to be proud of!
The Greatest Financial Show is coming to town and there is a seat waiting for YOU and YOURS!
Book Your Ticket TODAY and don't MISS OUT….cause there is More to Money than Bills, Debt & Mortgages!!!
 Early Bird Tickets end on Saturday 12th March
---

£2.50 of each ticket sold will go towards MyBnk.org
* Not all accounts but most
** MyBnk works with children's school and youth organisations so the learning can continue after the day!
When & Where

St Luke's Community Centre
90 Central Street
EC1V 8AJ London
United Kingdom


Saturday, 9 April 2016 from 09:30 to 16:00 (BST)
Add to my calendar
Organiser
Butterfly Wealth Creation is a holistic personal finance and empowerment consultancy that offers various programmes to help you to "spread your finanical wings".
Our focus is on money mindfulness, financial wellbeing and becoming financially savvy. We teach this via our empowering workshops, meetups, events, one to one coaching programmes and online courses so that you can feel confident to create wealth, preserve it and prosper. 
Specialties:
Financial Literacy, Financial Empowerment Coaching, Entrepreneurship, Precious Metals Investing, Female Business and Finance, Wealth Creation, Financial Wellbeing and Money Mindfulness.