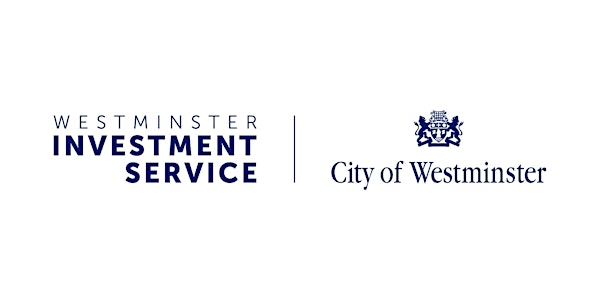 A Panel Discussion: Westminster as a World Class Destination for Business
An expert panel on Westminster's competitive advantage for business - how its assets, eco-system & influence will shape future investment.
About this event
Achieving our Potential - Westminster as a World Class Destination for Business
An invitation to an expert panel discussion hosted by the City of Westminster, to mark the launch of the new Westminster Investment Service
With its unique and longstanding position at the heart of the UK's political, academic and diplomatic life, and a centre for world tourism and the global economy, Westminster's influence and attractiveness is resoundingly international and multicultural. Yet its character is distinctly local, with the credentials of a genuine neighbourhood feel.
As we launch the new Westminster Investment Service with the support of our Business Improvement Districts, London & Partners and the Westminster Property Association, this panel discussion will explore Westminster's assets as a world class business destination.
We'll take a closer look at our business eco-system and share experience on what makes business thrive here. We'll reflect on the changes we are embracing - and which we seek – in order to respond to the needs of today's and future business potential.
How will this blend of iconic neighbourhoods, global cultural innovation and influence, outstanding retail and hospitality continue to shape future investment into Westminster?
What collective competitive advantages will underpin and support our high growth business base, strengthen our sector clusters, engage with the tech of the future, and unlock creative new talent?
The Right Worshipful Lord Mayor of Westminster, Councillor Jonathan Glanz, will open the discussion with reflections on Westminster's international standing.
Cabinet Member for Business, Licensing and Planning, Councillor Matthew Green, will present the new Westminster Investment Service, which will support and promote existing and new business.
Our Expert Panel includes London & Partners, Investment Monitor, Beauhurst, King's College and our investor and business community.
Open to all with an interest in Westminster 's assets and international competitiveness for business.
Our Expert Panel:
Allen Simpson, London & Partners
Allen is currently Acting CEO at London & Partners, the business growth and destination agency for London. As Managing Director, he leads the organisations' strategy, research and corporate affairs.
Previously, Allen spent six years at Barclays Bank where he led the bank's political strategy function, and acted as an adviser to the Chairman and wider senior leadership.
He also led the bank's business finance policy team, focusing on trade promotion, SMEs and scale-ups both in the UK and across the EU, including as Chair of the SME committee of the pan-European wholesale banking group AFME. Following the 2016 referendum, Allen led the organisation's Brexit and global trade policy response.
Professor Ute Stephan, King's College , London
Ute Stephan is full Professor of Entrepreneurship at King's Business School at King's College London, Transcampus Professor at Technische Universität Dresden (Psychology), Honorary Professor at UCL's Department of Psychology and at Aston Business School, UK, and a Fellow of the International Association of Applied Psychology (IAAP).
Her expertise lies in the psychology of entrepreneurship and understanding what contexts and institutions enable entrepreneurship (e.g., what makes a culture of entrepreneurship). Her research explores the diverse motivations of entrepreneurs, well-being, and social entrepreneurship. Her research has received numerous international awards, has been featured in the media (e.g., Financial Times, BBC, The Guardian, WIRED, Bloomberg, Forbes, AlJazeera), attracted over GBP 3 million in funding, and is published in leading academic journals. Ute serves on the Board of Directors of the GLOBE foundation and the IAAP.
Henry Whorwood, Beauhurst
Henry Whorwood leads the Beauhurst Research & Consultancy team. He is an expert on business finance and has worked on briefs for clients including the British Business Bank, HM Treasury, BEIS and Innovate UK. Henry regularly gives presentations on market trends at events around the country. He studied Classics at the University of Oxford.
Courtney Fingar, Investment Monitor
Courtney Fingar is editor-in-chief of Investment Monitor (www.InvestmentMonitor.ai), a digital publication focused on foreign direct investment which launched in September 2020 and is part of GlobalData plc.
Before joining the group in spring 2020, Ms Fingar spent 15 years with the Financial Times where she was editor-in-chief of fDi Magazine and the head of content for its associated data division, fDi Intelligence, as well as a contributing writer for the FT newspaper.
She has covered business stories in all major regions of the world and has been on assignment to more than 80 countries in her career. She is a popular panellist and moderator at international economic gatherings and has appeared on television and radio in dozens of countries as a commentator on international investment. She has twice been called to give evidence to the UK Parliament as part of Select Committee inquiries on inward investment.
Charles Oak, The Londoner, Edwardian Hotels
Charles is the Hotel Director of The Londoner, the latest project by Edwardian Hotels London, one of the largest privately-owned hospitality companies in the UK. With a hospitality career spanning three decades, Charles is a highly established professional within the industry, with an exemplary background in luxury hotel management and fine dining.
Charles began his journey by studying Hotel Management at the University of Westminster before completing the renowned Leadership and Management program at the Saïd Business School, University of Oxford. Having completed his training on the prestigious four-year Management Trainee Program with The Savoy Group, he held several senior management positions in numerous hotels within Edwardian Hotels London's portfolio including its five-star flagship The May Fair Hotel.
After founding The Quercus Partnership, a hospitality sector consultancy group, he re-joined Edwardian Hotels London to manage their most ambitious project in their 40-year history, The Londoner. Taking centre stage in London's Leicester Square neighbourhood on Whitcomb Street, the Londoner is the world's first Super Boutique hotel, and sits at the heart of the West End theatreland.
In recognition of his wide-ranging expertise and award-winning success, Charles has recently been made an FIH Fellow of the Institute of Hospitality.