Description
On 15th September at 6.30pm, join nature illustrator Ian Loe at Heffers as he gives a talk based around his book, A Passion for Butterflies: The Life and Travels of a Butterfly Artist.
This book is first and foremost a book about butterflies, beautiful butterflies and a few equally beautiful moths. It is a celebration in picture form of just some of those butterflies and serves as an introduction to the places where they may be found.....It also serves as one man's personal tribute to the consummate beauty and elegance of butterflies expressed through the medium of pencil and paint. The result included here is a collection of over 100 illustrations whose quality of finish has rarely been surpassed. In addition, the author shares his childhood memories with butterflies and includes a fascinating account of his later life and travels in their pursuit. Sadly, as Professor Sir Ghillean Prance says in his Forward, 'so many of these creatures are becoming rare as we do so much to destroy their habitat'. This book, through the many fine paintings shows us just how precious these wonderful insects are and how the world would be a poorer place if we were to lose them.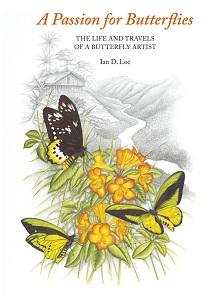 From boyhood, Ian Loe has had a passion for drawing and natural history. After leaving school he trained as a teacher in Art and Design, then moved to Zambia where he was commissioned to originate a series of guides to south central African wildlife, and also designed and illustrated the first book to deal exclusively with the butterflies of Zambia. Over the years, Loe has lectured extensively on his passion for butterflies and the urgent need to their conservation. He continues to teach small groups in botanical and entomological illustration as part of the Cambridge University Botanic Garden's education programme. He was elected a Fellow of The Royal Entomological Society in 1974 and in 2010 he was awarded an MBE for services to art.
This book includes examples of Loe's work completed over the past sixty years and the very fine large compositions of more recent times.
Limited edition prints from A Passion for Butterflies will be available to purchase on the evening, for which they have been especially printed. The book itself will be available to view and order.
Tickets for this event are priced at £4 each (inc VAT). Please note that tickets are transferable but non-refundable.