'A Place To Call Home': Our PASCF Workshop session via Zoom on Friday, 29 January 2021, 6:30 - 9:30PM, presented by Sista Arlene McKenzie.
About this Event
Greetings & Elevation Family, Comrades & Supporters,
Jan Jak Dessalines Imperial Institute, Way Wive Wordz and the Pan Afrikan Society Community Forum take pleasure in inviting you to join us for 'A Place To Call Home' our Workshop session via Zoom on Friday, 29 January 2021 presented by Sista Arlene McKenzie.It is said 'home is where the heart is', but what could reflecting upon this adage reveal? Thirty-three years after resettling in the Caribbean from London, Sis Arlene is now back in London. In this presentation Sis Arlene takes us through a personal perspective on - What 'Home' Indwelling, and the journey of Afrikan reclamation and claiming space, means to her.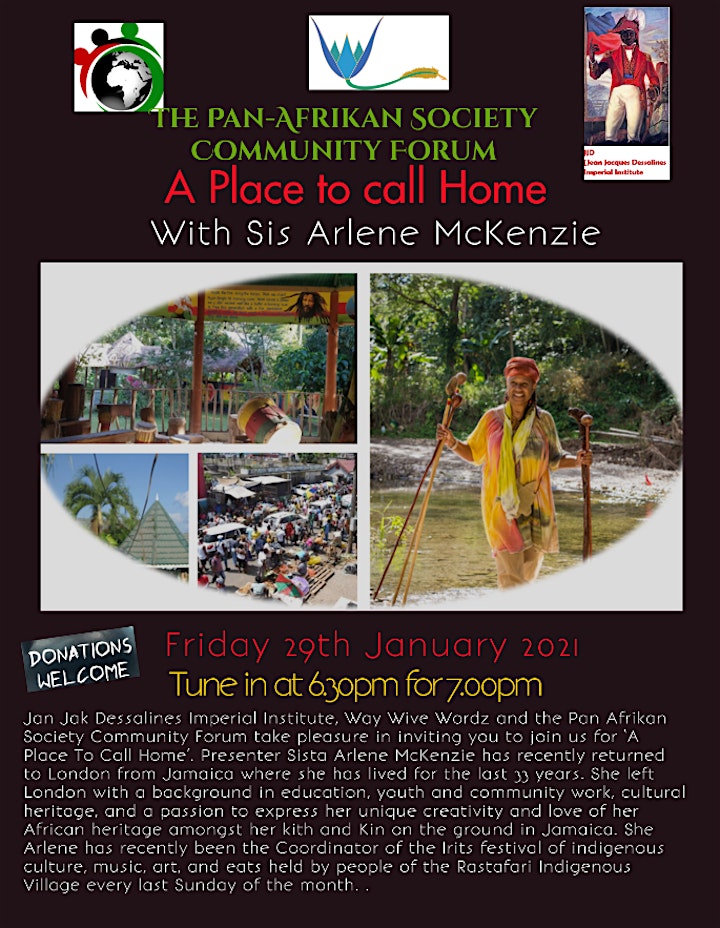 Sis Arlene asserts that the theme of this workshop speaks to the urgency of now for us as Black People - people of Afrikan Ancestry to claim spaces, tangible and intangible assets for ourselves. Sis Arlene further states:
In 1987 after the birth of my second child, myself and my husband decided to sell up our possessions in the UK and return to our - actually my birthplace and claim our space. Our decision to return home while we had something to contribute to the building of our young nation was a conscious one. But thirty years later we are neither of us living on the island. Our children are also living on foreign lands. I am aware that this story is not unusual as I have many friends who have also returned to foreign after making a decision to leave and find their place called home.We look forward to welcoming you to this presentation. As Sis Arlene McKenzie insists, she is openly sharing a very personal perspective of her journey. This is not a theoretical discussion, nor is that its objective, but a process of reflecting on life choices and our journeying and transformation - as people of the African Diaspora.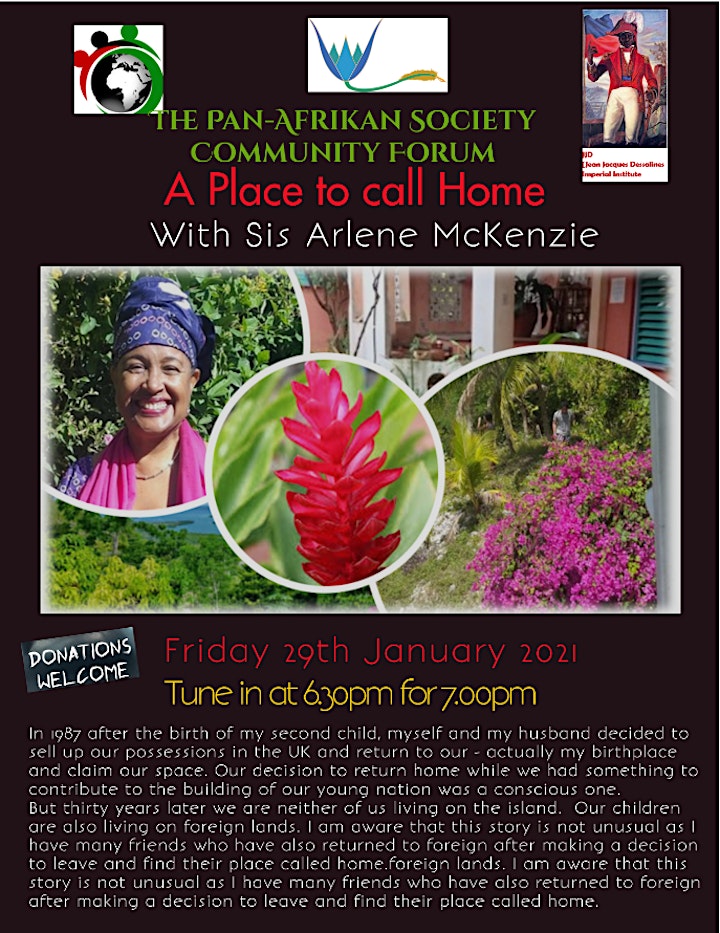 PRESENTER: Sis Arlene Mc KenzieSis Arlene McKenzie has recently returned to London from Jamaica where she has lived for the last 33 years. She left London with a background in education, youth and community work, cultural heritage, and a passion to express her unique creativity and love of her African heritage amongst her kith and Kin on the ground in Jamaica. Her career in Jamaica spanned commerce and business development, sustainable tourism, community education/growth. She has worked as the Craft Development Director of the Craft Unit under the leadership of the National Craft Council of Jamaica established as a precursor to the Craft Authority of Jamaica that interacts with Jamaican Cultural festival balancing energies between health, culture, traditions, performances – and creating and sustaining platforms for young people with an intention to revive the cultural arts. Sista Arlene has recently been the Coordinator of the Irits festival of indigenous culture, music, art, and eats held by people of the Rastafari Indigenous Village every last Sunday of the month. She highly recommends this as an all-encompassing experience, embracing attendees into the Rastafarian culture – of ital vegan cuisine, live music, energy healing workshops, and much more.
This is a free workshop, and your donations are welcome.
You can donate via:
- Eventbrite
- PayPal - using our PayPal account details
- Or our bank account:
HSBC Account Number: 81518313
Name: Pan-Afrikan Society Community Forum
Sort Code: 40-01-22
In Divine Oneness & Love ,
Sis Norma , On Behalf Of The Organisers