Description
This event is free, but places are limited.
A Playful Path: exploring the value of playfulness in adulthood with Bernie De Koven
Bernie DeKoven is the "founding father of play studies"
Creating the Games Preserve, the first centre for the exploration of games and play for adults. In 1978, De Koven published The Well-Played Game, which was re-released by MIT Press in 2013.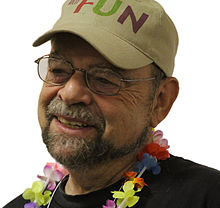 His most recent book, A Playful Path, was published by Carnegie Mellon University ETC Press the following year. He makes his work publicly available through lectures and workshops and his two websites: http://aplayfulpath.com and http://deepfun.com
Schedule for the day:
10.45: Kick off and welcome
11.00-12.00: Lecture and play followed by Q&A
12.00-1.00: Lunch and conversation
1.00-3.00: Practicum – playing playfully: games, invention and conversation
3.00:4.00: Drinks reception