Description
Our conference this year A Positive Future: Institutions, Collections & Audiences will give you a glimpse into what the future might hold for your museum. We have a range of excellent speakers who will address different aspects of the theme, including contemporary collecting, creating positive change and engaging audiences of the future. The conference will also mark the 80th birthday of the Scottish Museums Federation, with celebrations to follow after the conference.
A copy of the programme for the day can be found on our webpage
The conference will be held at the National Museum of Scotland on Wednesday 26 April from 10:00 – 16:30.
The cost of the day will be £15 for members and £25 for non-members.
Lunch and refreshments will be provided.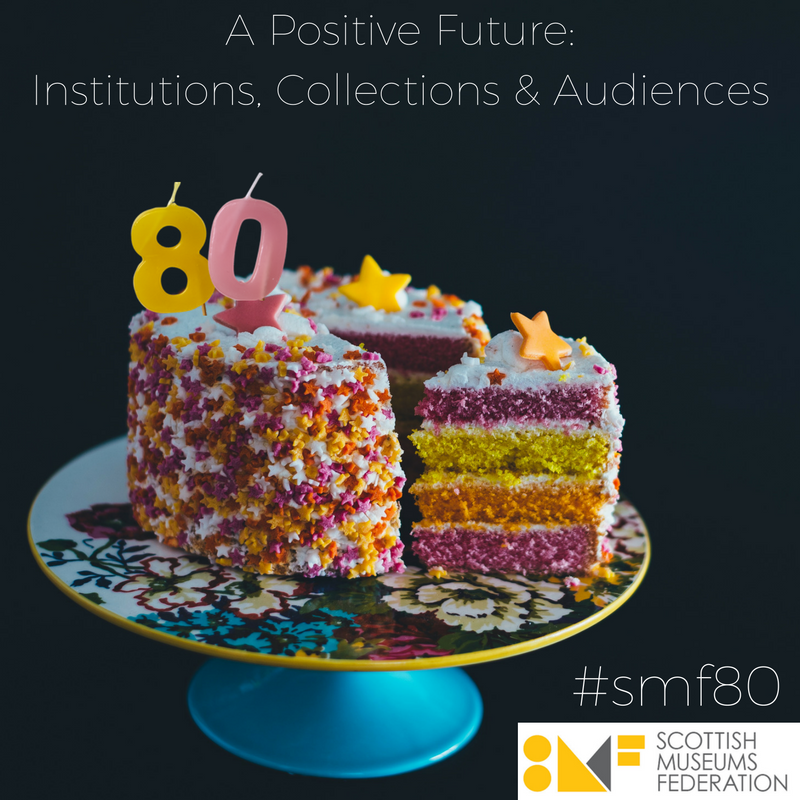 80th Birthday of the SMF!
We will be hosting a post-conference party to celebrate the 80th birthday of SMF in the nearby Grassmarket Centre, from 16:30-19:30. This will be an informal event, with drinks and a birthday cake (!), to give people further opportunity to network and join us in toasting the SMF. So we can gather catering numbers, it would be great if you could let us know if you are interested in attending when registering.
The event is FREE. We hope you will be able to join us. All welcome to the party, even if you are unable to attend the conference during the day.
Membership
If you would like to become a member and only pay £15 for your conference place, please click the following link for more information: http://bit.ly/SMFMembership
If you have any queries about the conference or the Scottish Museums Federation in general, please email scottishmuseumsfederation@gmail.com
We look forward to seeing you there!
SMF Committee