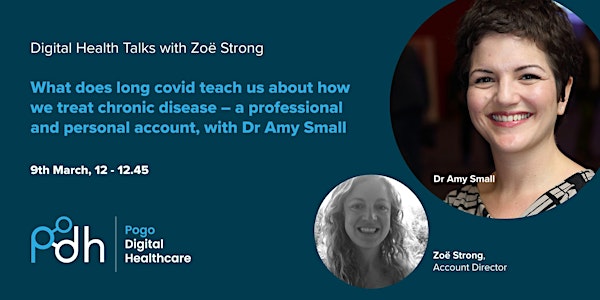 A professional and personal account of treating Long Covid by Dr Amy Small
What does long covid teach us about how we treat chronic disease? A professional and personal account by Dr Amy Small.
About this event
Please join us for our first in a series of Digital Health Talks, with the aim of encouraging open conversations about key issues in healthcare and the valuable role that digital can play.
I'm delighted to announce that our first speaker will be Dr Amy Small who is a GP in Lothian. Amy was a partner for 10 years before getting covid-19 and subsequent long covid. She is currently clinical advisor to Chest Heart and Stroke Scotland (CHSS) and is now working as a locum GP in Midlothian as she continues her recovery. Her illness has opened the door to looking at chronic disease in more depth and how we can support people living with long term conditions. She has been working on a joint project with Pogo Studios, NHS Lothian and CHSS helping to design an app that will help patients living with long covid, to have access to Tailored Talks and further support from the CHSS advice line team. She is a mum to 2 little boys and her husband also suffers from long covid.
Looking forward to seeing you there and if you have any questions that you'd like to ask Amy or about the event in general please drop me a line at zoestrong@pogo-studio.com.
Best wishes,
Zoë